Posted at 2:30 am in Uncategorized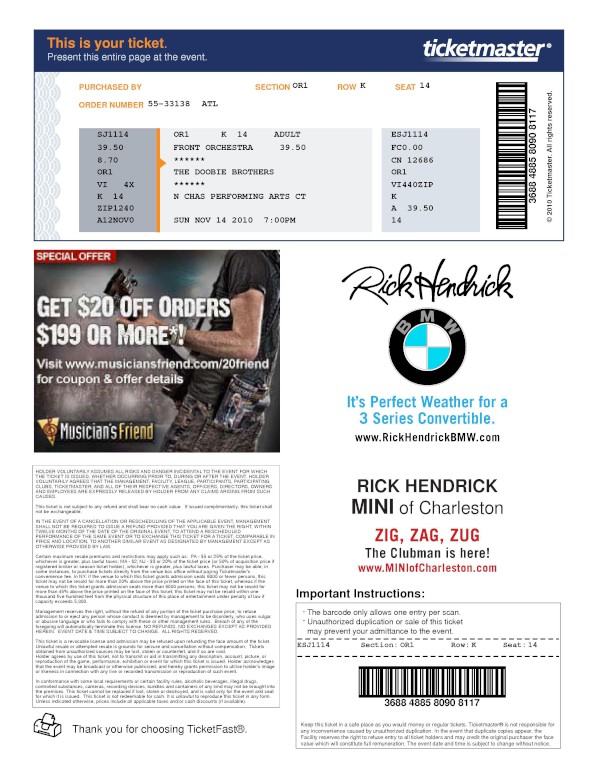 When you say you've been to see "The Doobie Brothers", that's almost as uninformative as saying you've been to see "The Drifters" given the convoluted group histories involved. Suffice it to say that the current incarnation of The Doobies hews to the original concept, and includes founders Pat Simmons and Tom Johnston.
I've seen several shows at the North Charleston Coliseum complex, including most memorably The Eagles and Blondie, but I believe those shows were in The Coliseum proper, a much larger venue than the Performing Arts Center. The center reminds me of the Koger Center both in size and the awful European style bank seating. It seemed that never more than 5 minutes went by before some portly person or another was making way across my seat towards the far distant center. I would say the show was about 80% sold with the crowd being entirely middle aged and white..
Lack of aisles aside, the sound was very good, and the security was just as casual as Newberry. I had emptied my pockets of all nail clippers and change in expectation of being herded through metal detectors, or at least being wanded, but no such eventuality occurred. In fact, many people were taking pictures and recording the show on their cellphones. If I had know that in advance, I would have taken the closing-cam in and gotten some very nice shots and videos. At any rate, I expect some to appear on youtube and elsewhere over the next few days.
The frontman for Charleston's Blue Dogs opened with an acoustic set which was generally well received. I thought he was pleasant, but frankly didn't hear anything which would make me seek out a Blue Dogs album.
After he finished, the Doobie roadies finished setting up the stage, which took about 15 min and then the band came out. They had an interesting configuration, one that I don't think I've see a rock band use before. Of course the classic rock band setup is lead guitar, rhythm guitar, bass and drums. The Doobies have three guitarists and *two* drummers as well as bass, keyboards and sax.
So how were they? Well, I won't bury the lead too deep: They were excellent! Given the revolving door history of the band you have to start off a bit worried, but then Tom Johnston starts to sing, and well, they sound like The Doobie Brothers and if you get the chance you should go.
The setlist was what about what you would expect with all the hit singles up until the start of the Michael McDonald era (and they did do a very credible version of "Takin' It To The Streets").
The audience started a little skeptical but we were won quickly over. It's always a risk for a legacy group to try to sell new material, but the three songs from the new album were well received, mostly I think because they sounded like classic-era Doobies, not some new and evolved tangent. When they started a long blues jam with solos all round, they got their first mainly standing ovation as I think we largely came to the simultaneous realization: Hey, these guys are good!.
For me, the best moment was the encore set. When they came back out, they started a sort of non-descript mid-tempo rock where you were thinking yeah, that's ok, but what is it? and then Johnston started into the "China Grove" riff..
Woah ho, listen to the music!
One Response to 'The Doobie Brothers, North Charleston Performing Arts Center: 14 Nov 2010'
Subscribe to comments with RSS or TrackBack to 'The Doobie Brothers, North Charleston Performing Arts Center: 14 Nov 2010'.
Leave a Reply