Archive for the '7447 Two Notch Road' tag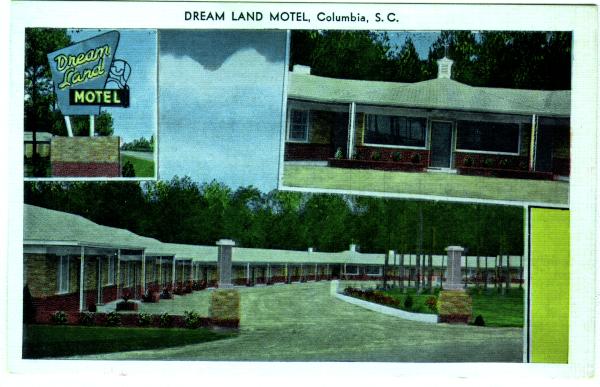 DREAM LAND MOTEL

Four Miles North of City Limits, U.S. Hiway No. 1, Columbia, S.C. Thirty Ultra Modern, New Units with private tile tub and shower baths. One hunder per-cent Air Conditioned. Courteous Service. Phone 33453 or write R. 3. Columbia, S.C. for reservations.

Mr. and Mrs. M. Sendler, Owners
Mr. and Mrs. E. B. Webb, Managers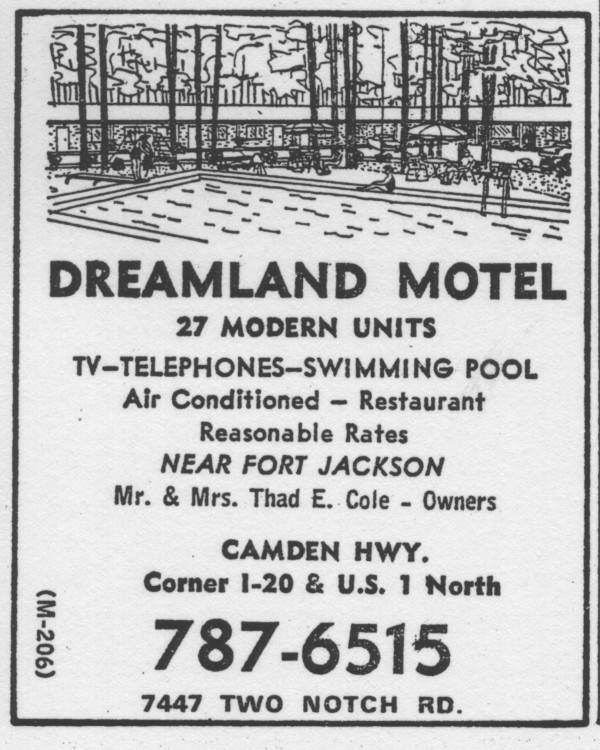 Dreamland was one of the many small motels that lined Highway 1 ("The Camden Highway" it was called on that stretch) when it was a major inter-state (as opposed to "Interstate") artery. Since we lived in town and had no reason to stay in a Columbia motel, the place probably would have gone without me being fully aware it was there except that in the 70s we had swimming lessons there.
I'm not sure how it works today, except that it's different, but in the 70s, it seemed that most swimming lessons were sponsored, or perhaps just certified, by The Red Cross. They had a standardized curriculum with different proficency levels. The ones I recall were: Beginner, Advanced Beginer and Intermediate. I suppose there may have been an Advanced somewhere, but I never got that far. In fact, I think I had Advanced Beginner about three times. To a certain extent this was just to get us out of the house during the summer and I don't think my mother was overly concerned about the "level" we were taking as long as they covered the "don't drown" part.
As you can see by the Yellow Pages ad, by 1970, Dreamland found itself by the new I-20. I guess this had plusses, but the minuses were that the Interstates were homogenizing the country to the extent that people expected a national brand motel at an "I" exit, and that the long-haul traffic on US-1 was drying up. That's my speculation at any rate. Whatever the reason, they decided to make a little money by holding swimming lessons in the motel pool. My mother liked this as she could in theory drop us off there and then go to K-Mart or the grocery store for an hour or so before coming back for us. I don't remember much abou the lessons, I suspect it was another Advanced Beginner session, and we did in fact get through the "don't drown" part.
A few years after that, Dreamland was torn down to make way for the Spring Valley Theater which was in turn torn down to make way for Lowes (which is still there). The picture above is of the Lowe's parking lot more or less where I think the theater and motel were.
UPDATE 13 October 2009: Added scanned postcard and the text from the back.