Archive for October, 2012
Well, that didn't last too long. On the other hand, I suppose it wasn't intended to since similar exhibitions zip in and out of Jamil Temple fairly often. (Not to mention temporary stores like Giant Book Sale in other unused Harbison storefronts).
Anyway, this liquidation center went into the old Office Depot location across from the Harbison Barnes & Noble a month or so ago, and offered bargins on fashion and electronics. I've gotten some good deals on computer equipment at the Jamil sales, but the trick is to remember that you only go if you actually think you'll buy something, as there is a $5.00 fee just to walk in the door. In this instance, there was nothing much I needed, so I never did.
I see from a sign that the building is still available for short-term leases, so perhaps the lidiquation company (apparently out of Ohio) will lease it again sometime.
Enterprise is not one of the car rental firms I've ever used, though their promise to deliver the car to you rather than have you come for the car is appealing. In the event, the one time I needed such a service (stuck in Beaufort with a busted alternator) the local branch was closed on Sunday and I just ended up staying until my car was fixed. Of course I never get a rental car that's a model I would drive by choice, so it was probably just as well.
The phonebook and google say that there are still several other Enterprise locations in town.
(Hat tip to commenter Matt)
UPDATE 19 October 2012 -- As commenter Matt notes in the comments this location has moved to 1307 Assembly Street a few blocks away.
UPDATE 14 November 2012 -- Here is the new Assembly Street location:
UPDATE 5 May 2018 -- At some point the 1436 Taylor Street building was razed:
Posted at 12:40 am in Uncategorized
Here is another closed NAPA store.
While I certainly hope that the employees are able to continue on at 3720 Two Notch Road, calling it a move is not quite right as that store has existed for several years, and was apparently built to replace the O'Neil Court location.
Interestingly, the phonebook (Feb 2012) gives the address for the Hardscrabble store as "1507 Hardscrabble Road", which led me on a merry chase all the way from Wilson, and when 1507 was in the boonies and obviously wrong, across both Farrow and Clemson. I probably wouldn't do *that* again, at least not close to rush hour. In fact this store turns out to be just a few buildings down from the old Santorini Grill and a few up from the former Food Lion and Blockbuster.
Posted at 1:32 am in Uncategorized
Commenter Mayr Douglass mentions that many (or all) Master Cleaners in Columbia have closed recently. So far, I've only checked out this one, on the corner of Millwood & Hagood Avenues.
As I've mentioned elsewhere, Master's was a constant radio presence while I was growing up, with their memorable jingle often playing on WIS
Look Your Best All The Day
In Clothes Cleaned the Mas-ter-ful Way.
You'll feel the diff-er-ence
Know the diff-er-ence
And what's more
You'll *show* the diff-er-ence!
(Hat tip to commenter Mary Douglass)
UPDATE 18 September 2013 -- It's now Provisions Bulk Foods & Spices:
This story from The State talks about the new operation.
Posted at 1:00 am in Uncategorized
I really like the sign here at the former WECO Billiards. It has a similar aesthetic to Varsity Billiards and Red Wing Rollerway.
This site for the current owners of the building (note the clever URL) says it was built originally as a grocery. It was still operating as a billiard hall in the February 1997 phonebook, but by the time of the next one I have here at home (February 2007), the listing was gone. Since then it appears to have been a thrift store, and now houses a number of operations as detailed at the previous link.
Posted at 1:09 am in Uncategorized
I believe I went into this Yumilicious on Forest Drive once last year. While in theory I liked the idea, in the event every single variety of yogurt was either low-fat or no-fat, so I ended up going across the street to Baskin Robbins.
The closing sign mentions that the Lexington store is still open. Or, if you would rather stay in Forest Acres, 32 Degrees is still in Trenholm Plaza.
And no, I'm not going to try to figure out how to put the dots over the 'm' :-)
(Hat tip to commenter Matt)
UPDATE 9 January 2013 -- It's now a Chiropractic clinic called The Joint:
Posted at 11:28 pm in Uncategorized
This ladies' shoe store in Boozer Shopping Center apparently set up shop in July of 2011. I'm not sure exactly when it closed, but the storefront was papered over by the time of this 31 May 2012 shot.
Posted at 12:55 am in Uncategorized
Posted at 12:55 am in Uncategorized
Magnolia Pointe is the Piggly Wiggly anchored strip mall at the South-East corner of Clemson & Hardscrabble Roads, with access from both.
I noticed last time I was there that this dental office space was up for lease (and already down from the mall marquee listing).
UPDATE 22 October 2012: Turns out they've moved to 126 Professional Park Road at Professional Park on Clemson Road.
Posted at 1:25 am in Uncategorized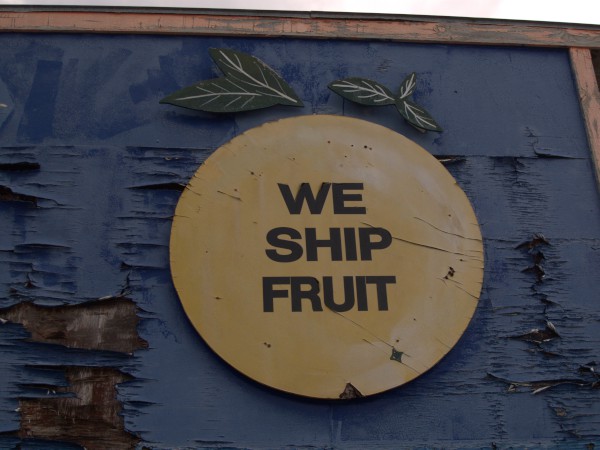 I wish I had gotten better pictures of this place. Heavens knows I had enough opportunities over the years, but I never thought about it until quite recently, and the last few times I was in the area, it was either evening or heavily overcast, otherwise it might have been a picture on my Roadside Florida calendar.
This fruit stand was on A1A in Yulee Florida between I-95 (exit 373) and US-17. If you look closely on the door, you can see a Master Charge logo which dates the place to before 1979, when Master Charge changed to Master Card.
I like the shape of the building from the sides, and the wood cutout lettering and fruit shapes. It's the type of place that, while you may find its like still in service, is not being built anymore.
The fruit stand and an abandoned service station of the same vintage (about which I may do a closing eventually) stood on adjacent lots. As you can see in the later pictures, both have now been knocked down and the land is for sale (apparently interest is not high, as the price has been reduced).
And not to worry about being able to find Indian River citrus and Florida souveniers in Yulee.. Across the street from this stand's former location, a converted Stuckey's still offers all you could wish for: