Archive for April, 2011
Posted at 8:14 pm in Uncategorized
Posted at 11:28 pm in Uncategorized
Decker Park Road connects Decker Boulevard with the unpaved Kneece Road (which itself connects Brookfield Road and O'Neil Court).
There's not a whole lot on Decker Park: side access to the Food Lion plaza, a U-Haul self-storage operation, a small recording studio, and a hair salon.
For many years however, this was the home of the German Gasthaus restaurant. Aside from maybe Mr. Dunderbanks in the mall, this was the only German restaurant in Columbia that I knew of. I'm afraid my only trip to Germany didn't lead me to seek out German food at home (we were working something like 19/7 and all I recall is limp bacon, almost as if it had been boiled, at the hotel buffet), and I never made it here. I believe the place burned down in the mid 2000s, and was never re-opened .
Posted at 1:54 am in Uncategorized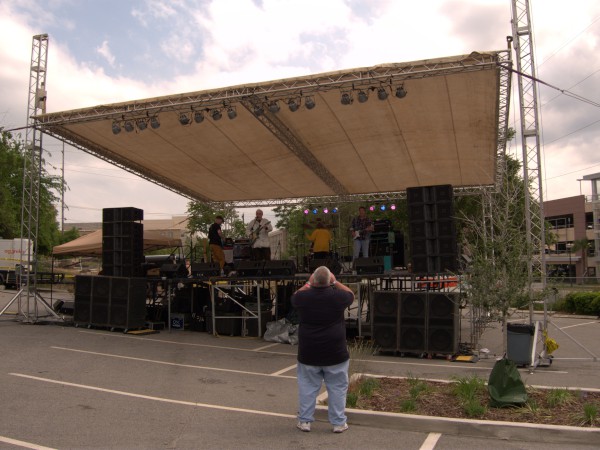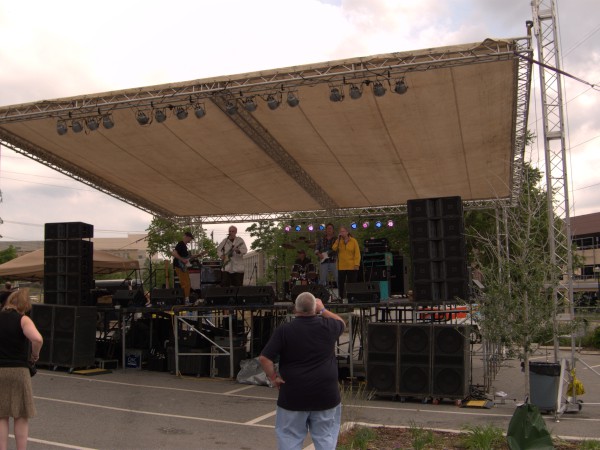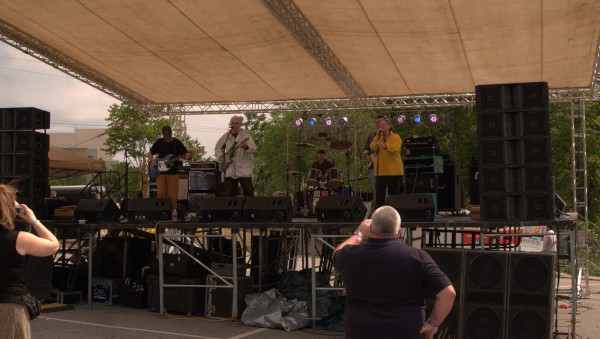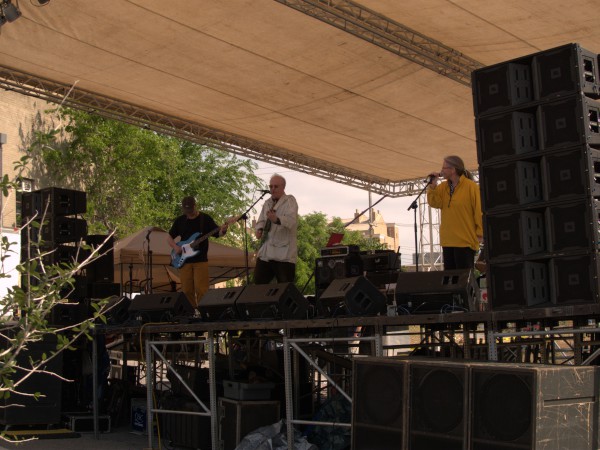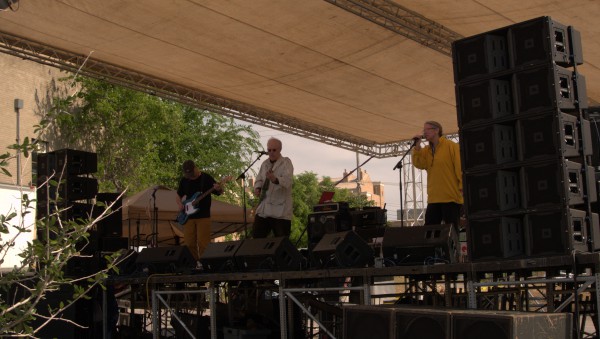 The Swimming Pool Qs played the Rockafellas Reunion at The Tin Roof on Senate Street last Saturday. I saw them first at Bell Camp and then at Rockafellas back in the day, and a number of times since then. (Most recently at Doc's Gumbo Grille, just a block or so from the Tin Roof).
I'm afraid I did not stick around for any of the other bands' sets though I'm sure they were great.
The Qs played a fairly short set Saturday (somehow I missed the fact that they were at Wet Willie's on Friday), hitting both The Deep End and the A&M era, but not 2003's Royal Academy of Reality.
The sound was pretty good for an outside venue. The rain had stopped about an hour before, and the sun finally started to come out about the time the Qs took the stage. I have to admit the crowd was pretty sparse, but both the audience and the band seemed to be having a good time.
Posted at 12:58 am in Uncategorized
Well, this closing lets me exercise the Cent (¢) sign we discussed just yesterday!
You can't fault this place for locking themselves into anything -- as long as they had one item in the store that was less than a dollar, they were within their operating parameters. Apparently it didn't help. Decker Center is one of a number of little strip malls down the west side of Decker Boulevard, many nowdays run by immigrants -- Decker, in fact, is designated as Columbia's "International Corridor".
According to this PDF 99 Cents had a 2010 business license, but I'm going to say it didn't make it too far into 2010, because I've been noticing the empty storefront for a while now.
Does anyone remember if this is the strip mall that had Columbia's first CD store?
Posted at 12:07 am in Uncategorized
Well, it's back to Park Centre at Two Notch & Polo Roads for this former Pic 'N Pay Shoes. You can pretty much make out the label-scar with the name if you look at it with charity, though there seems to be some issue with the street address. The Feb 1997 Bellsouth phonebook lists the Pic 'N Pay at 9714 Two Notch while the pasted letters clearly mark this unit as "9710 STE 5". However, Park Centre apparently encompasses 9710 through 9714, so it's all the same property whether they may have moved down a unit at some point.
They won't have moved after 2000 though, as the whole Pic 'N Pay chain filed for bankruptcy in March of that year. Apparently this was their second trip into Chapter 11, after one in 1996, and this one ended up in liquidation (and selling a lot of assets to Shoe Show).
Google says that 9710 #5 was also Top Nail nail salon at some point. I would say after Pic 'N Pay as nail salons seem to specialize in making a go out of failing properties.
Wow! If IrmoJeff hadn't mentioned that this was a Lizard's Thicket, I never would have known that in fact this was the Lizard's Thicket, the original first location from 1977. You can see an artist's representation of what is clearly the same building on the company's history page, which says:
The original Lizard's Thicket was a five room house converted into a restaurant with three small dining rooms and a small kitchen.
Now I go through phases of eating at Liz and not eating at Liz, but I find when I'm down, or fighting a cold or trying to get back on track after days of erratic eating that their Southern comfort food really hits the spot. I particularly like to get a vegatable platter with field-peas over rice and macaroni & cheese.
I'm not sure when the original location closed, but it was a good while ago though there is still one on Broad River Road.
La Fogata until fairly recently has seemed like the up-and-coming local Mexican chain, joining San Jose, Monterray and Casa Linda. They had this location on Broad River, took over the Pirmarily Pi location on Sunset and took over the Village Bistro location at Sandhill. I don't know if they over-extended, or just figured the economy would turn around faster than it has, but they've since closed this location and the Sandhill location. I've never eaten at a La Fogata, but comments on the Sandhill closing indicate it was pretty good.
I don't know anything about the La Fogata follow-on operation, El Meson except that it was also a local Mexican restaurant. Their door sign indicates that they may be back. The omens are mixed for that. On the one hand, the roof and roadside marquees are down. On the other hand the fixtures and decor are still inside.
Does anyone actually drink Clamato?
(Hat tip to commenter IrmoJeff)
UPDATE 25 May 2011 -- Well, it appears that even though the fixtures are still apparently in place, there will be no re-opening:
UPDATE 31 March 2012: Added Westbury's wing joint to the post title based on commenter IrmoJeff's info.
UPDATE 24 August 2012 -- Now Tain's Caribbean Cuisine & Bar:
Posted at 12:51 am in Uncategorized
Cribb's Bakery was a longtime Five Points landmark and yet another Columbia institution I never got around to visiting. Looking at the ad from the 1997 Bellsouth phonebook, I think I could have gone for some of the bagels or pastries though pound cake I'm not so keen on. I figured I would always have time, but on Sunday 30 March 2003, the place caught fire.
According to The State's archives:
Cribb's Bakery, 1030 Harden Street, was damaged Sunday in a fire that apparently originated in the building's storage room.

Plumes of smoke billowed from the attic of the peach and blue building around 9 p.m., but there was no visible structural damage.

Battalion Chief Cleveland Geter said the fire was contained to the one room, and firefighters had it contained in 10 to 15 minutes.
Despite the story's optimistic take on the scope of the damage, the bakery never reopened, and in September of 2004 the current tenant, Time Warner Cable started work to move in, as The State reported on 9 December 2004:
Time Warner to move to Harden Street site

Time Warner of the Midlands planned to begin renovations this week to the old Cribbs Bakery on Harden Street, converting it into a roomier retail and office space.
I had assumed the old bakery building was torn down for the TWC office, but it would appear from this that it was not.
In a companion closing to yesterday's, commenter Andrew sends these before (8 April 2011) and after (15 April 2011) pictures of the Blockbuster on Emanuel Church Road, saying:
This is located in West Columbia at the intersection of Emmanuel Church & Old Barnwell Road. The Street address is 2916B Emmanuel Church Road. It is in a shopping center called Sandy Ridge Square, anchored by Bi-Lo.
Thank you, Andrew. I confess that I had to plug the address into google maps and then zoom out twice before I had any idea of where Emanuel Church Road was.
(Andrew offers a hat tip to commenter Thomas for the heads-up)
UPDATE 5 October 2020: Change post address to "2926 Emanuel Church Road Suite B" from "2916-B Emanuel Church Road" for consistency. Update tags, add map icon.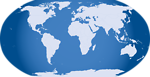 Well, here is yet another Blockbuster Video closing. It's the same old story about competition with Netflix, Redbox and various video-on-demand services, but it seems that there have been some new developments since I last did a Blockbuster closing.
For one thing, according to Wikipedia, the chain went into Chapter 11 bankruptcy in September of 2010. I had heard that, but I had not heard that their plan for coming out of bankruptcy failed. That does surprise me a bit. I figured they would emerge from bankruptcy, and then fail again. The Wikipedia article says that on 1 March 2011, the Justice Department moved to force them into Chapter 7 bankruptcy, ie: liquidation.
Then another unlikely event intervened, and just a few weeks ago, on 28 March 2011, Dish Network bought Blockbuster:
The Denver Post reported that Dish, a Denver-based satellite-TV firm, plans to use the assets to enhance its subscription offerings and start streaming video and shipping DVDs, in order to compete with Netflix. Analysts say such a move would present a number of challenges for Blockbuster, that it would require renewing studio deals, securing streaming rights and building out the needed infrastructure.
(Hat tip to commenter chiefa)
Posted at 1:14 am in Uncategorized