Archive for January, 2008
Posted at 6:11 pm in Uncategorized
When I was small, going to a movie always meant going downtown. We didn't do it often, but Main Street had at least four theaters and Five Points had one. The way I remember it, this all began to change with the opening of the Richland Mall Theaters (which deserve their own post). By the time I was in high school and college, the action had mostly left Main Street, with Dutch Square, Spring Valley, Richland Mall and Columbia Mall all having multiplexes (Columbia Mall effectively had two multiplexes).
The Jefferson Square Theater was the last theater downtown to play first-run major movies after the rest of the Main Street theaters had either switched to kung-fu, hard-R grindhouse or closed their doors entirely. "Jefferson Square" itself is still there, more or less at the end of the old Main Street shopping district. The theater building is still there too, though I don't know what's in it today. The last movie I remember seeing there was "Fame" in 1982. Even at the time, it was unusual to go downtown, and we had trouble parking (another part of what killed downtown theaters). I recall being impressed with the setup, which was on a larger scale than a typical multiplex. There was even a balcony, though it was closed at that time. We all enjoyed the movie (it seems to have fallen off the cultural radar now, but was quite a sensation at the time) and agreed that it was a nice place to see it, but we never went back, and I saw some time later that the theater had closed its doors.
I understand now that the Columbia Film Society is trying to move their Nikleodeon Theater from Main Street behind the State House to one of the shuttered theaters on Main in front of the State House. I don't believe that they are talking about Jefferson Square, but it will be nice to see a downtown theater of any sort again.
UPDATE 4 May 08: Added pictures of the current Jefferson Square courtyard.
UPDATE 12 September 2009: Added the Jefferson Square ad for "Two People" from the 15 April 1973 State paper.
UPDATE 21 April 2013 -- Commenter William sends in the picture below saying:
The current tenant DHHS leveled the floor by pumping truck loads of self leveling concrete. I am sending you a pic of the old projection room from about 2 weeks ago [circa 1 March 2013 -- Ted]. When I first went up there parts of the projectors were still there and you could see out the "windows". But as you can see in this pic they have been removed completely and windows blocked.
UPDATE February 16 2014: Finally add the full street address to the post title.
Posted at 12:13 am in Uncategorized
Applegate's Landing was on Decker Blvd somewhat behind Zorba's and the current Chik-Fil-A location. At least that's the way I remember it, though it's hard to visualize it there looking at the land today. Applegate's Landing was a sort of semi-upscale casual restaurant, on the order of Bennigans, though I don't believe it was part of a chain. I think it opened sometime in the 70s while I was in high school, at least the only two times I went there, it was with high school friends (though the second visit was some time was after our graduation).
As I recall, their main claim to fame, at least the one which made it into most of their advertising was that their salad bar was set up in the bed of a Ford Model-A pick-up truck. I'm pretty sure it really was an authentic Model-A, though it was mostly gutted. As well as the standard steaks, burgers and pasta dishes, they also had pan pizza, which they would bring to your table still in the pan. I liked my first visit well enough, but the prices were a bit high for me at the time (considering that I had no job..), and I didn't bother to go back until several years later. I had myself all set for the pan-pizza that second time only to find that they had revamped the menu and dropped that item. After that, it was again some years before I suggested the place to a group only to be informed that it had gone under. I'm not sure if this was for Applegate's specific reasons, or if it was the harbinger of the decline of the Decker corridor. At any rate, the building sat there for several years with no longer any clear way to get to it and was finally torn down. I don't know what happened to the Model-A..
UPDATE: I originally had the name of this restaurant wrong as "Appleby's Landing". I have corrected it to "Applegate's Landing" based on the comments. Thanks!
UPDATE 14 Feb 09: Commenter Midnight Rambler sent in a scan of an old Applegate's coupon, and I have posted it above.
UPDATE 12 April 2010: Added full street address to post title.
I don't have a lot to say about Santa Fe. It was one of the Mexican run Mexican restaurants in town. These tend to fall into three categories: The San Jose affiliated, The Monterey affiliated and the independants. Regardless of affiliation, they tend to have bland tomatoey salsa with no hint of heat and over-cooked, unsalted chips. Since chips & salsa are my favorite part of a mexican-style meal, I don't go to these places much unless I am with someone. I would place Santa Fe about on par with the San Jose restaurants, and not quite as good as the Casa Linda independant.
The building itself started as a Shoney's, back in the days when they were "Shoney's Big Boy". We would often go there for Sunday dinner, and would always get the latest "Big Boy" comic book. For dessert I would get the Ice Cream Sundae Cake: hot chocolate syrup poured over vanilla ice cream sandwiched between two layers of warm chocolate cake and all topped with whipped cream. Pure goodness!
We went less after the Big Boy days, and the whole chain got into trouble in the 90s with this location shutting down as part of the retrenchment. You can still see the Captain D's restaurant next door. The two chains have the same ownership, and they liked to co-locate them.
UPDATE 30 April 2009: It's to be an all you can eat buffet called Savannah's
UPDATE 10 September 2020: Update tags, add map icon.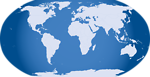 Posted at 8:03 pm in Uncategorized
Julie's was a small Columbia restaurant chain with a Bennigans-like concept. There were two in town, one on the frontage road at the Broad River Road/I-20 interchange, and one on Garner's Ferry Road near the old Woodhill Mall (about where Hampton Hills Athletic Club is now, but closer to the road).
I think these two started in the heyday of restaurants like Bennigans and Tuesdays 1865 (though those chains never came to Columbia for some reason), but never updated after their initial opening. I was more-or-less unaware that they existed until a group of friends ended up going to the Garner's Ferry location one night. Along with the standard burgers, steaks and pasta dishes, they also had a few Mexican items on the menu, and one, quesadillas was something I had never had (Mexican food was not very common at the time) and sounded interesting. In the event, I enjoyed it, but ended up with food-posioning from bad sour cream, and spent two days flat on my back (when I wasn't racing for the bathroom). I felt so low that I was unable to get up from the couch where I was lying in order to turn off the TV when one of my all-time most hated shows, The Scarecrow & Mrs. King, came on.
Needless to say, I never went back to Julies, and both locations closed sometime in the late 80s, the I-20 one after Woodhill. I don't recall anything else going into the building at Woodhill; I think it was torn down soon after Julie's closed, but I believe the building of the I-20 location did house something else before it too was demolished.
Update 30 May 2008: Added pictures of the doctor's office now on the old Julie's lot.
UPDATE 30 July 2012: I believe this building was the Julie's off I-20.
I never went inside this location of Tuesday Morning. I had never quite figured out what kind of a store it was supposed to be, except that it didn't seem like somehing I would be interested in, and was rarely open. I finally went inside the Pawleys Island location, and decided that the concept was essentially Big Lots by Martha Stewart, although it wasn't quite as bad as that sounds since there were a number of toys and odd bits of electronics I found interesting.
I don't know the exact date the Trenholm Plaza location closed. Even though I go to the Post Office around the corner almost every day, I hadn't noticed until this morning that Tuesday Morning was gone. Just to see what would happen, I called their number, and it was not disconnected (though noone answered), so I'm guessing the closing was within a month.
It will be interesting to see what goes into that location. Trenholm Plaza has done very well over the last 40 years in remaining viable while other strip malls have gone into decline almost as soon as they opened. (Look, for instance, at Midlands Plaza, which was very similar to Trenholm Plaza in its (brief) heyday).
UPDATE 23 April 2009: First, Tuesday Morning is back on Forest Drive in the old La-Z-Boy store.
And second, Rosso's Italian Restaurant is now open in the old Trenholm Plaza Tuesday Morning storefront. The menu looks promising! (and there's a nice review here)
UPDATE 2 June 2009: Added link to Rosso's review above.
UPDATE 2 Marcy 2023: Updating tags, adding map icon.
UPDATE 18 May 2023: Changing "Trenholm Plaza" to actual street address to post title.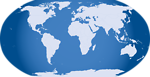 Posted at 8:08 pm in Uncategorized
Dixie Used Furniture was on Gervais Street below Assembly. If you were heading down towards the river, it would be on the left hand side of the street in the building which I think became the Vista's brew-pub and now houses some other restaurant.
Dixie was a type of store which was once fairly common but is now almost gone: The real "used furniture" aka "junk" store. To walk into Dixie as a child was to enter a world of wonder. The building was not air-conditioned, so there were always big fans keeping up a running chatter, and there was dust on pretty much everything. There were a few hanging light fixtures under the high ceiling, but parts of the store were always in shadow.
Although there was used furniture to justify the store name, it seemed to me that the main business was used appliances, and the center aisle was lined with rows of more or less decrepit refrigerators, stoves and washers. There were sometimes old vending machines too, and I think for a time the owners kept operating a Coke machine which had a manual crank like a Model-T. You paid the owner, then turned the crank, and a cold bottle came out the bottom.
My favorite part of the place was the bookshelves. These were alongside the left (closest to Assembly) side of the store, and could have absolutely anything that had ever been printed on them. The books ranged from gems like copies of the original Tom Swift books (Tom Swift and His Sky Train, Tom Swift and His Giant Searchlight etc) to semi-current hardbacks (a copy of Philip K. Dick's The Galactic Pot Healer [man I ended up hating that book!]) to old pulp magazines and trashy 60s & 70s paperbacks. After that, I liked to walk the aisles of junk: from old kitchen gadgets, toasters juicers and the like to odd electrical items I couldn't figure out.
My only problem with Dixie and other used furniture stores was that my mother was really into the "furniture" aspect of them, and it took her much longer to peruse that than it did for me to scour the shelves and sift the junk, leaving long periods of boredom after the initial excitement. The space race was on during the years of her heaviest visitations, and I recall clearly a dream in which I was on a rocket to the moon which she demanded stop at a used furniture store on the way..
As the years went on, the category of "used furniture store" gradually went by the wayside. I think that part of it was growing affluence and the migration of the best pieces of furniture to "antique" stores, the other part may have been the value of the real estate vs the value of selling junk. I very much suspect that was the case for Dixie with its gentrifying Vista location. At any rate, I think it and its sister store closed sometime in the 80s. Too bad. It sounds like they're considering "improving" our washing machines like they improved our toilets. A place with a row of used top loaders might not be so bad..
Posted at 2:08 am in Uncategorized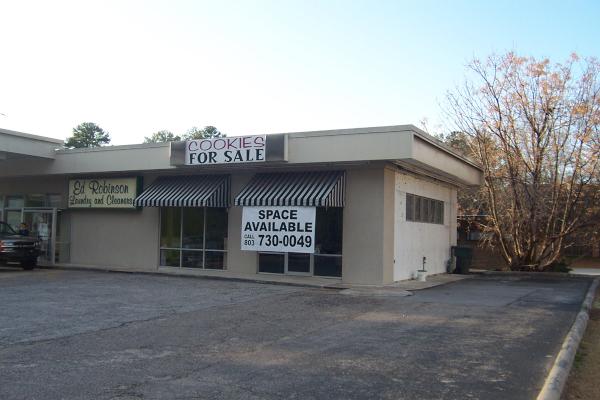 Wally & Crumb was a small cookie bakery on Forest Drive next to the La-Z-Boy warehouse near Trenholm Plaza. I stopped by a couple of times and got some chocolate chip cookies which were perfectly OK, but I think in the end the place had four problems:
1) Location
In general, a cookie store is not a destination in and of itself. I think if they had managed to locate in Trenholm Plaza, or the plaza with Piggly-Wiggly a bit up the road, they might have gotten some foot traffic from shoppers going to other destinations.
2) Signage
The main sign for the business read "cookies FOR SALE". If you were just driving by and looked over, your first impression would be that the building was for sale.
3) Lack of Marketing
Obviously I don't know what type of marketing the owners tried to do, but with their location, it would have made sense to try to get their cookies into Starbucks, The Fresh Market, Holey Dough, Hooligans & Books-A-Million at Trenholm plaza, if possible with a little placard like "We proudly offer Columbia baked Wally & Crumb Cookies!". I don't know how much freedom managers at national chains like Starbucks have to offer local products, but certainly Hooligans or Holey Dough would not have been out of the question.
4) The Product
As I said up front, the cookies were perfectly OK, but they were "hard" cookies, like Chips-A-Hoy. I think that goes against people's expectations for a "cookie store". When people go to a cookie store, they want something they can't get from Keebler or Chips-A-Hoy: freshly baked soft cookies. The hard cookie market is adequately served by the national bakers and by making hard cookies Wally & Crumb removed a reason to stop at their store.
Posted at 4:57 pm in Uncategorized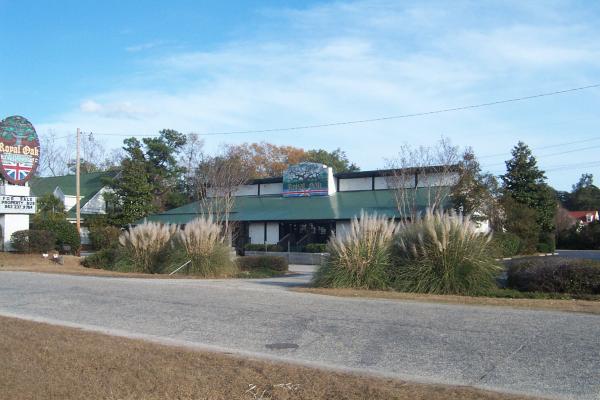 Rosa Linda's was one of the first out-of-town places I became a "regular". Once I had a job, and car, my comings and goings from the beach came to depend more on my whims than elaborate family vacation plans, and when I was on the coast alone, I could always choose a place I liked. At the time (and still to a large extent), what I liked was Mexican and pizza.
Rosa Linda's billed itself as a Mexican/Italian restaurant, a combination which seems natural to me, but which I have seldom seen elsewhere. Of course, it wasn't authentic Mexican food, and the menu would cheerfully admit as much, but it was Mexican food prepared in a way which seemed very natural to me as a South Carolinian, and I quickly became addicted to the chips & salsa, which were almost my first experiences with "hot" food. I realize now that the salsa which seemed so amazing at the time was in fact Pace Medium, but it was certainly better than what was (and is) served at Mexican run Mexican restaurants, and the chips were made on-site, and were excellent. The pizza was prepared in a brick oven, and was the best single item on the menu. The crust was thin, but not anexoric, and firm but not brittle. It was also great for dipping in any of the salsa you might have had left over.
The wait staff was uniformly friendly, and they became so used to seeing me there, that they gave me their "locals" discount card (despite the fact that I was living in Fayetteville and then Aiken at the time) and membership pin. Supposedly, if you wore the pin, you would get seated first if there were a line. That didn't seem quite fair to me, so I never wore it, but I didn't hesitate to take advantage of the discount card which got you 10% off everything except bar drinks for the whole party. Being in the program also meant you got a postcard every year on your birthday with some sort of free food offer. I'm not sure I still have the pin or card. I know they were in my '85 Camry when it was totaled, and I'm not sure I've seen them since.
I was very upset when I came down to the beach one spring and found Rosa Linda's closed. I'm not sure I got the complete story from a lady in another local establishment but it seemed to boil down to family issues, and maybe moving somewhere outside the country to retire rather than to a failure of the business.
There were originally two other Rosa Linda's locations, each run independantly, but with the same menu. Once was in Myrtle Beach near the old Myrtle Square and the other was in North Myrtle Beach almost across from Barefoot Landing. The Myrtle Beach location was subpar. I ate there a few times, but it was never as good as the other two, and it closed before the Murrells Inlet location. The North Myrtle Beach location was as good as the Murrells Inlet (but too far a drive to become a "hangout" for me), and soldiered on until they lost their lease and were unable to find another location. A new Olive Garden restaurant was opened on that lot.
After the Murrells Inlet location closed down, no other operation was able to make a go of the location. The first to try was some sort of chain Mexican place whose name I cannot now recall. That lasted about a year and was followed by a Mexican run Mexican restaurant, which didn't last much longer. That was followed by The Royal Oak a faux English tavern operation which had a formidable number of different beers on tap, as well as burgers and pizza. I tried the pizza, and found it inferior to Rosa Linda's by a good bit. The pub folded last year, and the building is now vacant again. Oh well.
UPDATE 7 July 2009: Added scan of Rosa Linda's loyalty card above.
The Royal Oak was replaced by Spencerz's Sports Pub, which is now "closed for remodeling".
UPDATE 7 October 2009: Added the first picture, which shows Rosa Linda's with some wind damage after Hurricane Hugo in the fall of 1989
UPDATE 26 October 2009: Added the picture of the building's current tenant, Spencer'z Sports Pub (the pizza is 'ok', not nearly as good as Rosa Linda's).
UPDATE 22 Jan 2010: Well, looks like the Rosa Linda's folks are going to have a reunion (see the comments). Maybe they can rent their old building -- because Spencer'z South went under this week..
UPDATE 3 June 2010 -- Well, after 30+ years of being a restaurant, it appears the building will now be a golf shop:
UPDATE 12 April 2011 -- Good news! A new Rosa Linda's will be opening in the old Hoof 'n' Finz:
UPDATE 14 May 2011 -- The new Rosa Linda's is open!
I went by the other night, and am very pleased! They don't have a pizza oven because of structural limitations in the building, but the enchiladas taste exactly as I remember, as do the chips and Mexicana Mud.
Posted at 12:40 am in Uncategorized
I'm more than a litte hazy about where the giant slide was. It was definitely in the West Columbia/Cayce area. If I had to guess, I would say it may have been on Airport Blvd near what's now the I-26 interchange, but it could have been further out on the Charleston Highway.
At any rate, it was clearly an economic boondoggle which didn't last more than a single season, which was a real shame. The way I remember it, it had a large number of sliding "lanes", possibly as many as a dozen. You would get a piece of some sort of fabric to slide on, possibly a carpet patch, or a burlap sack, walk the stairs to the top, pick a lane, get on your fabric and slide down. The whole thing was built on a metal frame, and I think the lanes were fiberglass. I have the vague impression that different lanes may have had different colors. I don't remember the price and whether it was "per ride", a time limit, or per visit. At any rate, it wasn't so exorbitant that my parents wouldn't take us.
As I say, it didn't remain a going concern for very long, but it sat there, defunct for at least several years. We kids didn't quite understand the concept "out of business". The slide was still there, surely if we kept going, eventually we would catch it when it was open. Our parents, I'm sure, rolled their eyes and tried to get the concept into our minds, but eventually every time we were in Cayce for Sunday dinner, they would give in to our pestering and drive us out to the slide afterwards. I can't remember exactly when the slide was finally torn down, but I think it was gone by the Tricentennial.
UPDATE:
In the comments, Jaby Baby says the slide was called The Magic Carpet and was on Airport Blvd. Thanks Jaby!
Posted at 7:39 pm in Uncategorized
Consider the video arcade: Is there a more 80s location you can think of? These places flourished in that relatively narrow span of years between "Pong" and ubiquitious PC and console gaming. Video games started out in corners, perhaps forcing out a pinball machine or other mechanical amusement device, then spread to their own parlors then, aside from Ocean Drive and Chuck-E-Cheese faded back into corners again.
At one time Columbia had 6 video arcades that I can think of: One in a building specially built for it on Two Notch Road near where the I-77 interchange is now, one at Decker Mall, one at Bush River mall, one at Columbia Mall, and two "Robo's" locations, one at the Jackson Blvd K-Mart plaza, and the other on Main Street.
The Robo's on Main was on the west side of the street, just across from USC's "Towers" dorms (now gone), next to the 7-11 (now gone) and the Pizza Hut (now gone) and Stuffy's (now gone), in a building now gone. You get the picture. I was living in the Towers from 1980 through 1984, when Robo's was in operation. At the time, the USC student newspaper The Gamecock ran Robo's ads which offered cupons good for a free token. Either I or my roomate would walk into the room with the newspaper and say:
Rob?
or
Galag?
Rarely would the other turn down the invitation. Robo's had a wide selection of games, some that are considered classic now, and some that are long forgotten. My particular favorites were Joust, Pengo, and above all Galaga. We played Galaga so often and so long that my hand would bleed from frantically working the controls, and while I never achieved really elite status, I could reliably get to stage 15 and above. My roomate and I developed names for certain of the games tactics and avatars. You really had to beware of "greenies" and the dreaded "triple bee-pass". I was heartened to find recently on a trip to Myrtle Beach that we both can still play the game, though perhaps not quite as well!
At some point, as I intimated above, video arcades became trailing edge, and the crowds left, leaving the businesses to gradually become more decrepit until they couldn't pay the bills. As I recall, Robo's folded long before the building housing it was torn down. I think the arcades at Bush River and Decker pre-deceased even those ill-fated malls, and the one on Two Notch became a carpet store. Oh well, we still had some good times. Got a quarter?