Posted at 12:55 am in
This page was originally a post, but I've decided to copy it here so I can add to it from time to time as you suggest new rules, or as new ones occur to me.
I eat out a lot, and I've come to see that there are a number of rules for running a restaurant that are honored in the breach more often than the reverse. None of these are rocket science, but I thought I would write some of them down because a lot of restauranteers really need to read them.
1) Honor Your Posted Hours
I can't over-emphasize this item. Your posted hours are part of your contract with the public. Nobody forced you to post a particular set of hours on your door, but having posted them, you need to honor them. If I have made myself work until 9:30 with the lure of a nice supper based on your promise to be open until 10:30 and I show up to hear "Well, it wasn't very busy, so we closed the kitchen at 9, it's too late for me to go elsewhere. You have ruined my evening.
I try not to be a jerk. I will not waltz in at 5 minutes before closing and order an elaborate meal, but if I show up at least half an hour before posted closing, I expect to find your establishment in full operation.
2) Make More Tea
This is a related point. If I come in at least half an hour before closing, and you are out of tea, I expect you to make more. Yes, some of it will go to waste, but it is on your menu and only costs you pennies to make. Besides, if your staff weren't so hellbent on closing before you are supposed to, they wouldn't have dumped the urn.
3) If My Glass is Empty, Fill it Up
Really what more can I say? Is this so hard to do?
4) Don't Bring the Bill While I am Still Eating
If you bring the check before I have finished my meal, it implies that you want to get rid of me, and is somewhat rude. It also implies that you are washing your hands of me, and that I can expect no further refills. It is also not in your best interests. If I have been contemplating dessert, having a finalized bill pretty much kills the chance that I will ask for anything else.
5) Don't Let the Bill Sit
This is the inverse of the last rule. If I am not ready to go, I will not put cash or a credit card on the check you brought me. When I am ready, and do place my payment, I don't want it to take twenty minutes before you pick it up.
6) Never Ask: Do You Need Change?
If I have a check for $8.21 and hand you a $20 bill and you say "Do you need any change?", it implies you are angling for a $11.79 tip. It's even worse if what I would be getting back is close to (but more than) what I would be leaving you for a tip. In that case it makes me feel stingy for begrudging you an extra eighty cents.
The correct phrase is "I'll be right back with your change". This gives me the opening to say "That's OK" if I intend you to keep everything.
7) Make Sure the Staff Instructions Agree with the Menu
If your menu describes an item of food in one way, make sure the instructions given to the kitchen and wait staff agree with the written description.
For years, the menu at Shoney's described the spaghetti as coming with mushrooms. So I would order spaghetti, and it would invariably come without mushrooms, leading to the following exchange:
I didn't get any mushrooms with my spahgetti
You didn't say you wanted mushrooms
Well, the menu says it comes with them..
The same goes for El Chico, and the guacamole that is supposed to come with the burrito con queso..
8) Don't Let the Waitresses set the Thermostat
They are walking around and carrying stuff. It's a hard job, and they are working. I am not, I'm just sitting there gradually freezing to death.
9) If You Must have a TV, Mute It
Sports bars are excluded, I suppose, but if I walk into a general restaurant, I either want to talk with the rest of my party, or if I'm alone, think my own thoughts. I don't want to hear about the news, a soap opera, an infomercial or even the weather I just came in from. On most modern TVs, you can activate a close-caption mode that lets the staff follow their programs without annoying the patrons.
10) Don't Argue
It amazes me that I feel I have to list this one, but it has happened, and flabbergasts me every time.
If I say I need a new fork, don't ask me "What's wrong with that one?". Just get me the fork.
11) Think About Your Restroom Design
First, if at all possible, your restroom door should open out. If I have just washed my hands, the last thing I want is to have to grab a restroom door handle and pull just before returning to my table. I should be able to pivot, push the door open with my back and continue without having to touch the door with my hands. Second, the trash can in the bathroom should be an open bin. I know this is somewhat unsightly, but I don't want to have to touch the lid of a bathroom trash can in order to dispose of my paper towel. It is amazing to me that some restaurants actually use trash cans with lid-springs so strong that it takes two hands: one to push open the lid, and one to toss in the towel. People are simply not going to do this, and that is why the floor around these trash-cans is always litered with towels. People want to be neat and help out the cleaning staff, but not to the point of touching trash-can lids. On first blush, trash-cans with foot pedal operated lids seem like a nice compromise, and indeed if they worked they would be, but my experience is that they are too delicate for public accomodations. After the first week or so, the mechanism breaks, and towels start to accumulate on the floor beside the can (or even on top of the lid). This is a case where the simplest solution, an open bin, is the best solution.
12) Unlock your doors!
If your entrance involves "double" doors -- unlock them both! I don't know how many times I've made a fool of myself blithely shouldering into one of a pair of double doors which turns out to be locked for some unaccountable reason. At the very least, deploy a Please use other door sign!
13) Give me some singles back
If my bill is $9.83 and I give you a $20 bill -- don't give me a $10 bill and 17 cents. Give me a $5 bill, 5 singles and 17 cents. Otherwise, I may have no way to tip you.
14) Keep the questions to a minimum
Perhaps I have just recently become sensitive to this as I now have a very limited lunch window, but it seems to me restaurants are asking more and more unnecessary questions and slowing things down. No, I don't have your loyalty card. No, I don't want a bakery item for just 99-cents..
If I order something, assume I want it prepared as your menu describes it unless I say differently. Don't keep up a constant stream of questions on how I hypothetically might want it customized. Moe's, yes I do want the Art Vandelay with rice, Subway, yes, I really did want bacon, lettuce and tomato when I ordered a BLT.
15) Offer Me Dessert
This goes along with rule 4. Maybe it's just me, but I have a quirk such that if I ask for dessert, I feel like a pig, but if you ask me if I want dessert, I feel like I'm being agreeable in going along with it. No, it's not logical, but yes it is real. Honestly, I don't look like a guy who skips a lot of desserts, so why not ask me? You might make some more money.
16) Don't Pounce!
This one seems to come up more and more recently. In fact I can't ever recall it being an issue *before* fairly recently: If I am eating and put my fork down for the last time, don't immediately swoop in and pre-bus all my dishes. It makes me feel like I am being watched by the predatory eyes of a hawk! Even moreso if there are two or more of us, don't swoop down and carry off the dishes of the first to finish. It puts unnecessary emphasis that one person is sitting there with nothing to do and unnecessary pressure on the remaining diners to finish things off. After all the diners are finished, and have had time for the post-meal "well, that was nice" chat, then you can come in, do some pre-bussing and follow rule 15.
What Are Your Rules?
I'm sure you have your own rules that are violated all the time. Leave me a comment, and if I agree, I'll add it to the list!
UPDATE 10 May 2009: Added rules 12 & 13.
UPDATE 14 June 2010 -- I'm going to copy the picture of the "right" trash can I posted in the comments to here, and add a "wrong":
RIGHT -- Moe's on Beltline in Columbia: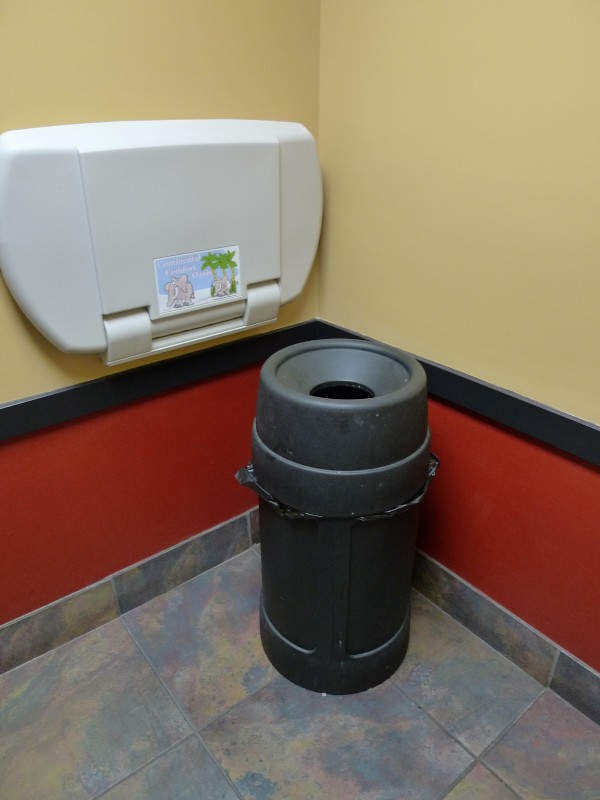 Note the total lack of towel refuse around the open container.
WRONG -- Kaminsky's on Market Street in Charleston:
Note that this is a pedal operated can. The pedal has been broken for months if not years. See the towel refuse on top of and in front of the can.
UPDATE 21 January 2020: Added rule 16.
96 Responses to 'Ted's Rules For Restaurants'
Subscribe to comments with RSS or TrackBack to 'Ted's Rules For Restaurants'.
Leave a Reply