Archive for the 'dry cleaning' tag
I noticed some new signage on Ed Robinson Laundry & Dry Cleaning (in the Ed Robinson building, as it turns out) on Forest Drive, and although the new name is not visible from the street, a drive through the parking lot confirmed that this location is now a Michael's Cleaners.
I have always liked the spire in front of this building, and it looks especially good at night with the blue illumination. I took a few twilight pictures on another day that I will add to the post eventually.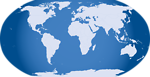 As mentioned by commenter Andrew, Tripp's Fine Cleaners have closed their Saint Andrews Road location. Looking at their sign, I think the closest next location to here is probably the old Piggly Wiggly location on Lake Murray Boulevard.
(Hat tip to commenter Andrew)
UPDATE 21 November 2020: Updated tags.
UPDATE 25 January 2022 -- Now Greedy Rascals, a hot dog arcade(?):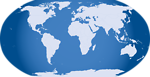 I'm not sure exactly when this location of Lexington Dry Cleaning, at the corner of Elmwood & Marion, closed, but it was definitely earlier than the Sesqui location, so I'm going to say 2018. As you can see, it has been vacant long enough for a political advocacy organization to move in.
(Hat tip to commenter Justin)
UPDATE 18 November 2019: Changing the closing date from 2018 to 2019 based on the comments.
UPDATE 14 December 2021: Update tags.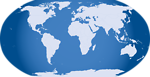 Lexington Dry Cleaning on Two Notch near Sesqui is moving, or consolidating, to Blythewood, leaving a vacancy in Sesqui Center. I find it interesting from their heads-up sign that they do a lot of their business by delivery now. I guess in the age of Amazon Prime, Grubhub and home grocery delivery that makes sense.
(Hat tip to commenter Thomas)
UPDATE 14 December 2021: Updating tags, closing date.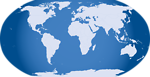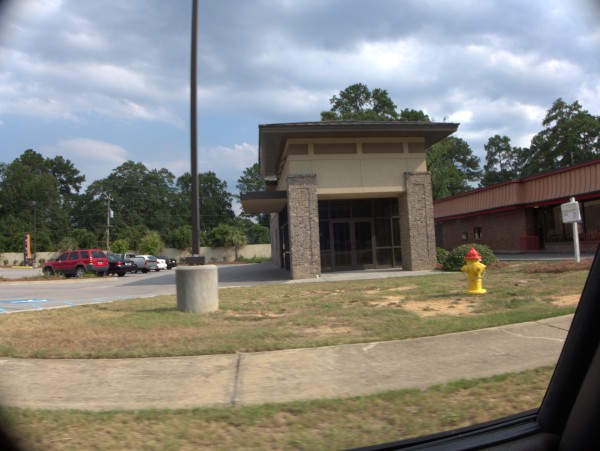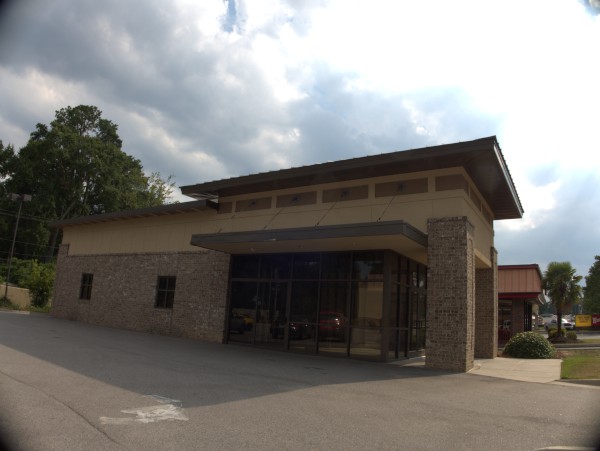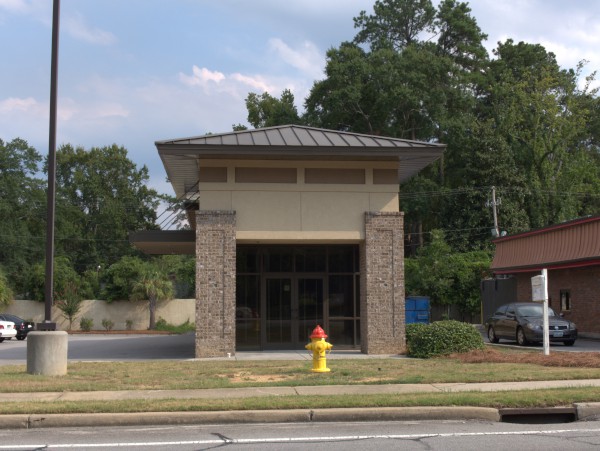 This new-ish but odd little building is on Knox Abbott in between Taco Bell and Wendy's.
For the life of me I can't remember what it was right now, and am unable to come up with a street number to google it.
UPDATE 16 September 2016 -- This is one of the posts lost in a database crash. Originally it was just titled "Building", but based on the comments as I bring it back, I'm changing the post title to Kleen Kare Dry Cleaner as that what it was to be, though it never opened due to the big crash of the late 2000s.
UPDATE 11 June 2019 -- This is now Carstar auto repair. Not sure if they do the actual work at this location:
UPDATE 15 Novemeber 2023: Update tags.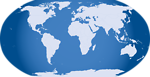 Posted at 1:32 am in Uncategorized
Commenter Mayr Douglass mentions that many (or all) Master Cleaners in Columbia have closed recently. So far, I've only checked out this one, on the corner of Millwood & Hagood Avenues.
As I've mentioned elsewhere, Master's was a constant radio presence while I was growing up, with their memorable jingle often playing on WIS
Look Your Best All The Day
In Clothes Cleaned the Mas-ter-ful Way.
You'll feel the diff-er-ence
Know the diff-er-ence
And what's more
You'll *show* the diff-er-ence!
(Hat tip to commenter Mary Douglass)
UPDATE 18 September 2013 -- It's now Provisions Bulk Foods & Spices:
This story from The State talks about the new operation.