Archive for the 'Decker Mall' tag
To the best of my memory, I ate at this Rush's sometime shortly after it opened, which is the only time I have been in one of their stores. I'm not sure why that is, as it was fine, and I was impressed with the state-fair-like presentation of the fries in a paper cup.
I admit to being a bit surprised at this closing, as I figured with the county takeover of Decker Mall, they would have a steady lunch business of civil servants crossing the parking lot for a bite.
The State says however that it was a 40 year old building that had age and maintenance issues and:
"At some point you just have to let it go."
The stonework facings are definitely of another era, though not quite as distinctive as the old Popeye's buildings.
This closing makes two vacant restaurant buildings on the Decker Mall property, which seems odd. As I said with the county office workers (and law enforcement) nearby, I don't see why the site couldn't support a new restaurant, though perhaps either building would have to be razed and rebuilt.
(Hat tip to commenter Tom)
UPDATE 18 December 2019: Added the first picture from 2 November 2019, the actual last day of operation.
UPDATE 4 February 2021 -- To be Cod Tail Seafood & Chicken, a Charleston outfit. I really do not like that name!
UPDATE 22 August 2022: Updating tags.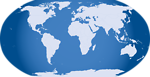 Posted at 12:55 am in Uncategorized
Well, it's unclear to me exactly when the hammer finally dropped, but all the remaining private businesses are now out of Decker Mall. I decided to stop by last week, and found that once I was inside, the only occupied space was the Dentsville Magistrate's office, and that most of the mall is now cordoned off by wire fencing in advance of the place being remodeled to house a bunch of Richland County Government offices.
I've written in various places about Decker Mall tenants, and thus in passing about the mall itself, but I've never done an entry for the mall per se.
In the beginning, Decker and Bush River malls were twins, with both being laid out as a strip anchored on one end by Richway (with the distinctive triangles on top) and on the other end by Kroger. The only real difference was that Bush River had a multiplex and Decker did not.
I'm not sure when Decker Mall opened, but it was definitely while I was in High School, probably around 1977. At the time, Columbia Mall was thriving, and just a few blocks away, so from the get-go, Decker had to find a different focus. With a discount store as one anchor, and a grocery as the other, the stores in the interior between the two tended to be smaller national chains, local chains, and one-off locals. Apart from clothing and other stores that didn't catch my teenage eye at all, I can recall Gateway Books, Flipside Records & Tapes, and my favorite, The Land of Oz video arcade.
After the Richway chain folded, Gold Circle took that anchor spot, and then when they folded, Target moved in. As far as I could tell, they always did a good business, but at some point a general mania struck Decker Boulevard businesses and they all begain a flight to Nort East Two Notch Road regardless whether there was still a customer base at the original location. When both Target and Kroger joined the flight, the writing was not only on the wall for Decker Mall (that wall had been scribbled for years..) but now it was etched in.
A number of local businesses that didn't rely on foot traffic held on there for years, but the last is now gone, and the next phase of life for the mall, if not *as* a mall is about to begin.
I have gone through a number of old city directories at the RCPL and have come of with this list of tenants for various years:
1977:
Does not list a mall at 2500, just Richway Stores.
1978:
Decker Mall Shopping Center
Richway Inc
Richway Auto Center
Ann & Andy Fashions
Fashion Bug of Bush River Inc
Dipper Dan Ice Cream Shop
The Peanut Shack
Country Corner gift shop
Reflections
Fayva Shoes
Good Health Food & Nutrition
Jenkins Flower Botique Inc
Manufacturings Outlet Shoes
Land of Oz
The News Room (restaurant & lounge)
Command Performance
Yummy Yogurt
Flipside Records & Tapes
Kroger Sav On Food & Drugs
1979:
Decker Mall Shopping Center
Richway Inc
Richway Auto cener
Fashion Bug of Bush River Inc
Country Corner
Reflections (men's clothes)
Gateway Books
Fayva Shoes
Jenkins Flowers & Bride's Place
Manufactures [sic] Outlet Stores (shoes & clothes)
Land of Oz
Command Performance
Harvey's Warehouse (stereo equipment wholesale)
Flipside Records & Tapes
Kroger Sav On Food & Drugs
Kroger Sav On Pharmacy
1983:
Decker Mall Shopping Center
Richway Inc
Richway Auto Center
Arnold's Formal Wear
Four Seasons
Mill Fabrics
The Micro Shop
The Shoe Tree
Land Of Oz
Command Performance
Flipside Records & Tapes
Kroger Sav-On Food & Drugs
Video Ventures
Melody Music Center
Olan Mills Inc
Rush's Fast Foods
1988:
Cola Magic & Customs Shop (theatrical supplies & equipment)
Decker Mall Shopping Center
Gold Circle
Four Seasons
China City
Command Performance
Kroger Sav-On Food & Drugs
Stone Works Home of The Dirt Cheap Mine (jewelery specialty)
Melody Music Center
First Federal of South Carolina (in Kroger?)
Olan Mills Inc
Rush's Fast Foods
State Department of Highways & Public Transportation
Columbia Magic & Costume Shop
Magic & Miracles Productions
Pettit William H Agency (talent agency)
Expert Alterations & Fine Mending
1993:
Target
China City
Kroger Sav-On Food & Drugs
First Savings Of South Carolina (in Kroger?)
Rush's Fast Foods
State Department of Highways & Public Transportation
Expert Alterations & Fine Mending
1998:
Branch Banking & Trust Co (in Kroger? in Target?)
Carolina First Corporation (where?)
China City of Columbia
Expert Alterations
Kroger Drugs
Rush's Food Systems
Target Store
2003:
Healthy Home Foods Inc
Legends Security & Sound
Little China Buffet
Pup's Barber Shop Express
Rush's
Special Occasions (catering)
Expert Alterations
Precisely Yours (beauty salon)
Changing Faces (beauty salon)
New Life World Ministries
2008:
Arcadia Self Storage
Legends Security & Sound
Little China Buffet
Division of Motor Vehicles
Nunies Mini Stand (convenience)
Richland County Magistrate
Rush's
Special Occasions
D & T Fashions
Expert Alterations
Changing Phaces (beauty salon)
New Life World Ministries
2011:
Extra Space Storage
Shekinah Glory Family Care (childcare)
Special Occasions (banquet rooms)
Legends Security & Sound
Division of Motor Vehicles
Richland County Magistrate
Expert Alterations
New Look New U (beauty salon)
Rush's
Note that some time between 1988 and 1993, the mall offices stop being listed, so perhaps the mall as a corporate entitiy was gone by that point. Note also that Rush's and China City/Little China are outparcels.
Here is Sky City's writeup on Decker Mall, and following are pictures and links from my other Decker Mall posts.
My post discussing the county purchase.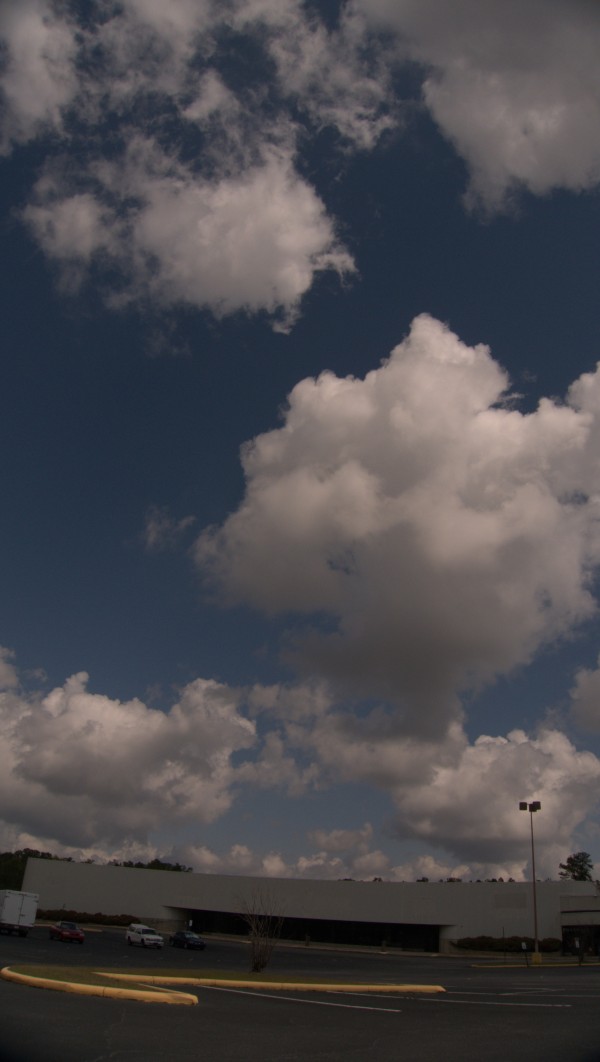 DMV: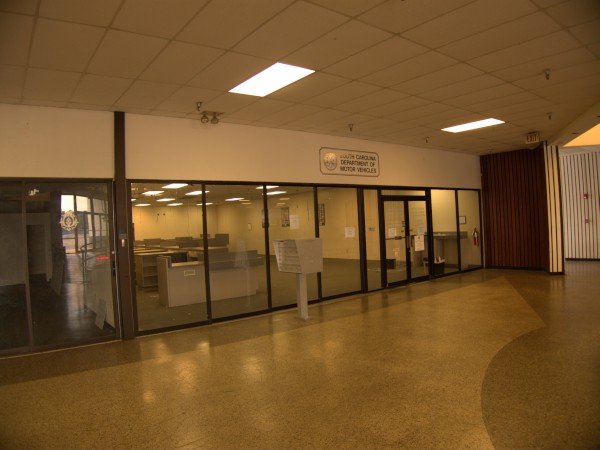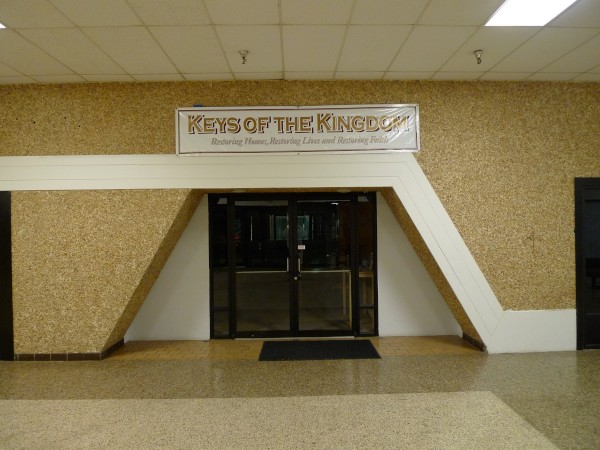 Richway / Gold Circle / Target: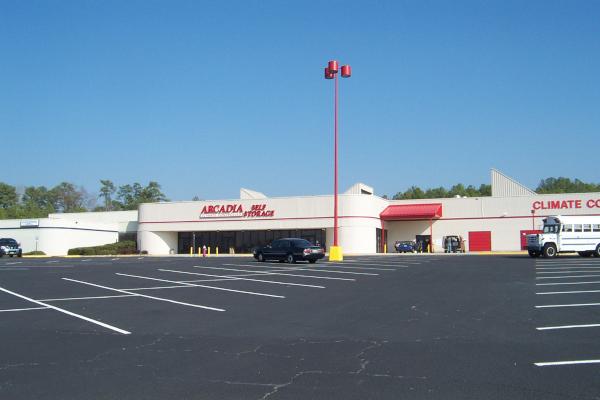 I know I have some other Decker Mall pictures around, and I will add those as I find them.
Posted at 10:59 pm in Uncategorized
This building was built as a Taco Cid and I ate there from time to time in the 1980s. I believe that Bright Animal Clinic was the first, and so far only, operation to use the building since Taco Cid left.
The clinic's closing sign mentions that they were established in 1971, so a) This is obviously not their first location and b) That's a 40 year run, and sounds like a well deserved retirement.
It will be interesting to see what happens with the building. There still have been no takers for the nearby Olive Garden and Red Lobster buildings, but the nearby laundry does OK, and there should be a fair number of ofice workers in the area after the county finishes the takeover of Decker Mall.
(Hat tip to commenter Matt)
UPDATE 18 April 2013 -- It's to be an Atlantic Seafood:
UPDATE 25 April 2013 -- The building sign is up:
UPDATE 17 February 2014 -- Atlantic Seafood is finally open:
I was at Schlotzsky's on Parklane having lunch today when a guy came in looking for the DMV. Naturally, I sent him across Two Notch to Decker Mall: D'oh!
I realized my mistake as I drove down O'Neil Court just a little later, and saw that the DMV had relocated to the old Pro Golf of Columbia location in The Shops of O'Neil Court.
I suspect this has something to do with the purchase of Decker Mall by Richland County, though I would have expected the two different levels of government to work out a deal of some sort for the space.
Posted at 1:31 am in Uncategorized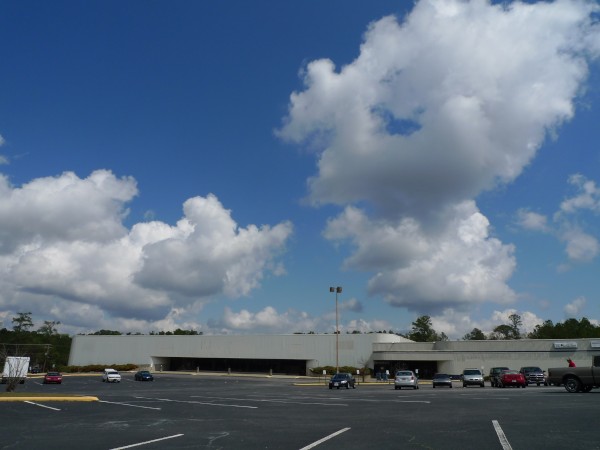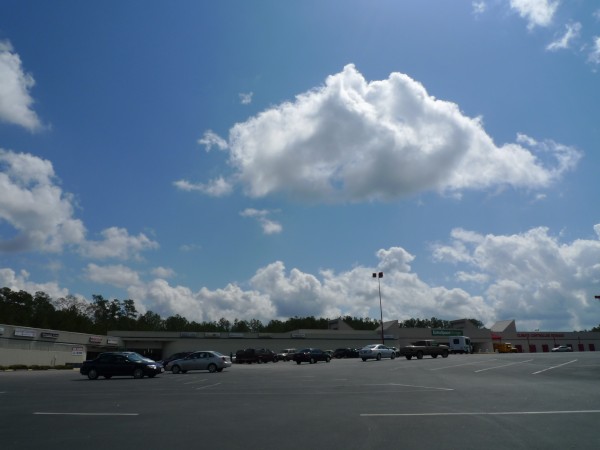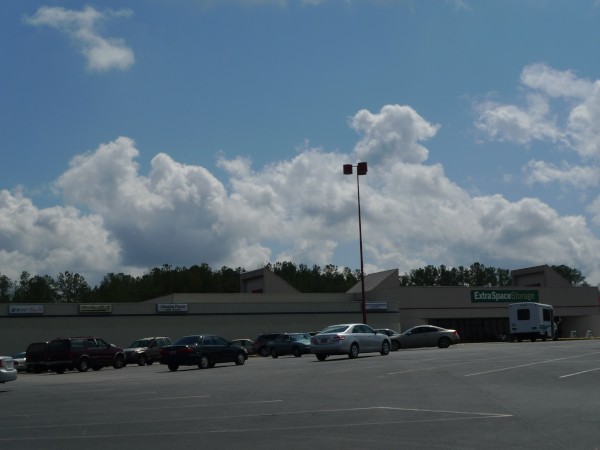 Richland County plans to buy a strip mall on Decker Boulevard and relocate yet-to-be-determined offices there as a way to address a cramped courthouse and administrative offices.
This, of course, is the former home of Kroger Sav-On, Land of Oz, Little China Buffet, Richway/Gold Circle/Target, Flipside and many other things over the years.
Posted at 1:12 am in Uncategorized
I probably should read The State more often than I do..
First -- Richland Mall is back:
Sandhill developer takes over Richland Mall

Village at Sandhill developer Alan Kahn has been tapped to breathe new life into Midtown at Forest Acres. And his first act will be to give it back its old name - Richland Mall.
Second -- Kroger at Sparkleberry Square is in trouble:

Kroger on Two Notch Road at Sparkleberry Lane is no longer open 24 hours. The store reduced its hours last week to 6 a.m. to 1 a.m. daily. Other stores in the Columbia area will remain open 24 hours. The chain reduced hours at some stores so they could continue to offer low prices during a difficult economy, a spokesman said.
As to the first, I, for one, have always refused to call the place either "Richland Fashion Mall" or "Midtown at Forest Acres", so I'm glad to see the "classic" name back. Kahn certainly has an uphill slog ahead there though. Given that even the new Village at Sandhill has had a lot of churn and ongoing vacancies, an older, already perceived as failing (because, it is failing) mall is going to have even more trouble luring tenants. I guess the obvious thing to try, as I think Sky City has suggested, would be to try to lure Macy's from Columbia Mall to the vacant Parisian or Bonwit Teller slot. Of course that would put paid to Columbia Mall so I'd rather something else happen..
As to the second, I think that after this, this, this, this, and this, I can say that Sparkleberry Square is "troubled". Kroger cutting its hours certainly does nothing to reverse that perception. For a restaurant, it's fatal sign #1. I don't think the Kroger will close, but I'll bet they're nostalgic for the rents at Decker Mall about now.
Posted at 12:30 am in Uncategorized
The Kroger Sav-On at Decker Mall was the first Kroger I ever encountered. It opened while I was in high-school, and was really different from the grocery stores I was accustomed to before it arrived.
Firstly, it was quite large. This was before Wal-Mart super centers or anything like that, and I was used to stores the size of a Colonial, Piggly Wiggly or A & P. This store was noticably larger than any of those.
Secondly, it was more diverse. Some of the largeness was due to it having a built-in pharmacy, which none of the other stores did, but a good bit of it was from selling more than food. In the beginning, the place seemed almost like a mini department store to me, where you could never be sure just what you might find. For instance, I got the very first microwave oven I ever bought from the (now also closed) Kroger at Surfside Beach which also dates from this era, and I still recall how bemused I was to have found such a thing at a grocery store.
Thirdly, it was open late. I don't believe this store was ever 24 hours like the Forest & Beltline store, but it was open a good bit later than I was used to, and the idea that I could pop out at 10pm and buy something was very enticing. (Especially as I was starting to drive and then drive at night).
For a long time, this store, and Target carried Decker Mall. Then when the mall began to decline to the point that you either parked near Kroger or near Target because there was nothing interesting in-between, they locked the doors on the mall side of the store and made everyone come in the front. Finally, when the flight from the Decker corridor to Two Notch began and strengthened, both Kroger and Target moved into new stores, Kroger's in Sparkleberry Square, Target's just slightly east of that. I have never fully understood the demographic logic of that. Yes, the area is growing, and a new store there will make money, but it's not like everybody near Decker suddenly died -- the population that was there is still there. Of course, this store doesn't really fit in with Kroger's current look (which is, I admit, quite nice) and would have needed re-working at some point anyway. (I keep expecting the Forest & Beltline store to either close or remodel..)
Interestingly, and somewhat unexpectedly, Decker Mall survived the move of both anchors and continues to live on, mainly on the strength of the DMV, I suspect, but there actually are a few other ongoing operations there as well.
UPDATE 29 March 2010: The clouds were so nice today, I couldn't resist getting and adding some better shots above.
UPDATE 11 March 2011: Updated closing date due to research by commenter Andrew.
I believe this Chinese restaurant on a Decker Mall outparcel has been there in one form or another ever since Decker Mall opened, making it much more durable than any of the stores inside the mall.
I'm not really sure when it closed. I was driving by today around noon and noticed that there were no cars in the lot, which I thought was odd, so I stopped to take a look. There is absolutely no indication that it is closed, other than the fact that it was not open. There was no "Sorry, Thanks for X Wonderful Years!" sign or anything like that, and all the fixtures still seem to be in place as well as third party items such as the gumball machines.
I'm saying "Jan 2010" then since that is recently enough to look fresh but far enough in the past that the phone being disconnected (which it is) makes sense.
This place is almost across the street from the old Jumbo Asian Buffet which is also defunct, but there is another Chinese restaurant just up the hill on Decker a bit, so the neighboorhood is not totally bereft.
UPDATE 19 Feb 2010: Added "China City" to the post title based on the comments.
UPDATE 5 June 2012 -- Somebody has been working inside this building recently after years of no activity at all:
UPDATE 12 July 2012 -- Open again!
UPDATE 14 November 2019: Updating the post status to "closed again". As I mention in the comments, I had taken new pictures and actually updated this post at one point to reflect the second closing, but lost it in a database crash. The pictures at least I should be able to dig up again if I remember to make an effort. Also updated the tags and added a map icon.
UPDATE 28 February 2020 -- Here are some pictures I found from 12 April 2015: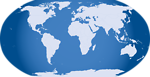 Posted at 1:27 am in Uncategorized
Actually, this might not be Land of Oz as I can't remember if that was at both Bush River & Decker Malls, or only at Bush River with this being another operation. Whatever the name, it was definitely the Decker Mall video arcade though.
In its current incarnation, it has had somewhat "regular" doors retrofitted into the distinctive flat-arch entranceway, but originally, I believe they just drew a sliding mesh curtain at nights.
The layout I most remember had Don Bluth's pioneering "Dragon's Lair" console dead center in the entranceway facing the hall. This game was a combination of traditional hand-drawn "cel" animation served up from a laser-disc (not a DVD!) and choose-your-adventure gameplay with the transition between the scenes being guided by the game-play lever. For instance, if a dragon was about to fry your knight, and you raised your shield, the disc would transition to a "flame bounces off shield" scene, if you didn't raise it, it would transition to an "the ashes of your character blow away scene" (those are just examples, I don't recall the actual specifics). Actually like many "pioneering" technologies, it wasn't that good because they were pushing the video scene changing tech further than it was really ready to go, and the transitions were really clunky.
If you turned left at "Dragon's Lair", there was a "Bezerk" somewhere in the left side of the store. This was the pushy game that would in "attract mode" declare "COIN DETECTED IN POCKET" from time to time. You had to either shoot the robots or run them into the electric walls. I liked it, but wasn't that good.
Somewhere against the back wall, I think was "Battlezone" a vector-graphics based POV tank game. You had two levers, one for each tank tread, and you could spin in place by running one tread fowards and the other tread backwards. I usually ended up fooling around with navigating the tank and getting shot.
I don't recall any more of the layout, but they definitely also had "Asteroids", "Space Invaders","Tempest", "Defender" (which I could not play at all -- too many things to keep track of), "Milipede", and "Missle Command". I suppose they must have had "Pac Man/Ms Pac Man", but I don't really recall it. I'm prettty sure they did not have some of my other favorites, "Star Castle", "Galaxian", "Phoenix", "Gorf", and "Joust", or my all-time favorite, "Galaga". Of course, it could just be that when I was in college, I went to Robos instead of here and thus missed the gradual turnover.
I'm not really sure when they closed. The mall underwent a long gradual decline that accelerated into death-spiral when Kroger and Target pulled out, but I think they were gone before that, probably late 80s I'm guessing.
UPDATE 18 June 2012: The last city directory listing Land of Oz is 1986, so I have updated the closing time in the post title from "1980s" to "1986".