Archive for the 'government' tag
I didn't know the South Carolina Association of Counties was a thing, but it is, and apparently they have moved from this Fernandina Road location to 1919 Thurmond Mall, near Richland Street.
Capitol City Insurance whose marquee you can almost see on the building and whose name the LoopNet listing puts to the building, seems to have moved north up Fernandina to the other side of Piney Grove to 1 Fernandina Court.
Posted at 12:30 am in Uncategorized
After the Woodhill Automated Post Office closed in January 2010:
Woodhill Storage & Office Centre on the other side of the plaza took up the slack by opening a contract post office.
I noticed while eating lunch at Jimmy John's the other day that several people were getting out of their cars with packages and then getting back in their cars *still* with packages. Checking it out, I found that the USPS marquees have been covered over, and that there are door signs posted to the effect that the contract post office is gone, although the business remains otherwise in full operation.
I would have to google it to be sure, but I think the next closest post office is at Garners Ferry Plaza at the corner of Garners Ferry and Greenlawn.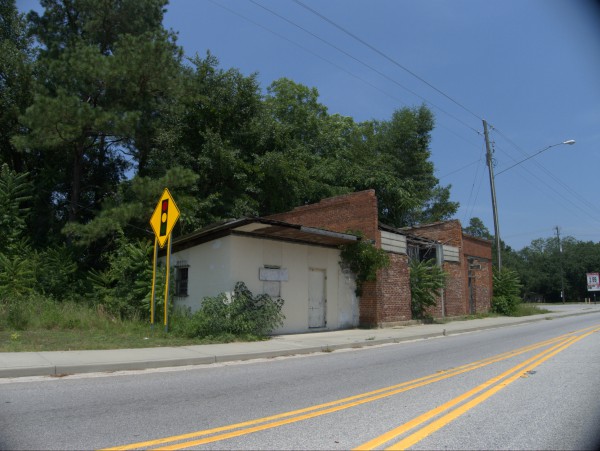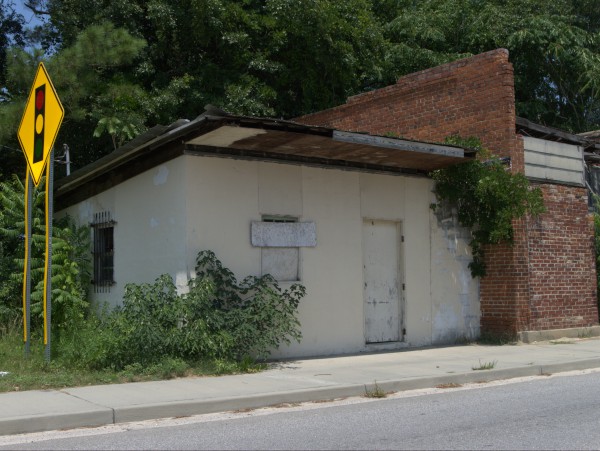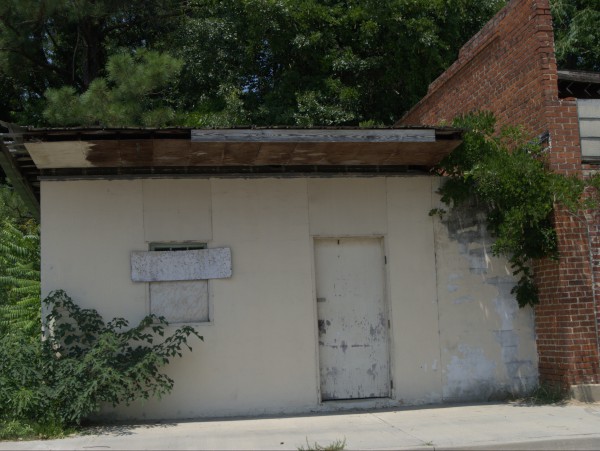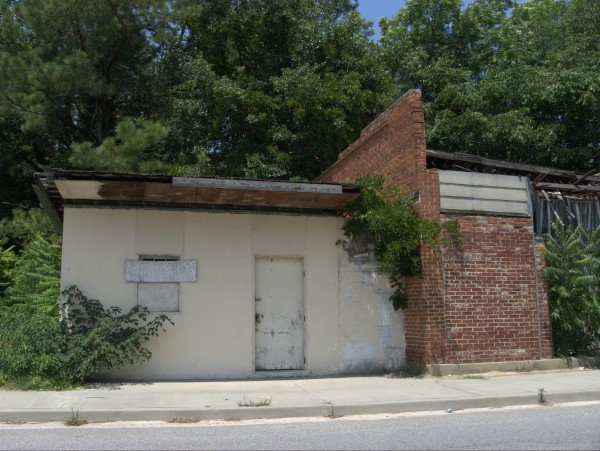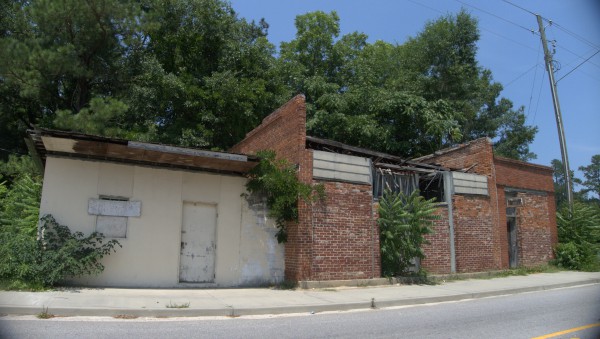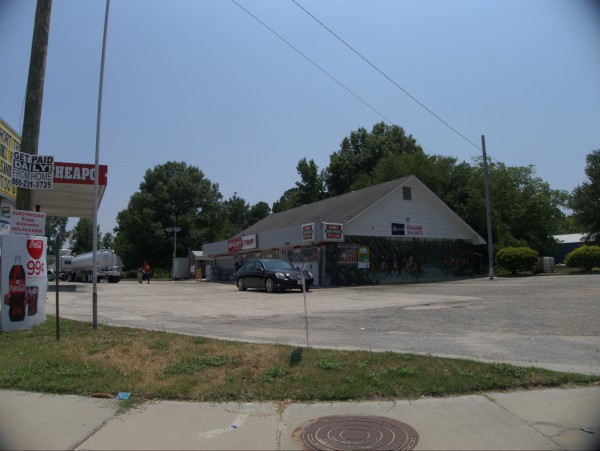 As far as I have ever been able to tell, Paxville is simply a cluster of buildings at the intersection of SC-261 and US-15 in between Pinewood and Manning on the way to the beach.
Driving to the beach growing up, we used to marvel at the little Paxville Post Office, which was the leftmost in the small strip pictured here. The Pawleys Island Post Office (in those days) was certainly tiny, but the Paxville Post Office managed to both out-tiny and out-decrepit it, and I never saw anything anywhere else to compete either. Although we never stopped to get a closer look back in the day, my impression always was that it was an official US Post Office, and not a contract Post Office.
Finally one trip, I believe it was in the 1990s, I noticed that the place was no longer open. For a time the pictured convenience store serving the intersection had a sign up advertising a contract Post Office which I guess functioned as a replacement, but that no longer seems to be the case, and the USPS web site seems to show the nearest facility is now in Pinewood.
UPDATE 12 September 2023 -- The buildings have been razed:
Going by Streetview, this would have happened between August 2019 and September 2021.
Also adding map icon.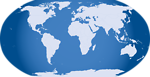 Posted at 12:31 pm in Uncategorized
Well, yesterday I had the good fortune, wholly by accident with no pre-planning whatsoever, to be on the Indian River deck of Captain Katanna's Dockside Restaurant when the Navy launched their latest Mobile User Objective System satellite. Here's another, better video.
It was an impressive moment, and it's always nice to see a little bit of (good) history being made.
Posted at 10:57 pm in Uncategorized
Posted at 11:40 pm in Uncategorized
I noticed a new cut-in to Farrow Parkway at the (bankrupt) Market Commons shopping development in Myrtle Beach back in July.
Market Commons is the Myrtle Beach equivalent of Village At Sandhill, and is the most promenient development on the old Myrtle Beach Airforce Base. The base (which shared runways with the Myrtle Beach Jetport) was closed in 1993, and most of the old Airforce Buildings are already gone. The new cut-in to Farrow however leads to one which is still standing, more or less.
I don't know what Building 581 was used for, but the size of some of the doors make me think it may have been a vehicle maintenance facility or storage building. Probably the later, as I saw no evidence of pits or lifts. The place has now been heavily tagged with graffiti, sometimes amusingly, sometimes profanely, so some of the pictures after the jump might be considered NSFW.
Google Maps indicates a phantom road on the north side of the building, which it designates as Old Railbed Road. I suspect that it originally was a rail spur which connected to the rail line crossing the trestle connecting the Waccamaw Neck with the rest of the national rail grid, and would have been used to bring in supplies back in the day.
I don't really know anything about Cayce School. I'm guessing that given the name, it was the school in Cayce at one time. The (Guignard?) brick architecture could easily go back to the 1940s I suppose. The pictures don't really make it clear, but as this aerial view from google maps shows, the school is really just one building with several different wings:
Of course it's a building that takes up a block of its own, being bounded by 3rd Avenue, Lexington Avenue (on which it fronts), Poplar Street and 8th Street.
At some point it appears that it stopped being a "school" as such and was taken over by Lexington District Two as a "Learning Center". (I have to say that the picture with the sign indicating such would make a good funny email to forward around Mississippi education circles..).
The building has obviously been out of use for a good while, and I think only the fact that it is in the middle of a residential area has kept it from being vandalized and tagged to a fare-thee-well. Certainly it is decrepit, which can be seen in the google view (which can be zoomed) as well as my pictures. Signs around the school indicate that the lot is to become luxury townhomes in a gated community, so I suppose the building will be demolished at some point, though with the current real-estate market, I doubt the developers will be in a big hurry.
(Hat tip to commenter tonkatoy)
Posted at 12:12 am in Uncategorized
I found a number of different names for this building at the corner of North Main and Belleview Circle. As they all seem to relate to jobs or contracting, I have to wonder if at one time or another it was operating under several monikers simultaneously.
The street sign, which I would assume represents the most recent operation reads
North Main Street Construction Office
(LJ, Inc. General Contractors) (City of Columbia SC)
This sounds like the City hired LJ on an official basis, especially since the city seal is present. Perhaps it had something to do with the North Main Street roadwork of the past few years.
I was at Schlotzsky's on Parklane having lunch today when a guy came in looking for the DMV. Naturally, I sent him across Two Notch to Decker Mall: D'oh!
I realized my mistake as I drove down O'Neil Court just a little later, and saw that the DMV had relocated to the old Pro Golf of Columbia location in The Shops of O'Neil Court.
I suspect this has something to do with the purchase of Decker Mall by Richland County, though I would have expected the two different levels of government to work out a deal of some sort for the space.
Posted at 1:13 am in Uncategorized