Archive for the 'Garden City' tag
The concept of Maze Mania was simple: You go into the maze, find the cheese, and get out of the maze. Best time wins.
It was a little more complicated in execution. The "cheese" was actually a box size wooden mock-up wedge with an electric rubber stamp device embedded inside it. Every day, the cheese would be moved to a different part of the maze, where it would be put on a special stand near an outlet. When you started the maze, you would be given a timecard with your start time, and when you found the cheese, you would stick the timecard into the block, which would stamp a picture of a piece of cheese on the card (proving that you completed the task), then you would try to find the exit, where your final time would be recorded. Assuming you were a kid, your parents would probably be on the observation deck overlooking the maze shouting down more (or less) helpful hints. Presumably, if you were a college student, it would be a bunch of drunk friends instead.
I only ran the maze, officially, once, probably about 20 years ago. I thought it was a lot of fun, and always wanted to take some younger cousins or other relatives there, but somehow never made it happen. I noticed earlier in the year that the place didn't seem to be open in what should be a viable, if not peak, time, and so made a point of looking in on it this summer as I would drive by at various times which led me to the conclusion that it was closed.
I finally made the time to stop and have a look at it. The big mouse billboard was in obvious need of cleaning, and the door sign said "closed for the season" without specifying what season that was. I have concluded it was probably fall 2013.
Finding my way back into the maze itself, I saw lots of signs of neglect and general decrepitude. The worse bit was a whole section of maze wall that had fallen down (or been knocked over) but overall there were a number of loose boards, and vegetation encroachment. Still, I think a good handyman with some lumber and paint could make the place runnable again with no more than one or two days work.
As you can tell from the pictures, it was a rather gray day, and started raining when I was out in the maze, and yes, I did get lost. (You can always find your way out of a maze by following the right wall if all else fails, but it may not be the shortest route by any means!)
Posted at 12:30 am in Uncategorized
Apparently this was not the last Krystal in South Carolina, but it's pretty close. It looks like the other few that are left are clustered along the Georgia and North Carolina border areas with none in the Midlands, Pee Dee or Low Country.
This store, on US-17 Business near to Inlet Square Mall is not in an obviously bad location (though a Five Guys did open nearby a couple of years ago) but is in a little strip that doesn't seem to prosper. In particular, a Moe's failed a few storefronts down, something that seemed unlikely to me at the time, and one end unit has cycled through quite a few entertainment concepts (comedy club, karakoe..) in the last few years.
Maybe there is no such thing as a recession-proof business...
On the other hand, this WPDE story speculates that perhaps Wal-Mart put some pressure on this Garden City strip club to close as they opened a new SuperCenter across the street. Certainly, the coming of Wal-Mart seems to be what closed the nearby Krispy Kreme (though the building is still standing so far).
I believe The Pink Pony building started life as a steakhouse, though the WPDE piece says the club had been there for a dozen years.
UPDATE 4 May 2011: Added Western Steer to the post title based on the comments.
UPDATE 12 April 2016 -- This place is now being renovated to open as Flapjacks Pancake Cabin:
Posted at 4:59 pm in Uncategorized
(7 Jan 2011):
11 April 2011: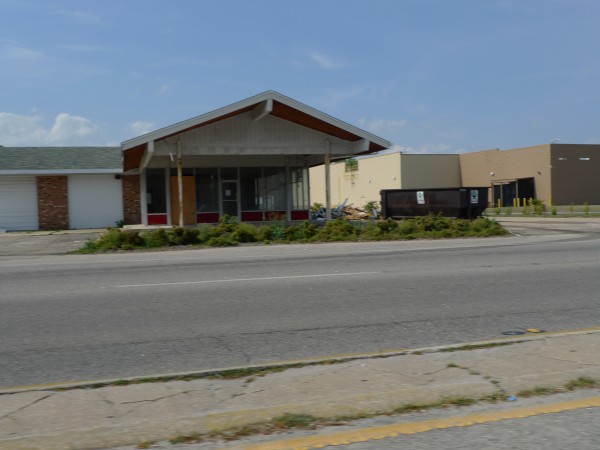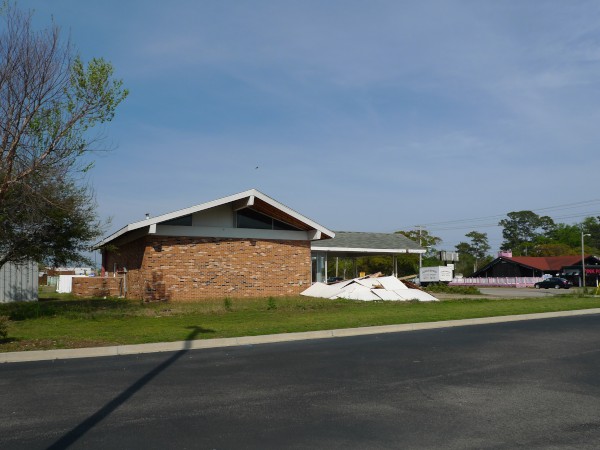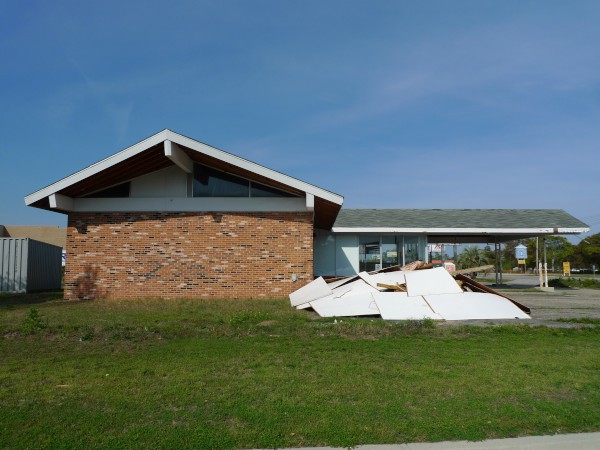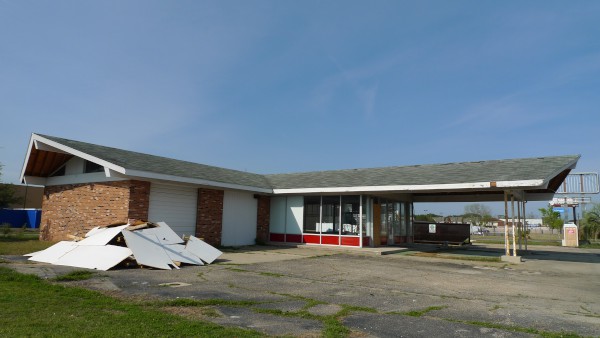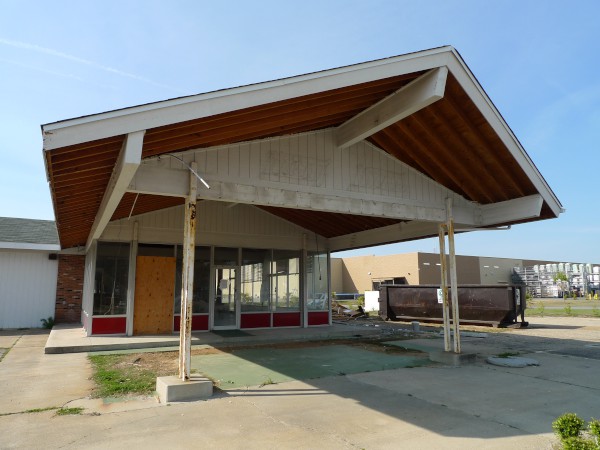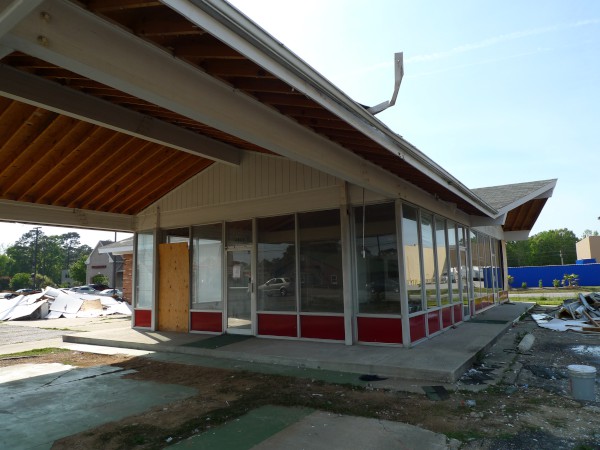 This Krispy Kreme on US Highway 17 in Garden City had been there since forever (although it was obviously converted from a gas station at some time in the past). We used to badger our parents into stopping there from time to time growing up. It had the interesting distinction of being the only Krispy Kreme store I know of which didn't make its own doughnuts. Honestly, what is the Krispy Kreme concept without the Hot Doughnuts Now! sign? Not that they were stale, there are at least three stores up the road in Myrtle Beach that make hot ones and could supply this store on a same-day basis.
From the note, it appears that the whole "dead plaza" area around this store is to be re-developed, which w accounts for the Krispy Kreme and the auto-parts store both losing their leases. I suppose you could say re-development started a few years ago with the new Walgreens in the same block.
I was a bit surprised to see that the new Krispy Kreme location (a few blocks North, still on US-17) still doesn't make its own doughnuts.
UPDATE 3 September 2012: Added pix from 7 January 2011.
UPDATE 26 Jan 2013: Add pix from 11 April 2011.
UPDATE 4 April 2012 -- The place is now open, completely remodeled, as a Verizon store: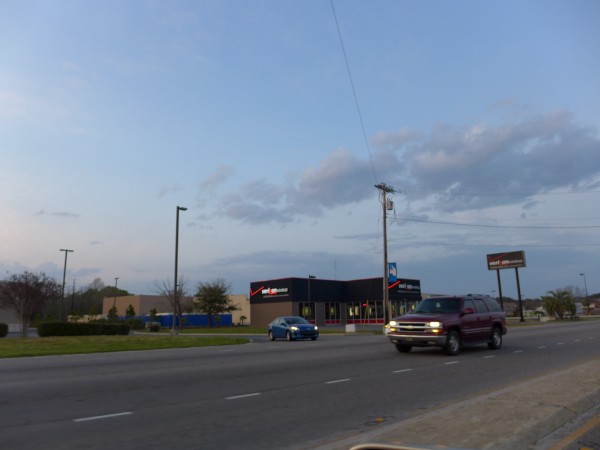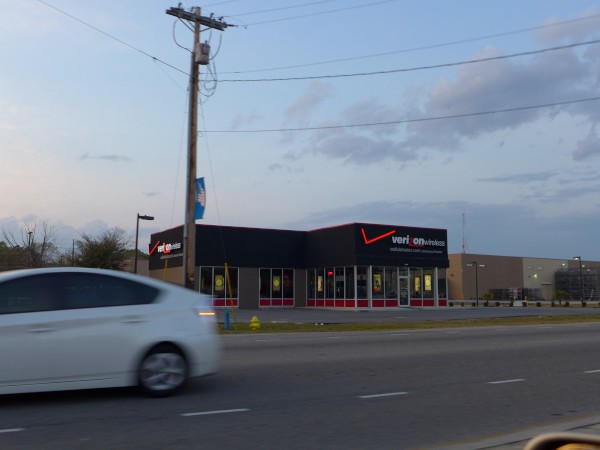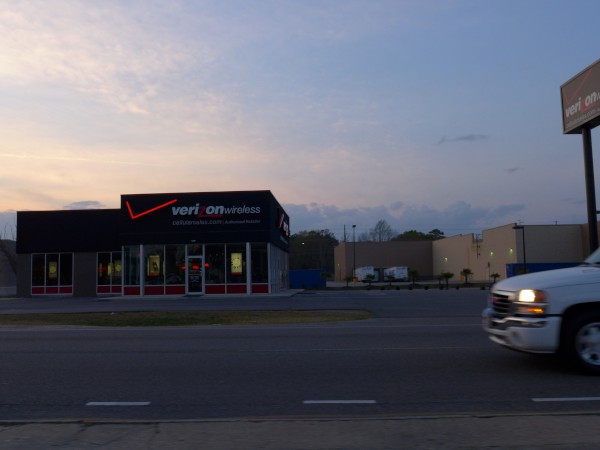 Also, the first new Krispy Kreme location mentioned above (north of here on the west side of the road) has now moved across the street to the east side of US-17 and *does* now make its own doughnuts, with the requisite Hot Doughnuts Now sign.