Archive for December, 2012
This garden center behind the old Parklane Seafood/Flamingo Club building started off in the South Carolina Farmers' Market on Bluff Road, and moved over to Leesburg when the Farmers' Market was redeveloped.
(Hat tip to commenter Badger)
Posted at 12:45 am in Uncategorized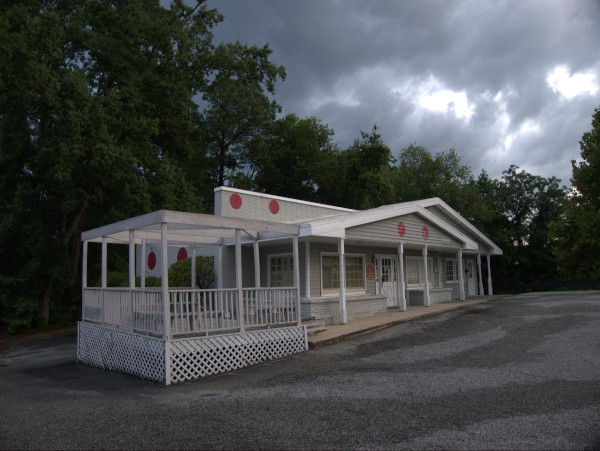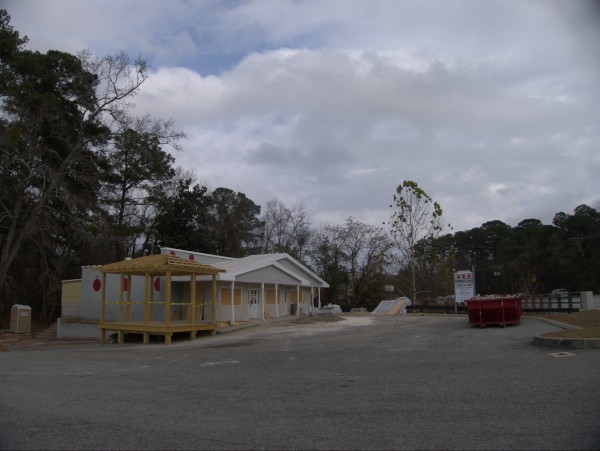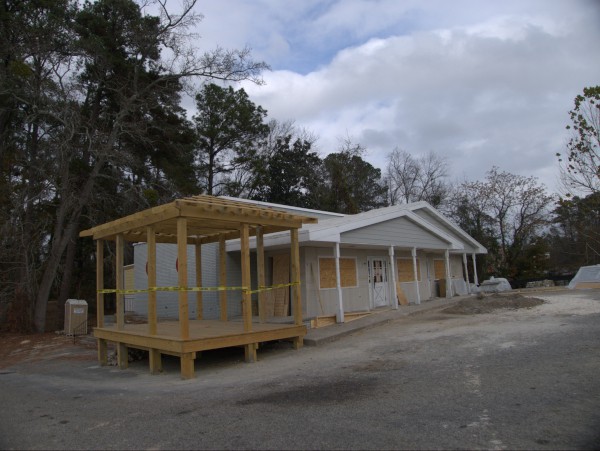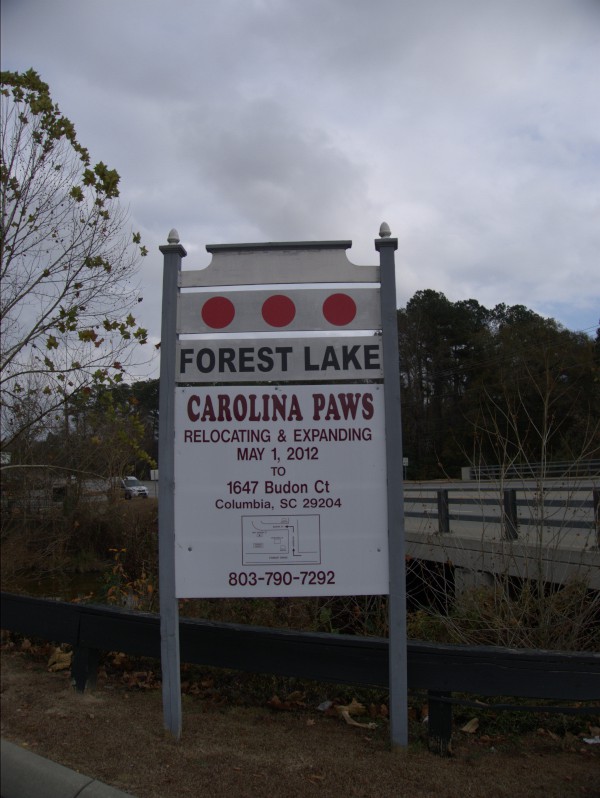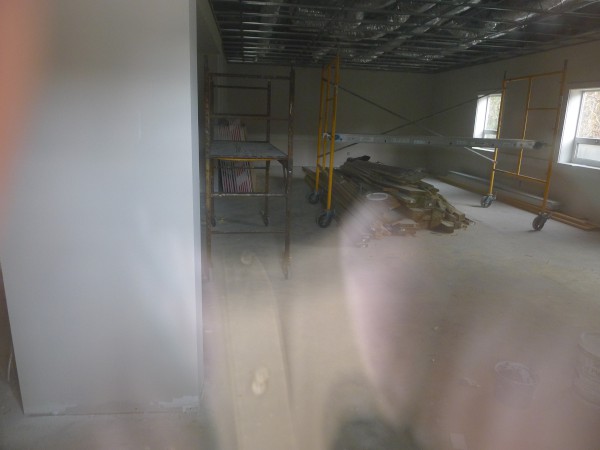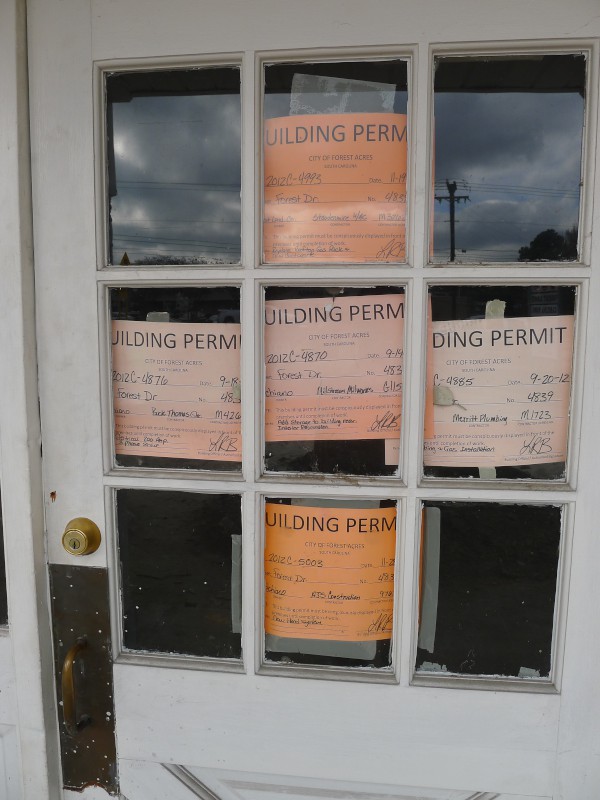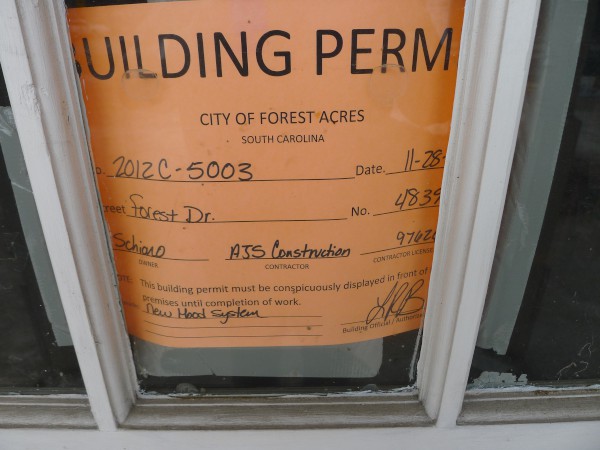 Carolina Paws pet grooming shared the old Dobbs House building with Forest Lake Spirits until moving to 1647 Budon Court in early May of 2012.
I thought I would take this opportunity to mention not only that move, but the ongoing work in the old building. There has been a dumpster out front for several weeks, and the permits arrayed on the door indicate that the place is being upfitted for a new restaurant (or at least, I can think of no other reason for a "hood' to be installed).
UPDATE 10 April 2013 -- Well, it's official -- The Schiano's sign is up:
Posted at 1:39 am in Uncategorized
This small urban wear shop was in a little strip mall on Broad River Road more or less across from Widewater Square. I can't find it in my phonebooks, so I'll just put the closing date at "late 2000s".
Posted at 3:04 am in Uncategorized
The only real google hit I'm getting for this is RB Marine Service, but it's obvious that this little building at the corner of State & Poplar Streets in Cayce was originally a gas station of some sort. Judging from the general look of the building, I would probably put it in the 1950s, and I'm sure it was full service and the guy would check your battery and tires while the gas was pumping..
I suspect that in the years between then, and whenever RB moved in, it was good number of other things. There's some sort of label scar on the awning, but nothing I can read.
Posted at 1:26 am in Uncategorized
Here's yet another cash advance/check cashing operation that's closed up shop. This one is on Broad River Road about midway between Bush River Road and the Food Lion. I think there's a logical construction called a "Tautology" that probably fits here: There's not much money in people who don't have much money.
If you look closely at the awning (click-through), you can see the old State Farm banner and logo labelscar.
Posted at 11:36 pm in Uncategorized
Dave's is a longtime Two Notch fixture not far past Covenant Road as you head into the city. I had noticed it often over the years, but it hit me lately that I couldn't recall seeing anyone there over the last few months when I would drive home from downtown at night, and indeed it does seem to be closed.
This review makes it sound like a pleasant low-key kind of place -- rather old school in fact, with live music by a "Drifters" alum.
Tainos was a Caribbean restaurant in a Broad River Road building perhaps most notable for having been the original Lizard's Thicket. It's certainly been quite a number of things since then, though Tainos seems to have brought lizards back to the building.
The story told by the door notices is rather distressing, though of course it is told from the restaurant's point of view. Certainly it seems to have been a nasty surprise.
(Hat tip to commenter Soxinsc)
I haven't eaten here too often, but it was fine the times I did, and it has certainly managed to outlast most of the other restaurants in the Sparkleberry Crossing development, so I'm a little curious about what's going on at the San Jose on Sparkleberry Lane. I take it that the place will reopen after the facade work currently in progress, but I'm puzzled as to why it's being done in the first place. As I recall it, the building looked nice enough, and rather southwestern, with its stucco exterior. I can't see that adding bricks over that will improve things (though from the work around the side windows, it will still have a bit of southwestern flair), and it certainly can't be cheap.
UPDATE 13 December 2012: Updated the closing date from "December 2012" to "October 2012" based on commenter Sidney's info.
UPDATE 25 January 2023: I had completely forgotten I had already made this post, so when the restaurant was closed in early 2023, I made a new post. I am deleting that one, and putting it below:
Google shows this restaurant as Temporarily Closed, but looking at the signage, I see no indication that it is closed at all, much less a "We'll be back soon" sign.
It *is* definitely closed though, and I could not get a good view inside to say if the fixtures are still there. WIS says there was a fire here in May of 2022, but I see reviews from after that, so I don't believe that is a factor.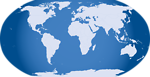 Posted at 12:37 am in Uncategorized
This real estate office was almost at the intersection of Broad & Bush River Roads just past Boozer Shopping Center.
As I found taking these pictures, it's a bit of a hard spot to get into and out of, with a pretty steep parking lot (I bottomed-out coming out of there) and lots of traffic to turn across if you're coming from the Graystone side. I suspect the real estate market had more to do with this closing than the parking lot though.
Posted at 12:08 am in Uncategorized