Archive for the 'fish' tag
I have a picture of this place with the signage still up.. somewhere. At any rate, this Monticello Road fried fish takeout is no more, listing in the Feb 2011 phonebook, but not the Feb 2012 one. I'm not a big seafood fan, but the place had its devotees.
The building was obviously some other type of fast food joint originally, but I can't quite place it.
UPDATE 12 September 2017 -- OK, I found the pictures I took on 4 November 2011. I probably didn't post them back then because it was such a gray day and they turned out so blah, but a sunny day won't bring the signage back: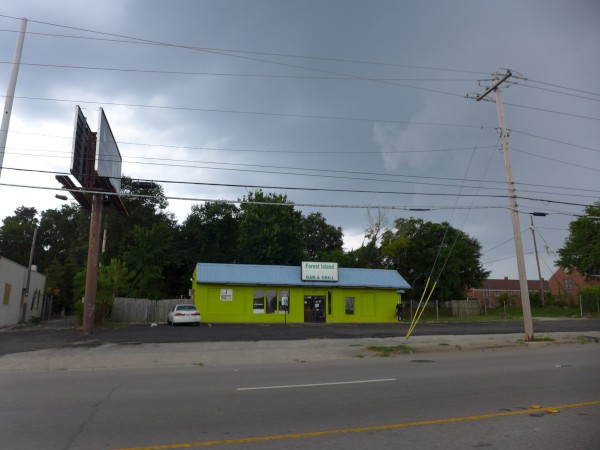 Fish & More opened in the old Blue Ocean Seafood Market location sometime in mid 2014. I thought I had some pictures of it in full operation, but so far have only found the "coming soon" pictures at the Blue Ocean closing.
At any rate, I noticed as I was driving down Forest Drive last weekend that the place is now Forest Island Bar & Grill.
Posted at 11:39 pm in Uncategorized
1306 Charleston Highway:
7007 Parklane Road:
Chappy's Fish & Chips was a constant media presence on the radio (and in The State as in the coupon from 10 November 1987 above), though I think the most common image I had of the whole "fish & chips" concept came from that English N'er-do-well Andy Capp.
The 2911 Two Notch location referred to in this ad is now the McDonald's at the intersection of Beltline and Two Notch, though I believe the original Chappy's building was demolished. I never ate at Chappy's because I don't like fish (or the smell of fish), and have never been to England, so I can comment neither on how good nor on how authentic the fish and chips were.
Though it's not mentioned in this ad, Chappy's was connected with a very similar (identical except for the name perhaps?) operation called Cedric's. At this remove, it seems like an odd strategy to dilute your concept into two brands, especially since as far as I can recall, the restaurants were a purely Columbia phenomenon. The Chappy's radio commercials used to end with an exhortation to Be sure and visit my friend Cedric too!. I think the stores had at least one English "double decker" bus that they used for promotions. Wonder what happened to that?
At any rate, I'm pretty sure the stores didn't make it through the 90s. I don't think "fish & chips" was ever going to be "big" (though the coupon suggests they were moving in a more Southern direction as well -- "hushpuppies"), perhaps it wasn't big enough to support that many stores, perhaps the owners wanted to retire -- whatever the reason I don't think you can get fish & chips at all in Columbia now. And "Andy Capp" has long since left The State as well.
UPDATE 18 November 2009: Added pix of the Charleston Highway location, made minor edits to the text and added the Charleston Highway and Broad River locations to the post title.
UPDATE 27 May 2010: Added newspaper ad from The State 19 Feb 1979
UPDATE 27 June 2010: Added pictures of the Parklane location.
UPDATE 18 August 2017 -- The Charleston Highway location is now a Cricket phone store: