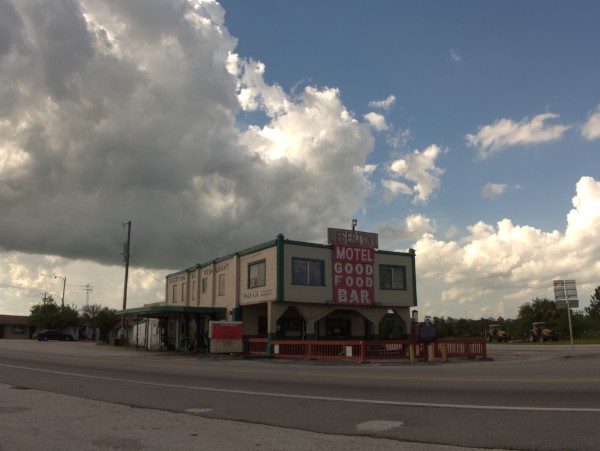 July 2017: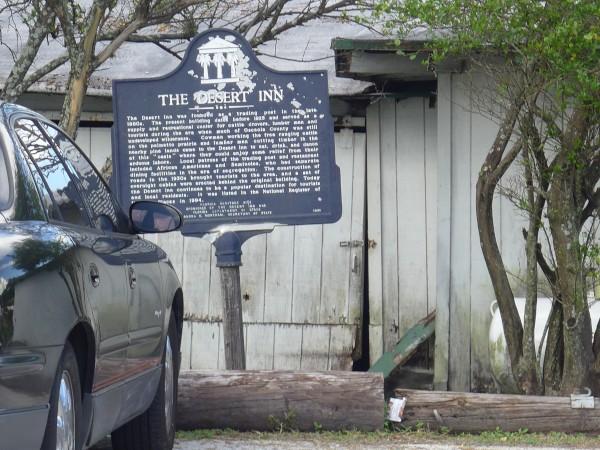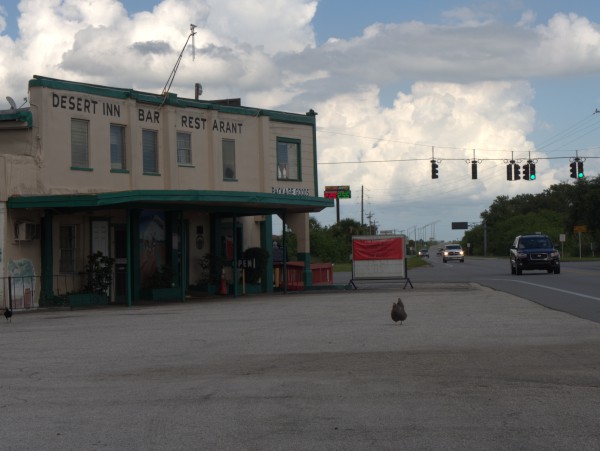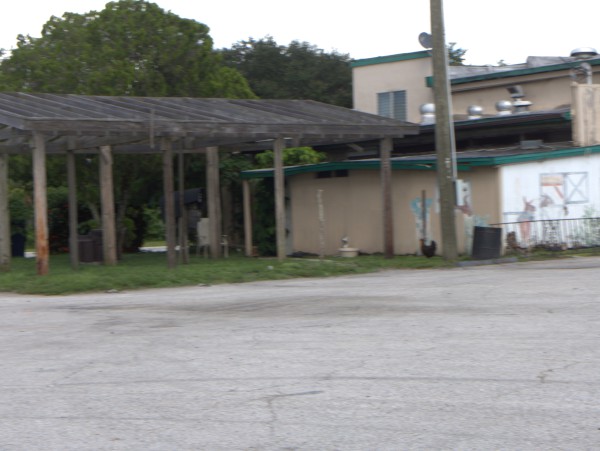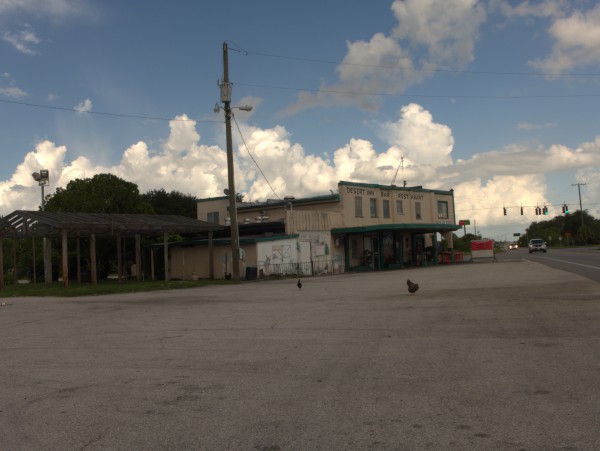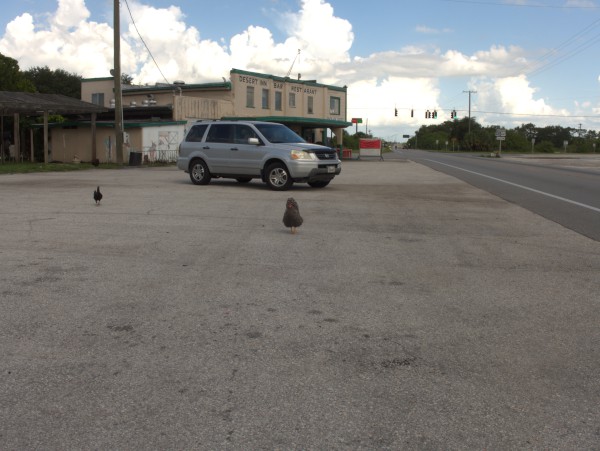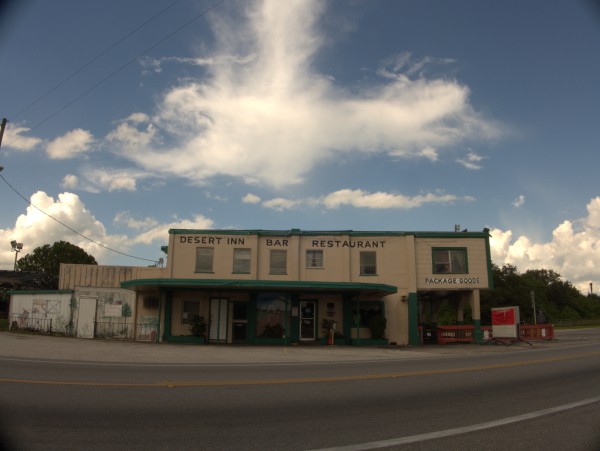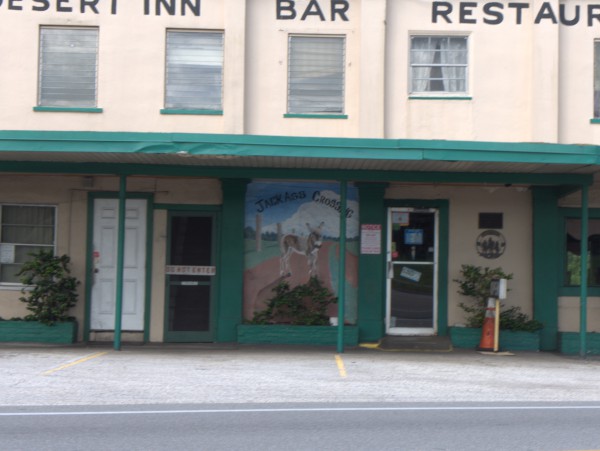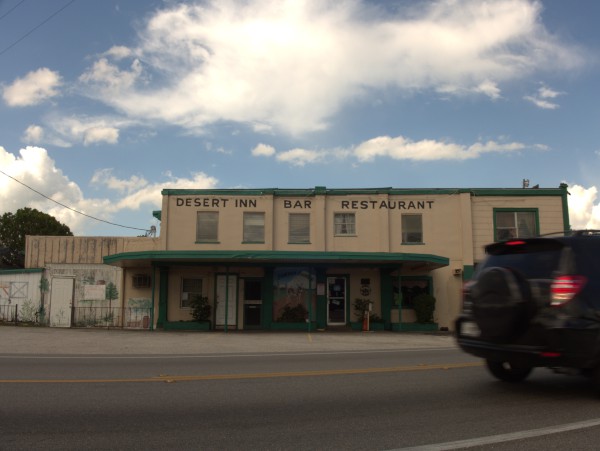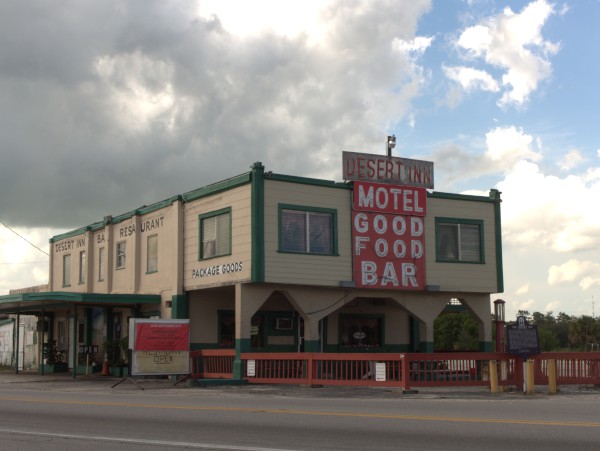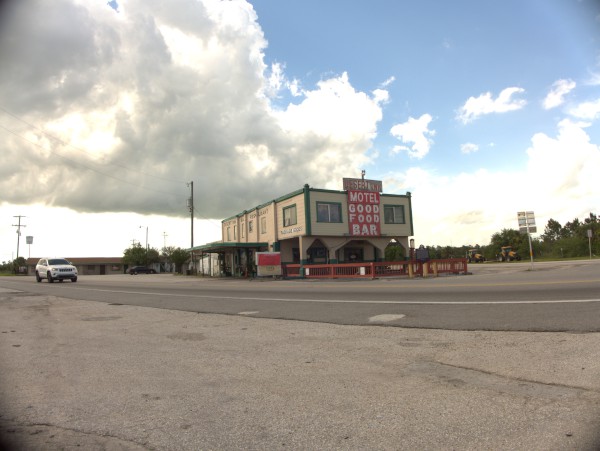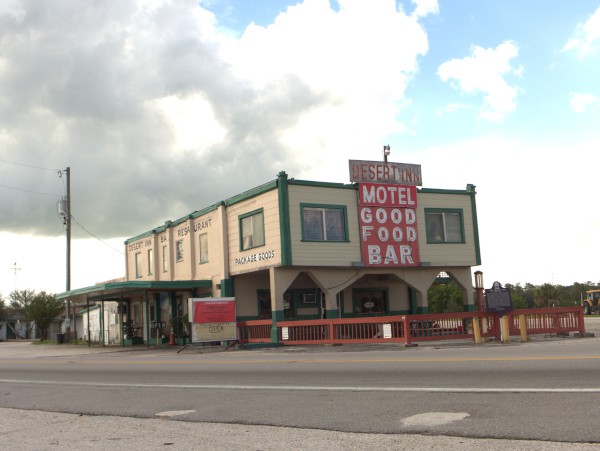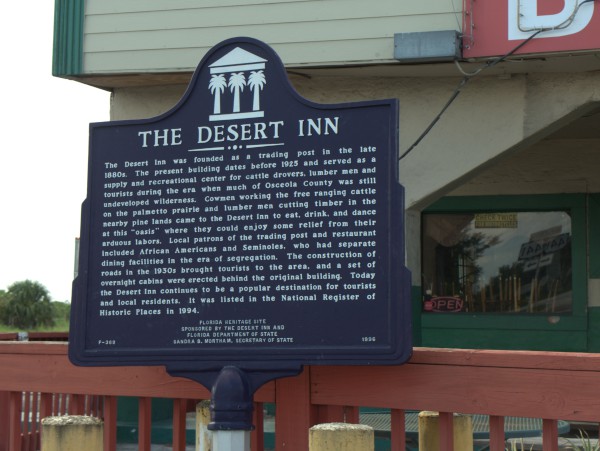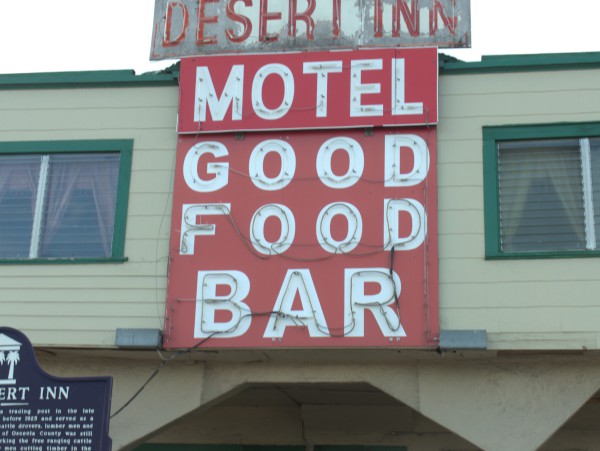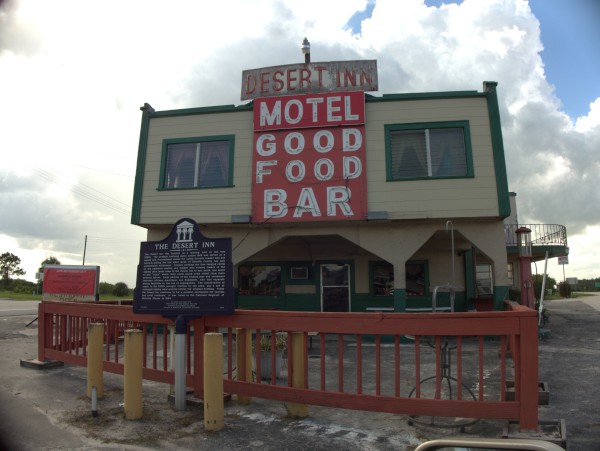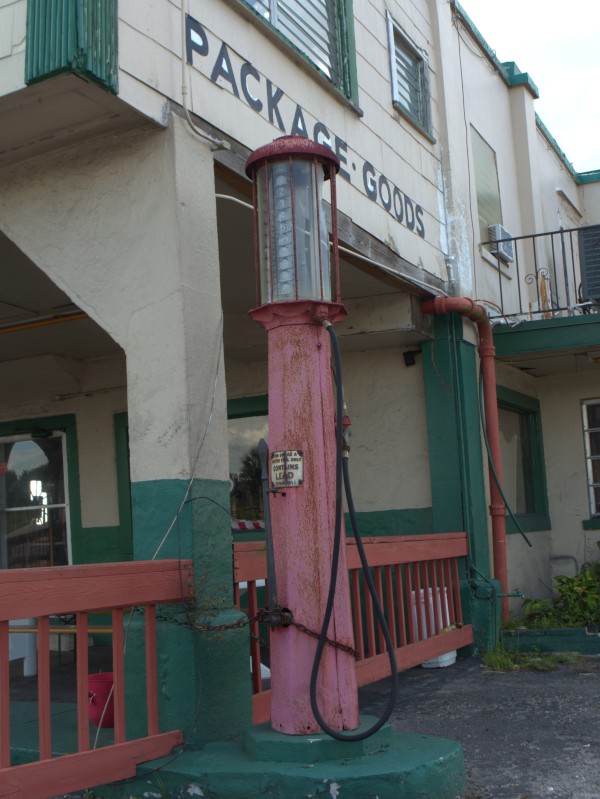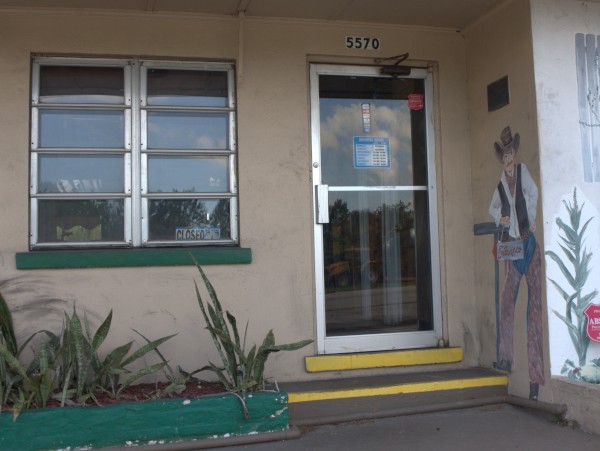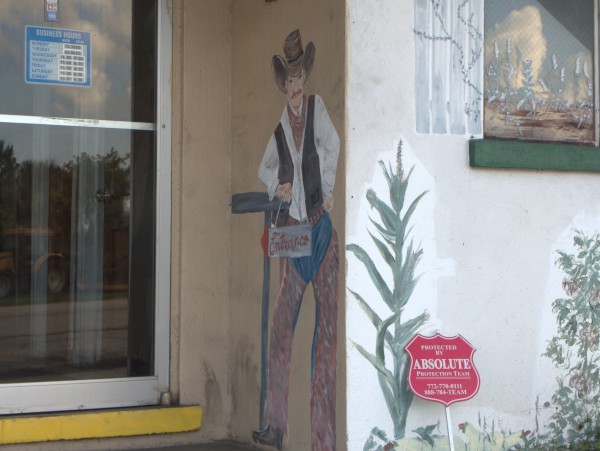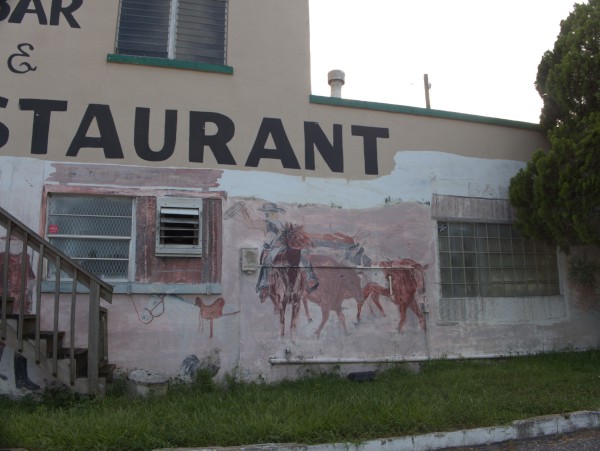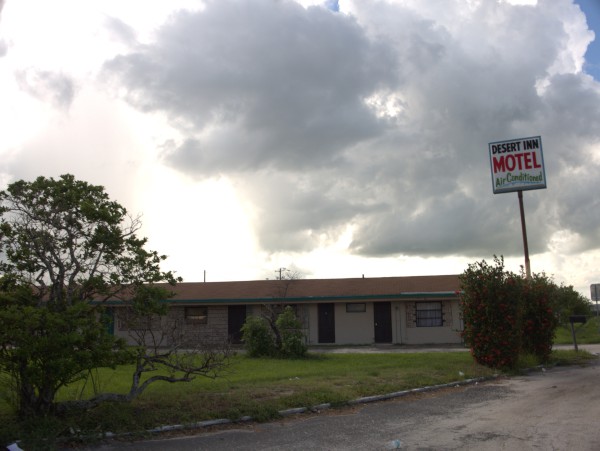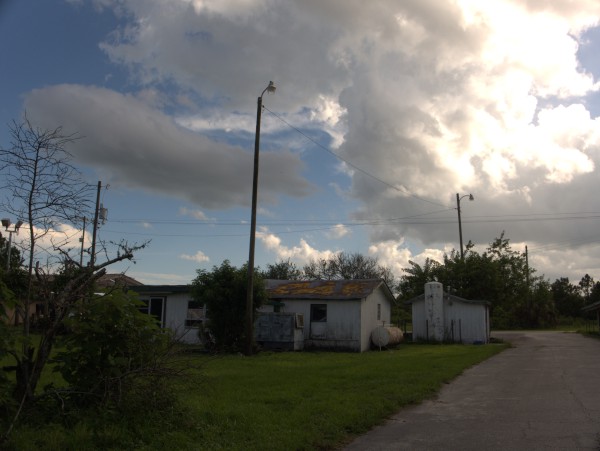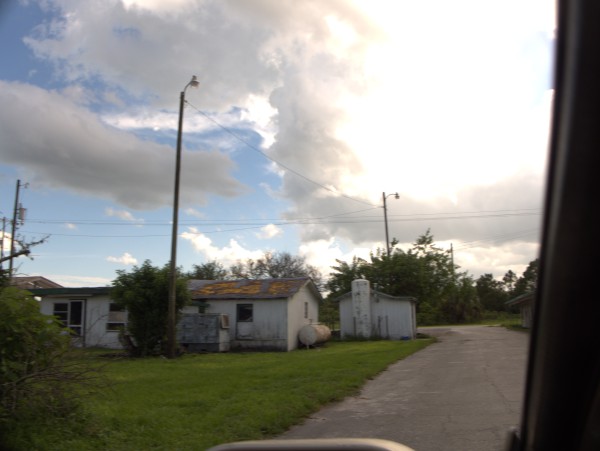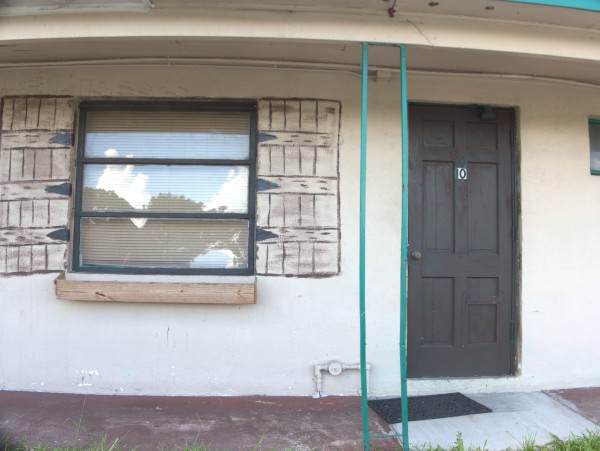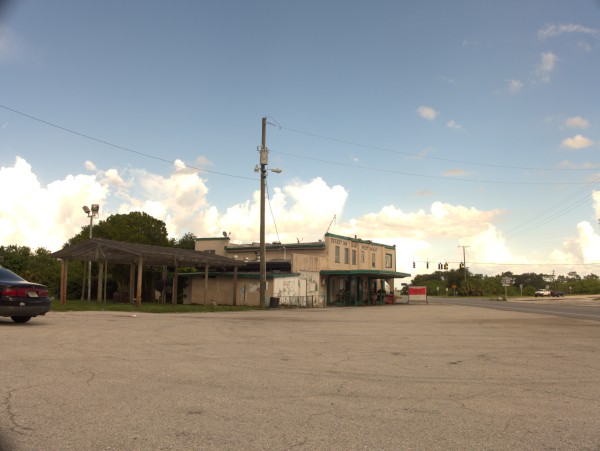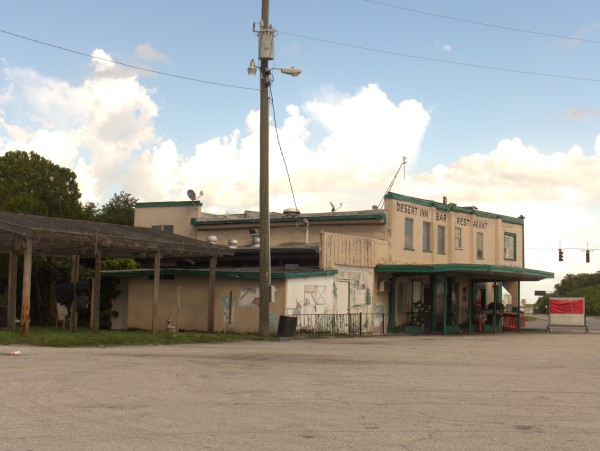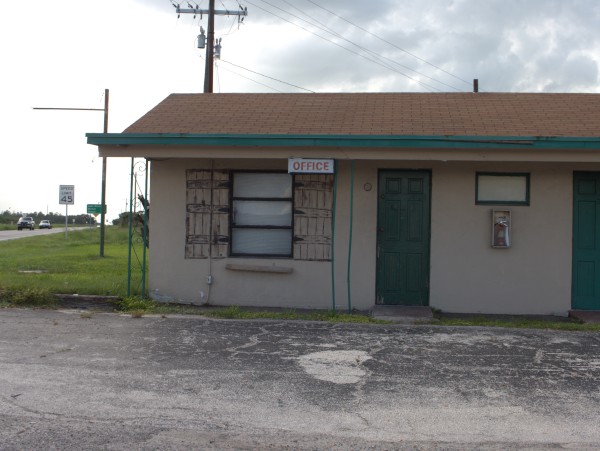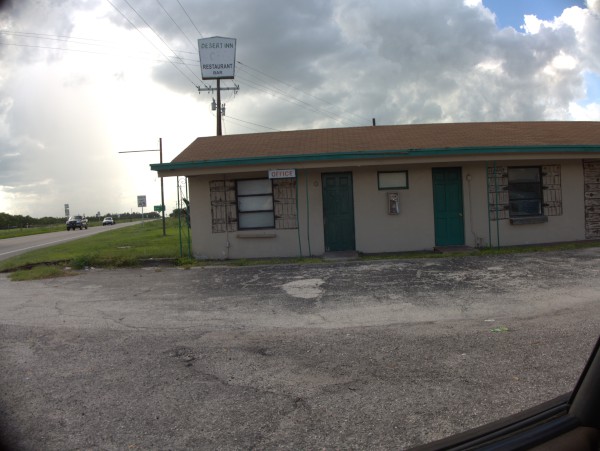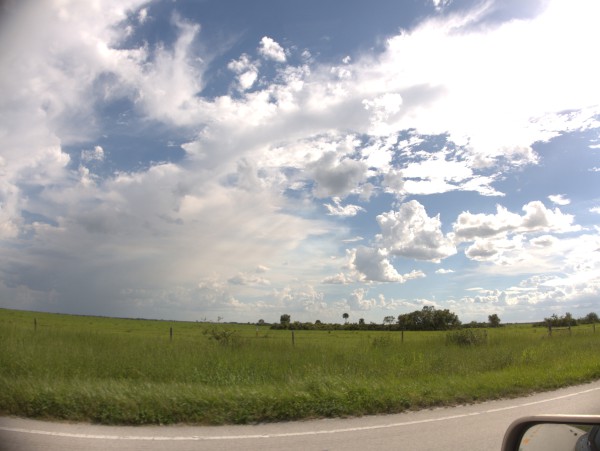 July 2020:
First, let me get the text of the historic marker here, so Google can find it:
The Desert Inn
The Desert Inn was founded as a trading post in the late
1880s. The present building dates before 1925 and served as a supply
and recreational center for cattle drovers, lumber men and tourists
during the era when much of Osceola County was still undeveloped wilderness
Comen working the free ranging cattle on the palmetto prairie and lumber
men cutting timber in the nearby pine lands came to the Desert Inn to eat,
drink and dance at this "oasis" where they could enjoy some relief from their
ardous labors. Local patrons of the trading post and restaurant included
African Americans and Seminoles, who had separate dining facilities in the
era of segregation. The construction of roads in the 1930s brought tourists
to the area, and a set of overnight cabins were erected behind the original
building. Today the Desert Inn continues to be a popular destination for
tourists and local residents. It was listed in the National Register of
Historic Places in 1994.
FLORIDA HERITAGE SITE
SPONSORED BY THE DESERT INN AND
FLORIDA DEPARTMENT OF STATE
SANDRA B MORTHAM, SECRATARY OF STATE
F-366 1996
I first encountered The Desert Inn in July of 2017 when I was taking FL-60 from I-95 to US-27 and FL-50 to get to Spring Hill. I left one picture of the area, aside from the buildings, in the set, and you can see that even today Osceola County is largely undeveloped prairie. It's an interesting route of wide open spaces to drive through. (Or you can pick up the Floria Turnpike which also intersects FL-60 there).
Yehaw Junction is the area where FL-60 crosses US-441 and apparently goes back to the mule train paths of the 19th century. In fact, the place (you can't really call it a town) was originally named Jackass Crossing in honor of those sturdy animals and probably because it amused the locals. You can practically picture some bureaucrat in Tallahassee later in more genteel times saying Heavens! That will never do!.
I am unclear of the status if The Desert Inn when I drove through the first time. Supposedly it closed in June of 2018, so I think it may have still theoritically been in business, but it did not seem to be open, and I didn't actually stop, though I did drive all around it. This is what it was like if it was open, and you did stop:
The 1898 Desert Inn still stands, still serving travelers and cowboys as a restaurant and a bar, and you'll find a ramshackle 11-unit motel out back: "Clean rooms with showers – $45. No reservations, no refunds."

The hamburger and fresh-cut fries are the best anywhere.

I've been stopping at the Desert Inn for years to grab a bite to eat on my way to Tampa Bay. The menu has changed a little under new management, but you wouldn't really notice — unless you were hankering for a turtle burger.

But you can't go wrong with the juiciest, tastiest beefburgers on the planet, and the fries are freshly cut, not frozen. (One change: Burgers now served on ciabatta rolls.)

The complete menu is "raht behind ya on the board, honey." Crunchy fish sandwich; Fried Green Tomato, Fish & Chips…

The horseshoe-shaped bar, wooden booths, witty signs and oddball knick-knacks are classic Old Florida, including the carved Indian couple with their papoose.

Cowboys who work nearby ranches continue to be regulars, as are truckers and tourists. It's a must-stop for bikers cruising across the state through cow country.

One minute the bar is full, empty the next.
If you were reading that historical marker, and wondered if "relief from their ardous labors" included compensated, horizontal relief, well yes it did:
Throughout the years, the Desert Inn was used as a trading post, gas station, and dance hall. In 1994, after being added to the National Register of Historic Places, the unused rooms above the restaurant were converted into a modest museum that featured a bordello suite with red carpet, lace pillows and a swing
When I drove through last week, it was clear the building was a wreck, and it turns out The Desert Inn met a very Floridian doom on 22 December 2019
The Florida Highway Patrol said a 2018 semi truck hauling orange juice drove into the building at 3:15 a.m. on Sunday. The driver, 50-year-old Mareo Cawley of Chicago, Illinois, told troopers the area was dark and he did not realize he left the road. No one was inside the building at the time of the crash.

"When I got to that corner I couldn't see the ground, I couldn't see the lines or anything. It was too dark," said Cawley. "I normally never travel at night, but I wanted to get close to Jacksonville and I was trying to put myself into a good position."

According to FHP, when tow trucks removed the truck, part of the building collapsed.
The fate of the building seems unclear, but I suspect it is not salvagable:
The historic inn has gone through multiple owners over past decade and most recently closed in August 2018. Its fate has been subject to speculation as the Osceola County Historical Society took over in an effort to restore the building.

"We have been putting in a lot of work to try and keep it and restore it, and now all that work is kind of gone," Donna Hart, president of the Osceola County Historical Society, told WPEC-TV (CBS12).

Hart said the building was severely damaged and may have to be demolished. Fortunately, many of its artifacts had already been removed to prepare for renovations, she said.
Leave a Reply