Archive for the 'tires' tag
This old-school Exxon on Two Notch near the I-20 interchange, and O'Neil Court is currentl Go Used Tires, but apparently that will only last until the sale of the building, which is currently on offer.
This is a classic look for an Esso/Exxon of that era. Here is a similiar one (which I believe stayed open longer) in Yulee Florida: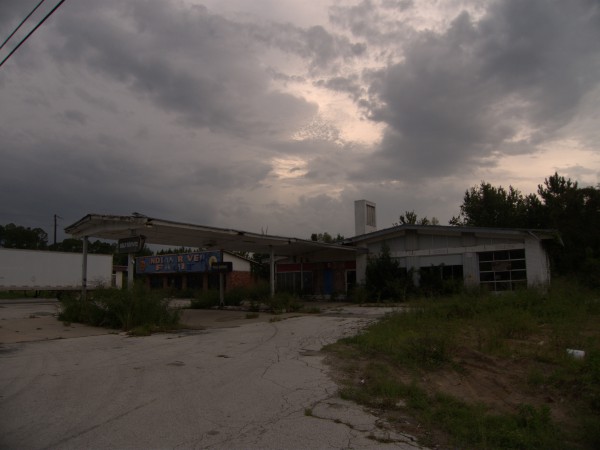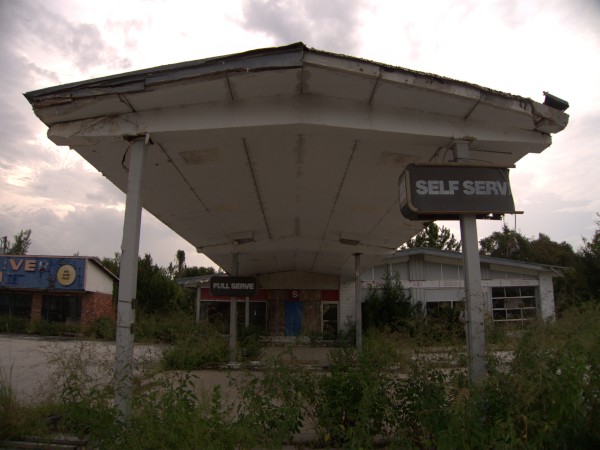 Hopefully the Two Notch building will not be razed, but given the age, I wouldn't bet on it.
UPDATE 5 December 2011: Added Esso to the post title based on the comments.
UPDATE 10 October 2016 -- The Two Notch building continues to deteriorate. I don't see how the next operation won't raze it. I also note the sheltered area looks to have been something of a homeless campout:
I don't know anything about Tires Unlimited other than that they sold used tires and were located in a very neat little building that was obviously once a service station.
It appears to be of an early '60s vintage, similar in some ways to the old Bill DuBose 66 station on Covenant.
The building now seems to be an impromptu parking lot for Blue Ribbon, and looks like it could use some TLC.
UPDATE 18 March 2011: Added "Patterson's Texaco" to the post title based on the comments.
UPDATE 25 May 2016 -- This place is to be a gas station again, albeit with a convenience store rather than service bays this time. Cheap Way is coming:
Posted at 3:58 am in Uncategorized
National Tire & Battery (now a Tire Kingdom) was in this Columbia Mall outbuilding more or less behind the old Penny's location. I actually did go there once a few years ago when my car started really thinking about things before turning the starter over. I usually put Die Hards in my cars but for some reason or another I was not able to get served by Sears that day. I'm not building up to anything here -- it was perfectly acceptable service and a battery that lasted several years. (I've actually had much worse luck with alternators than batteries anyway). I guess I would have been hosed if I had needed to take advantage of the battery warranty as they closed fairly shortly thereafter, but in the event it wasn't an issue.
I don't believe the building was vacant long at all as Tire Kingdom moved in shortly thereafter. I find it a little amusing that this large, freestanding building has only a suite number, while all the little suites at The Shoppes at Meeting Place have full street numbers.
Posted at 12:18 am in Uncategorized