Archive for the 'Sparkleberry Lane' tag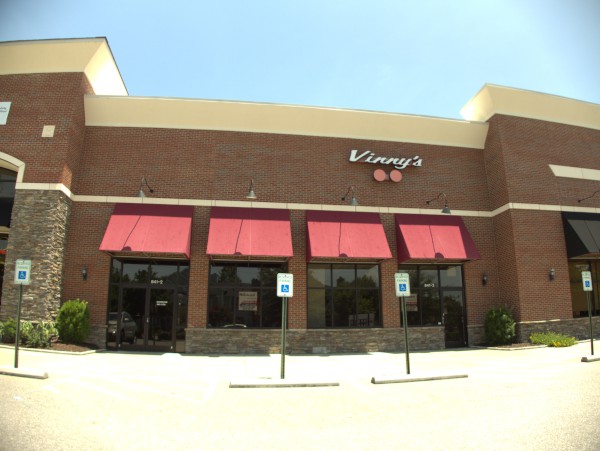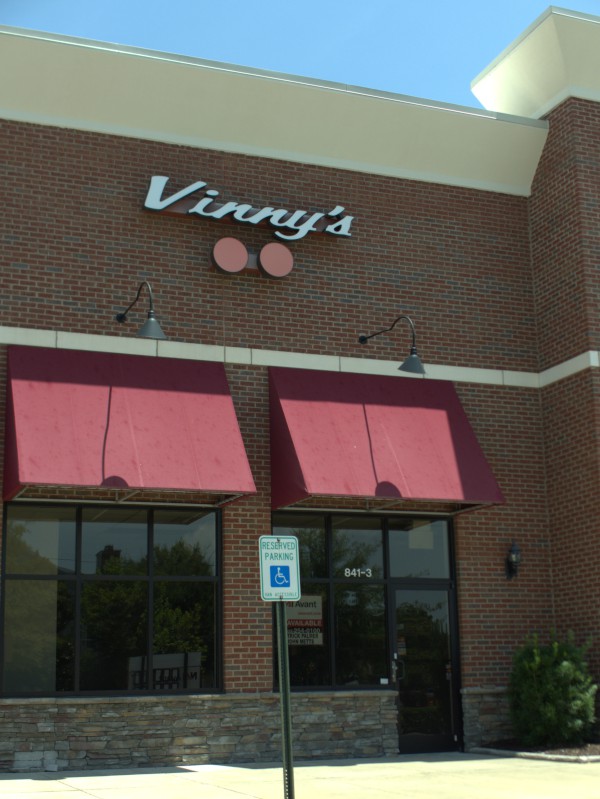 I noticed the other day that this ABC storefront next to Solstice on Sparkleberry is now vacant. I had actually pulled
in there because I thought Solstice might be closed, but apparently it is just never open whenever I drive by..
This Sparkleberry Crossing gym is listed in the 2014 phonebook, but not the 2015 one, so it must have closed before listings closed. I'm guessing mid-year. One online review notes that it was nice because there were no crowds. That can be a double-edged sword unfortunately.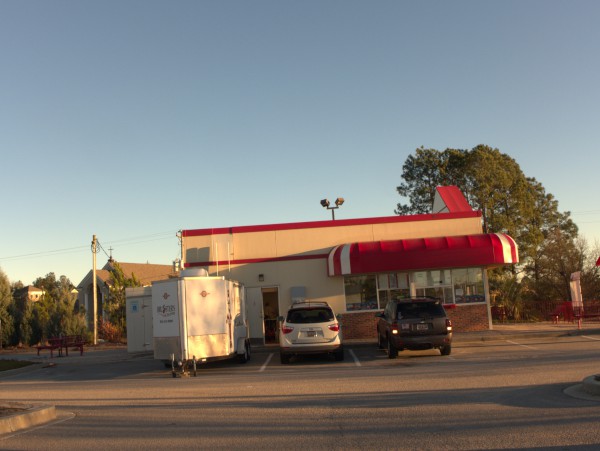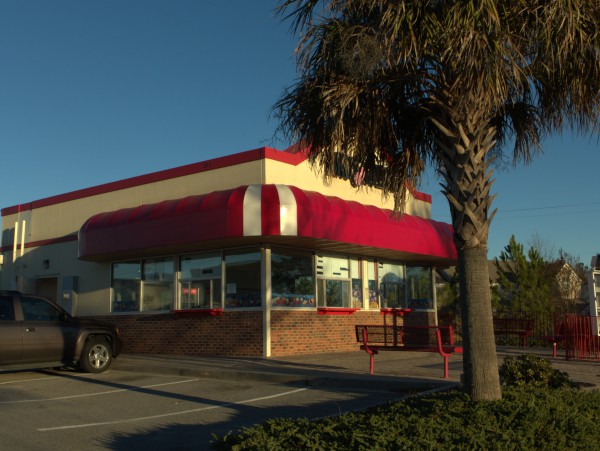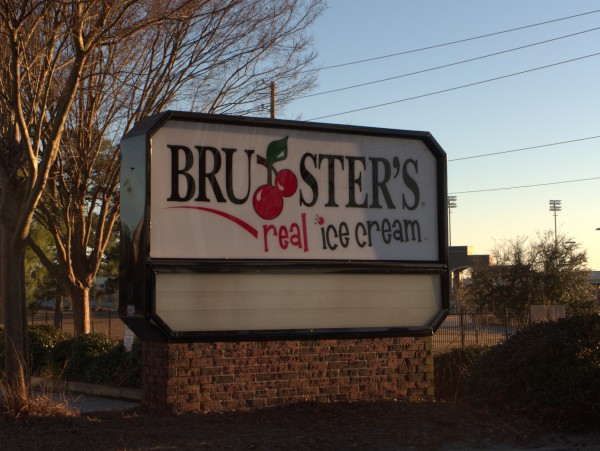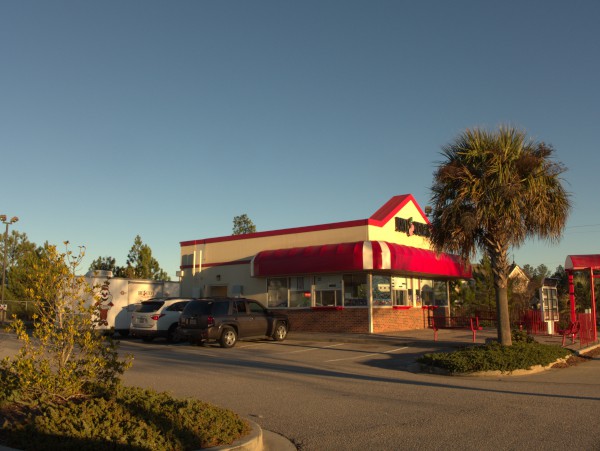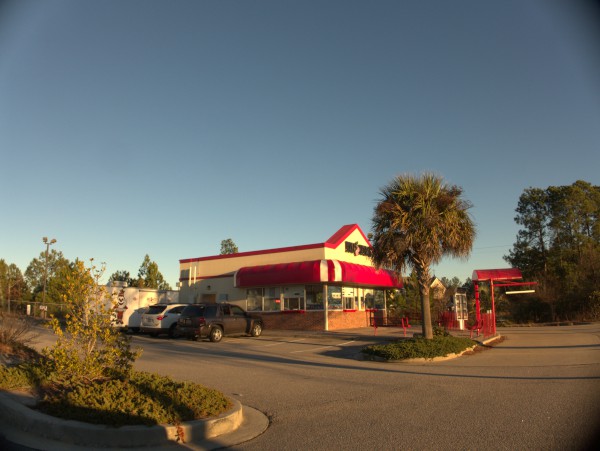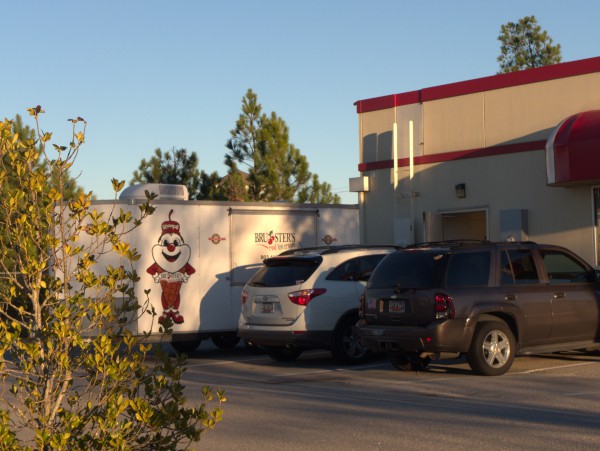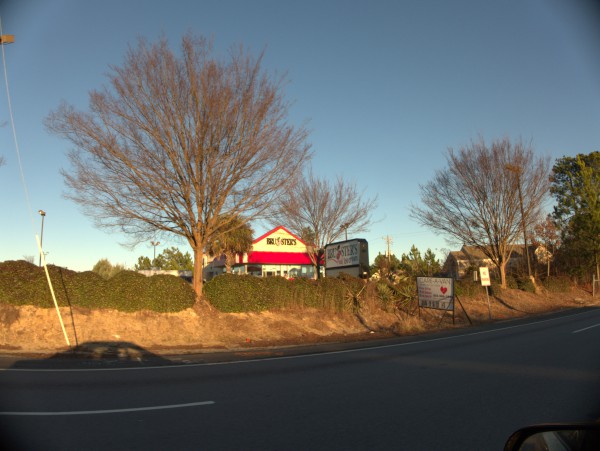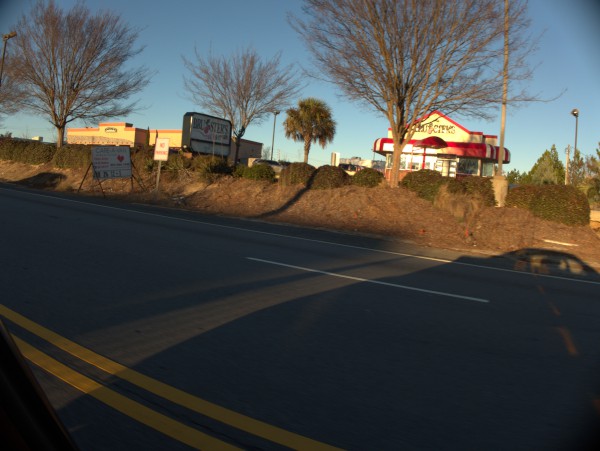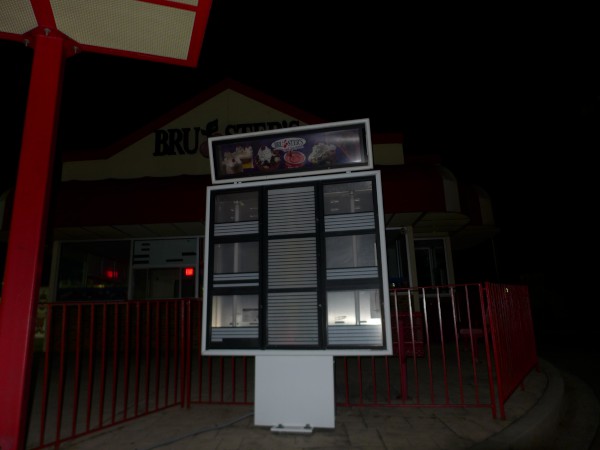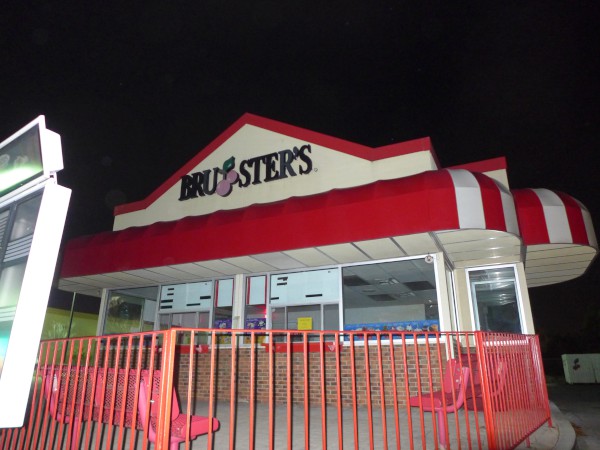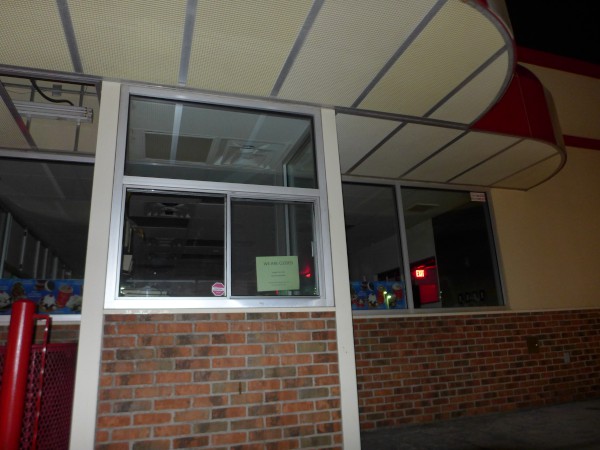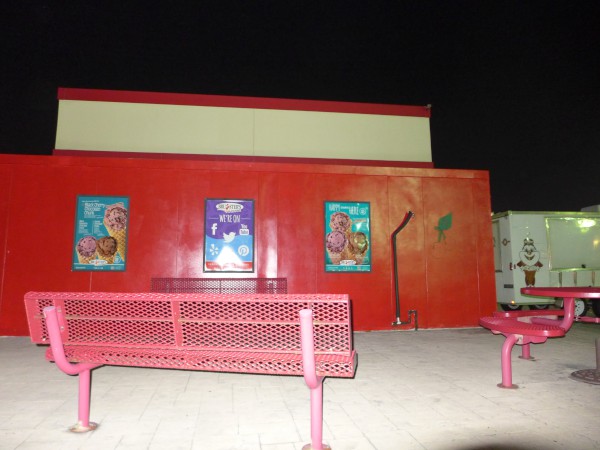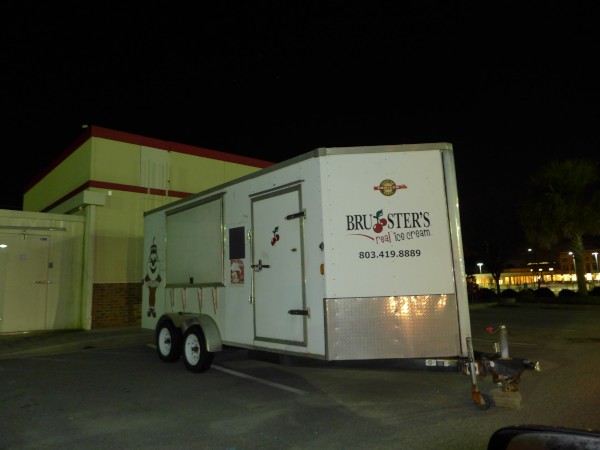 This closing was noted last week on Have Your Say where there was some speculation that Bruster's would have done better on Two Notch than tucked away by Carabba's on Graces Way.
I'm not sure I agree as the Graces Way lot effectively fronts Sparkleberry, and sits right across from Spring Valley High School, which had to be, I think, a factor in the store's siting. Given that all the other Bruster's in Columbia have shut down, and that the only Grand Strand location has as well, I tend to think the whole "no inside seating" concept is iffy. Think about it. The fact that Baskin Robbins has seating gives it a whole season (plus rainy summer days) during which it can draw and Bruster's can't. Where are you going to take the kids' basketball team for ice cream after the game in January? Probably not to a place with outside tables only.
I took the daylight pictures on Saturday 24 January 2015, at which time a crew was actively getting the equipment out of the store. As you can see in the night pictures, the menuboards are already gone.
And just as an aside, I *do* think the Graces Way siting works against Carabba's. They have just reduced their hours, which is Sign #1.
(Hat tip to commenter Mr. Hat, making it a Hat hat tip..)
UPDATE 6 October 2016 -- Now a Pelican's SnoBalls:
UPDATE 30 August 2021: Updating tags and adding map icon.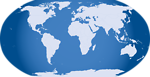 Posted at 10:54 pm in Uncategorized
Commenter Bobby notes that this McAlister's Deli at the corner of Sparkleberry Lane and Graces Way will be moving down Two Notch soon to set up shop by Hobby Lobby.
If I am reading this historical listing right, then the property has been sold once in the last couple of years already. (If there's a more current listing, google is not making it obvious to me).
As I think I have mentioned before, I have never really warmed up to this chain, possibly because you have to go to the counter to beg for drink refills.
(Hat tip to commenter Bobby)
UPDATE 27 October 2014 -- The move is now complete:
Posted at 11:41 pm in Uncategorized
Commenter James reports this Sparkleberry Lane church closing and notes that you don't often see such. That's fairly true, I think, but if you add in relocations, it's not *that* uncommon. Think, for instance, this. Anyway, this is a fairly large property, which the real estate sign indicates is now under contract. I wonder if we're looking at a new church tenant, or a bunch of new houses?
(Hat tip to commenter James)
Posted at 11:52 pm in Uncategorized
I haven't eaten here too often, but it was fine the times I did, and it has certainly managed to outlast most of the other restaurants in the Sparkleberry Crossing development, so I'm a little curious about what's going on at the San Jose on Sparkleberry Lane. I take it that the place will reopen after the facade work currently in progress, but I'm puzzled as to why it's being done in the first place. As I recall it, the building looked nice enough, and rather southwestern, with its stucco exterior. I can't see that adding bricks over that will improve things (though from the work around the side windows, it will still have a bit of southwestern flair), and it certainly can't be cheap.
UPDATE 13 December 2012: Updated the closing date from "December 2012" to "October 2012" based on commenter Sidney's info.
Posted at 12:09 am in Uncategorized
This 2004 story from the Columbia Star is a nice little write-up, and implies that invitation and stationery shop Nan's Notes started in this Sparkleberry Crossing storefront sometime in 2003 (probably late 2003). I noticed a few weeks ago that a closing banner was up, giving them around a nine year run -- not bad at all in this economy.
The article also mentions in passing that they got a good bit of business from people who noticed the shop while at one of the strip mall's restaurants, so I suppose that the demise of Al-Amir, Coldstone Creamery, D's Wings, Let's Dish, Mirage and 7 Grill can't have helped.
Posted at 1:05 am in Uncategorized
Here's another closing in Sparkleberry Square. I can't say much about Dress Barn other than they sell women's clothes, and I always thought it was an iffy name ("that dress makes you look like the broad side of a barn"). Interestingly (or not), Sparkleberry Square has now flanked Kroger with clothing closings, men's to the right of Kroger and women's to the left.
(Hat tip to commenter Andrew)
Posted at 11:06 pm in Uncategorized
Noticed Monday night as I was coming out of Carrabba's that Fruiti Cup frozen yogurt in Sparkleberry Square was gone. Well, actually that's not quite accurate because I never knew it was there first, and I couldn't completely tell if it were going out or coming in. A little googling established it though, and puts the date sometime after 3 August.
This spot was originally, or at least previously Ritz Camera, and this closing adds one more to Sparkleberry Square's list.
UPDATE 12 September 2011 -- Some daylight pix:
UPDATE 17 April 2012 -- Looks like it's to be Dickey's Barbecue Pit restaurant:
UPDATE 29 June 2012 -- As commenter Andrew mentions below, Dickey's is now open:
Posted at 1:15 am in Uncategorized
This upscale massage chain had several storefronts in Columbia which, as reported by commenter Jimmy, all went belly-up by early April. This one is at the corner of Clemson Road & Sparkleberry lane, on the upper level of the same building which also housed Za's, Cafe Corner Coffee and Vino 100.
I would guess these places are a casualty of the fact that massage (unless for an actual medical condition) is something of a luxury good, and is a hard to justify expense in a down economy. On the other hand, there certainly are local massage studios that still seem to be doing well.
(Hat tip to commenter Jimmy)
UPDATE 23 May 2011 -- Added night picture of lighted sign, which is still (so far) up and working.