Archive for the 'pets' tag
I thought I had a picture of this place in operation, but find I can't put my hands on it now.
This Richland Mall storefront is the old Eckerd's location, and I believe that up until the time Posh Pets grooming moved in, it had been vacant since the closing of that store. I am also pretty sure that for some reason, while it was Posh Pets the location had no interior signage or mall access.
I believe that Posh was only here for a year or two and has sinced moved out to Fort Jackson Boulevard and Sparkleberry.
UPDATE 11 November 2014 -- Here are those pictures I was looking for with the place in operation:
Posted at 12:42 am in Uncategorized
I just noticed yesterday that Forest Acres Pet Supply & Grooming, next door to the old Powers 60 Minute Cleaners in Ravenwood had closed. This was an independent pet accessories store which had been there a good few years (and outlasted some big box stores like Superpetz).
You can see it in operation in the background of this shot:
UPDATE 21 January 2014 -- Interesting. Commenter Bryan notes a new pet store at 4230 Bethel Church Road, and when I took a look at it, I saw that the name is different, it's Super Starr Pets, but the phone number is the same as that for Forest Acres Pet Supply. That certainly argues for some connection -- perhaps one owner is carrying on after another retired or something like that. Anyway, here it is:
UPDATE 3 February 2021 -- This building and the one next door were razed in December 2020:
Also adding map icon.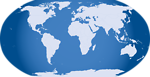 Posted at 12:01 am in Uncategorized
This building is a good ways off the front-street side of Millwood and I had driven by many times without quite thinking about what was back there.
I'm a bit unsure of the story here, there is a Groomingdale's pet grooming business at 1015 Butler Street, and it's been there at least as far back as 1996, with no listing for this location. My initial thought was that it moved to Butler from here, but that would mean this spot has been vacant at least 17 years, which seems hard to credit...
UPDATE 5 June 2013: OK, ignore the above... Got to playing around with google maps and realized that this *is* 1015 Butler street, or at least the front of the building is. That means that Groomingdale's (the original post title) is still there and OK and the vacant spot will have been some other, unknown, business. Anyone know what it was?
Posted at 12:45 am in Uncategorized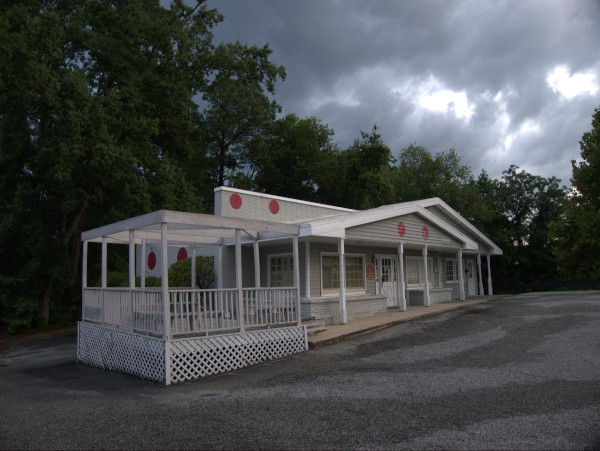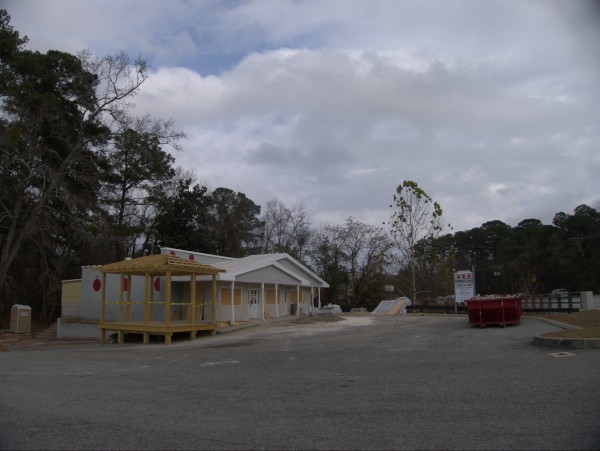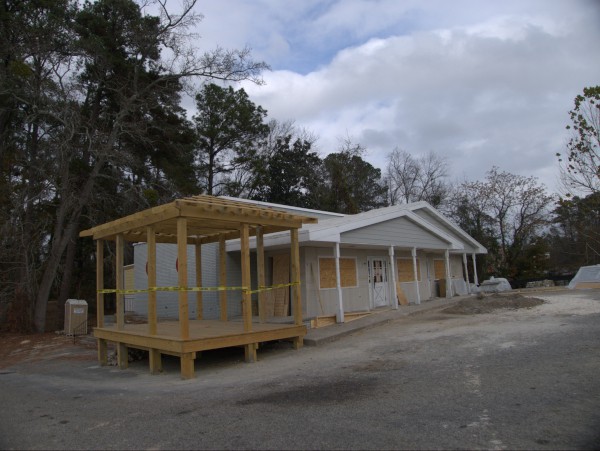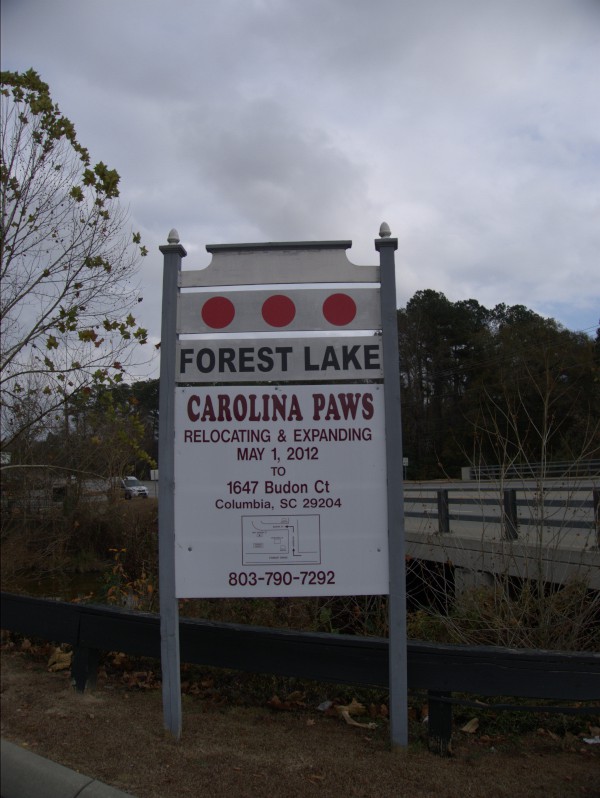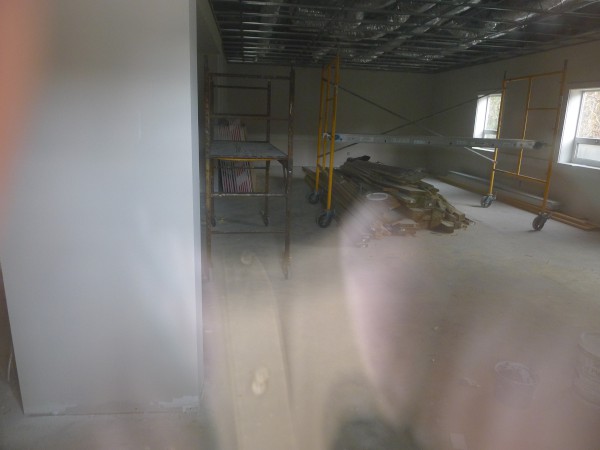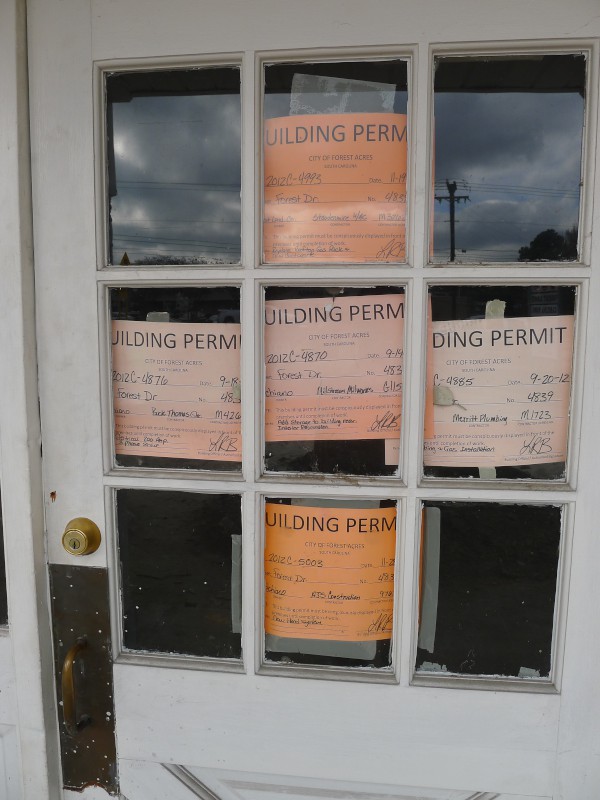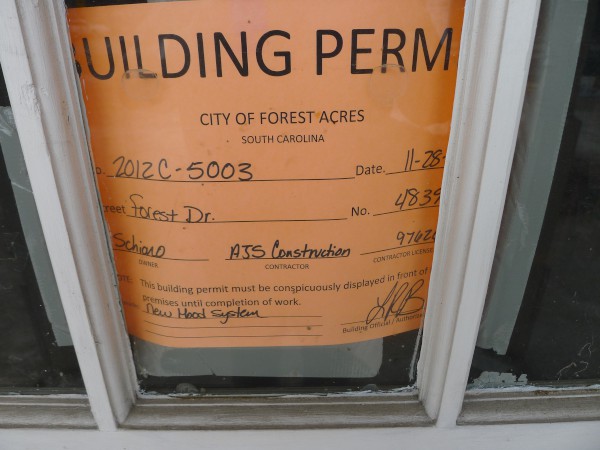 Carolina Paws pet grooming shared the old Dobbs House building with Forest Lake Spirits until moving to 1647 Budon Court in early May of 2012.
I thought I would take this opportunity to mention not only that move, but the ongoing work in the old building. There has been a dumpster out front for several weeks, and the permits arrayed on the door indicate that the place is being upfitted for a new restaurant (or at least, I can think of no other reason for a "hood' to be installed).
UPDATE 10 April 2013 -- Well, it's official -- The Schiano's sign is up:
Posted at 10:59 pm in Uncategorized
This building was built as a Taco Cid and I ate there from time to time in the 1980s. I believe that Bright Animal Clinic was the first, and so far only, operation to use the building since Taco Cid left.
The clinic's closing sign mentions that they were established in 1971, so a) This is obviously not their first location and b) That's a 40 year run, and sounds like a well deserved retirement.
It will be interesting to see what happens with the building. There still have been no takers for the nearby Olive Garden and Red Lobster buildings, but the nearby laundry does OK, and there should be a fair number of ofice workers in the area after the county finishes the takeover of Decker Mall.
(Hat tip to commenter Matt)
UPDATE 18 April 2013 -- It's to be an Atlantic Seafood:
UPDATE 25 April 2013 -- The building sign is up:
UPDATE 17 February 2014 -- Atlantic Seafood is finally open:
This interesting looking "modern" building on Sunset Boulevard across from the Lexington Place shopping center caught my eye in the late afternoon sunlight a few weekends ago.
You can see the fenced in pet-run area on the far side of the building, but the vets have moved to 109 Palmetto Park Boulevard. Perhaps they were zoned out of this office. I note that the LoopNet listing for the place says:
Free standing building on 1 acre. Would make excellent Doctor's office, Dentist office, Salon, Spa or similar uses. Prohibited uses include veterinary related types.
I know dogs can be noisy, but it couldn't be any worse than the traffic on Sunset Boulevard!
UPDATE 25 May 2016 -- Now a strip mall anchored by Smashburger:
Posted at 12:18 am in Uncategorized
I don't get out past the airport to South Congaree much at all. I used to drive out every now and then in the 1970s to see if the South Congaree Book Exchange were open (it never was), and I think I drove through there on the way to AIken once. It still seems to be a pretty rural area, without much urban advance (though quite a nice Food Lion has made it there).
This particular building is on the west side of the road before you get to Food Lion (coming from the airport). I neglected to look for a street address, and google suggests a number of different possibilities (some of which may be previous or later locations for the same business).
UPDATE 31 March 2011: Added a full street address based on the comments. Apparently Edmund Highway is Main Street within South Congaree city limits.
Posted at 10:18 pm in Uncategorized
I only went into Superpetz a few times. I'm pretty sure I got pigs ears for my sister's dogs there once, and think I was in there one other time, though I can't remember what for. The place was kind of a Wal Mart for pet paraphernalia, with the non-WalMart touch that you could actually take your pets inside with you.
According to the chain's web site, this was the only Columbia store, which makes me suspect issues with the chain as a whole rather than the standard "things don't do well on Decker" issue. This closing is a further blow to the Fashion Place plaza which housed Superpetz, although it did recently make good the Cici's Pizza vacancy with the opening of Gabby's Pizza in that spot.
(Hat tip to commenter Matt)
UPDATE 8 Oct 2010: Added Phar-Mor to the post title based on the comments.
UPDATE 10 September 2011 -- It appears that Goodwill will be moving across the plaza from its current location in back to this location:
Posted at 1:03 am in Uncategorized
Before the Burger King was built, this lot, on Trenholm Road near Dent Middle School was once a go-kart track. It was a pretty loud and noisy business for a rather staid street, and you have to wonder how Arcadia Lakes and the other businesses in the area felt about it. On the other hand, I can't actually ever remember seeing any of the cars in motion. They were there for a number of years, and must have had customers, but I can only recall driving by and seeing the track and karts, not hearing anything or seeing any races in progress..
I wouldn't have minded going myself, but at the tme, I was perpetually broke, and while riding the karts would have been fun, picking up the latest Perry Rhodan space opera at Capitol Newsstand was a lot higher on my expense priority list.
After the go-kart track closed, the main building was used for another several years as a "Pet Vac" center. I always assumed that to be "pet vaccination", but I suppose it could have been for hoovering up dusty cats instead -- I never went in to see either way.
After the Burger King was built, it closed down for a long time due to a dispute between the local franchise owner and Burger King Corporate. In fact, all Columbia area BKs were shut down during that time, and some of them never came back.