Archive for the 'Ocean Highway' tag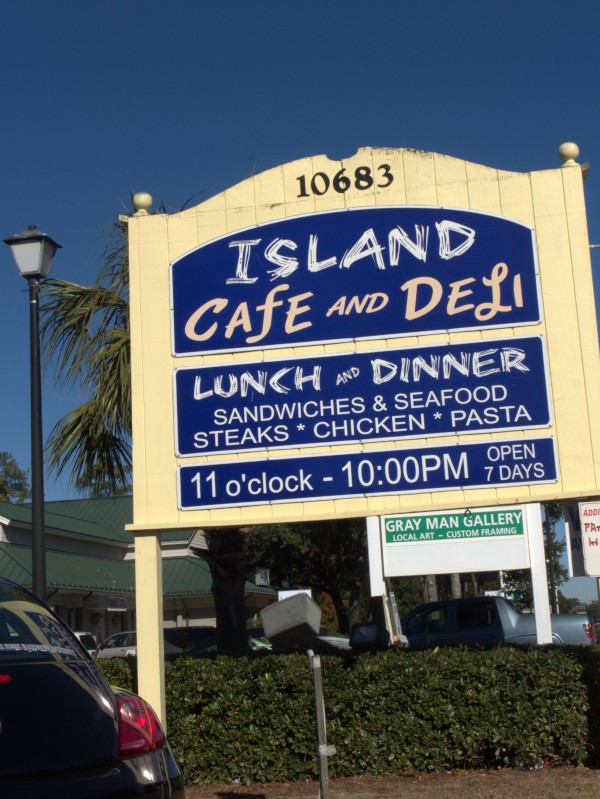 The Island Cafe & Deli was for many years a dependable choice for lunch and dinner at Pawleys Island. Landolfi's is my favorite restaurant in the area, but the Deli had a nice front porch for outdoor dining, and sometimes you just want a grilled cheese or burger with black bean soup instead of pizza. Apart from those options, the menu had a number of quirkily named signature items like the Aristotle Salad or the Strom Thurmond, which the description assured us was "an illustrious member of our menu" and featured "young turkey breast".
Some years ago the place had a bad fire and was closed for an extended period, and I believe that after that, someone once drove a car through the front window. Given that history, I was very surprised when I went down in December for the candles to find the place closed.
It appears that the next tenant will be Rustic Table.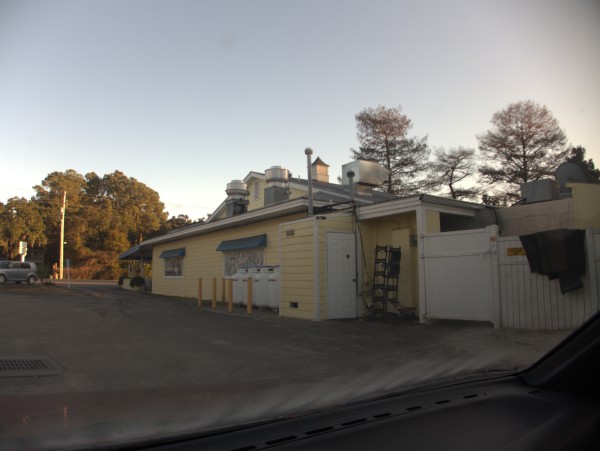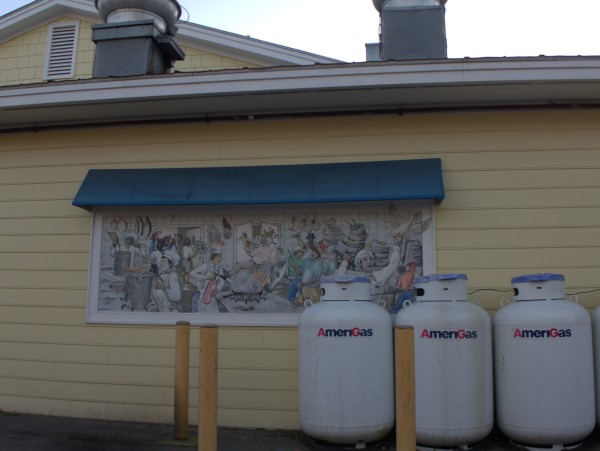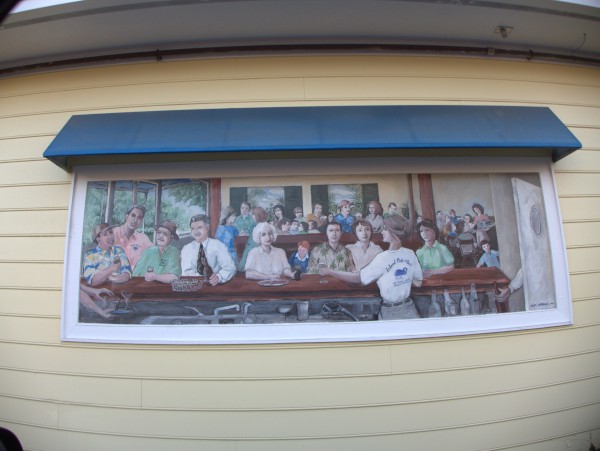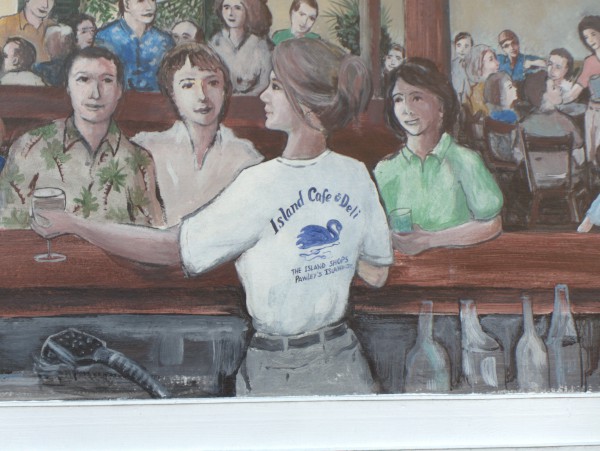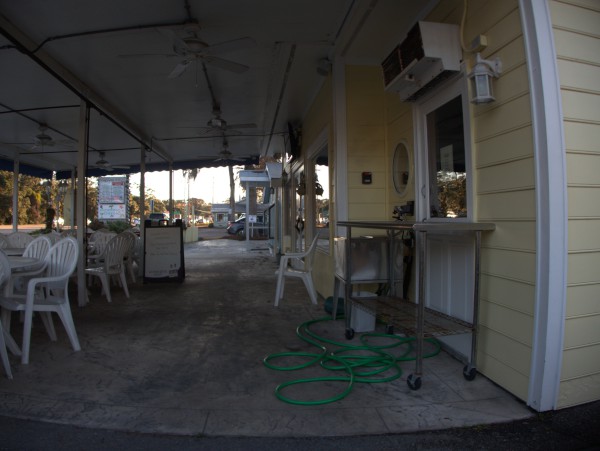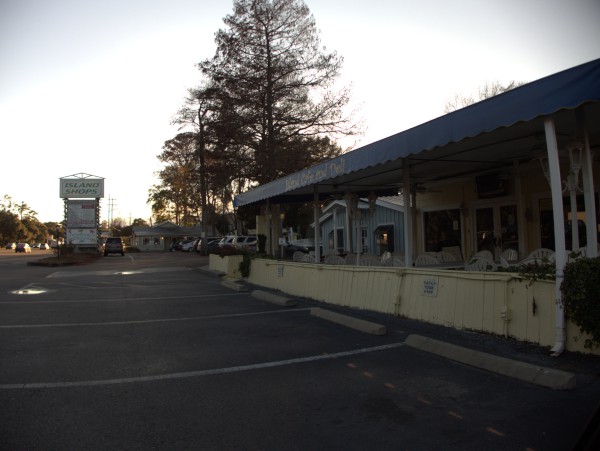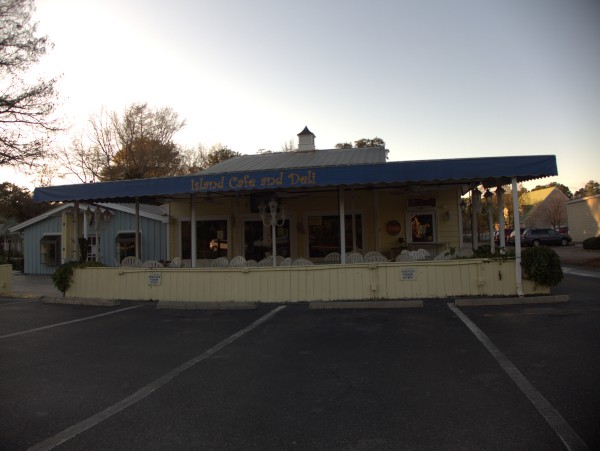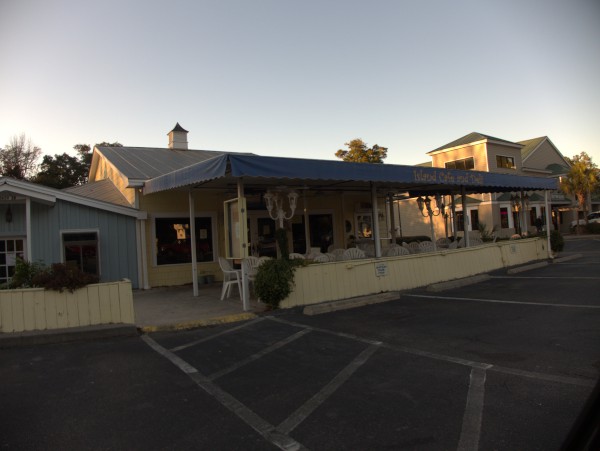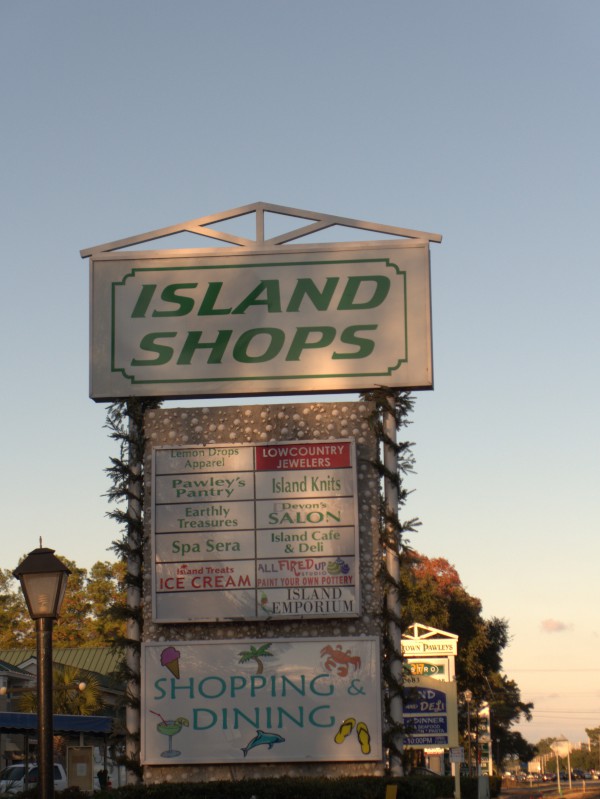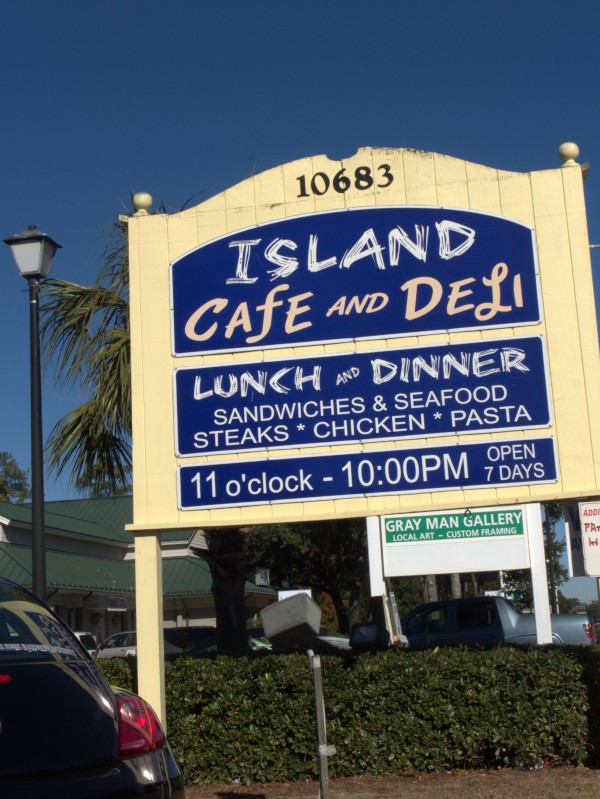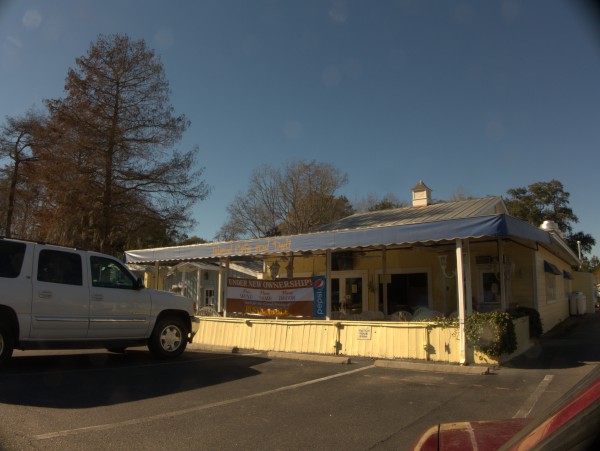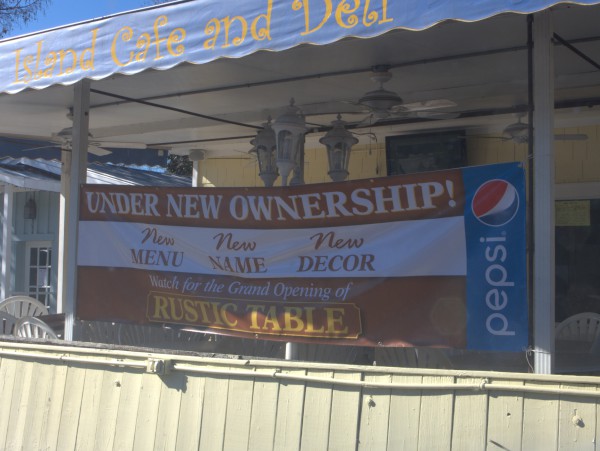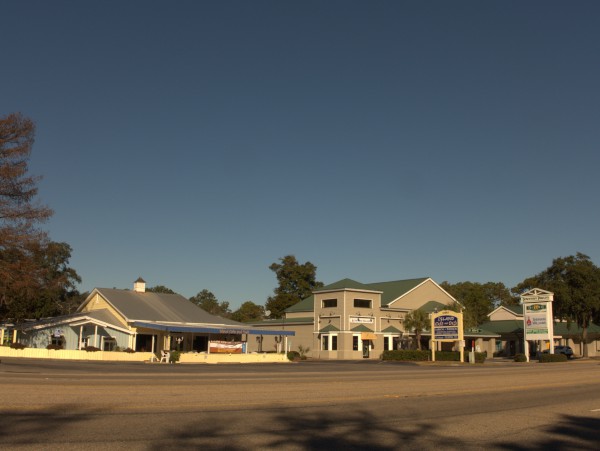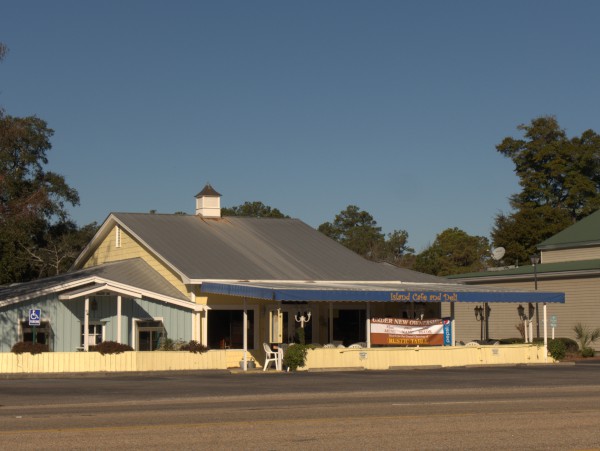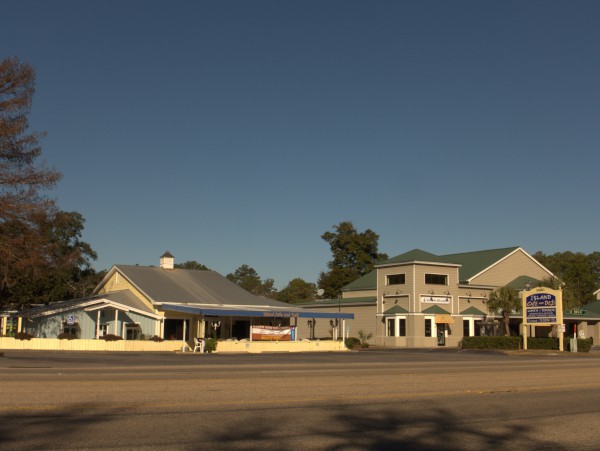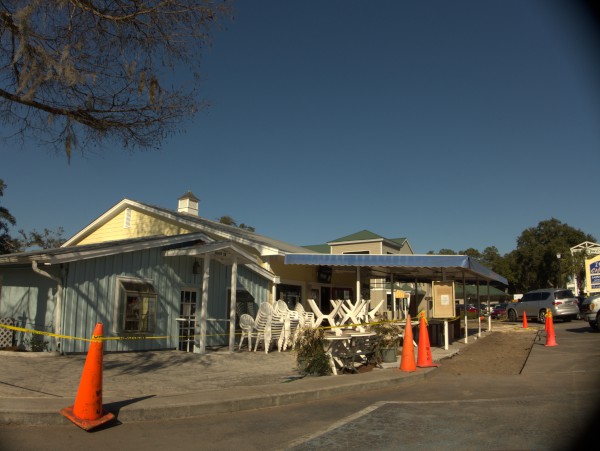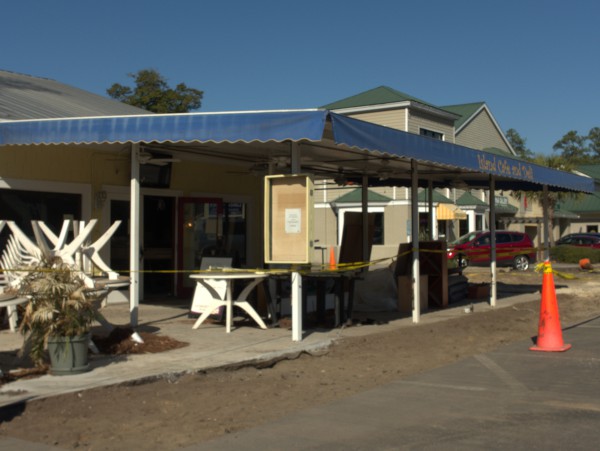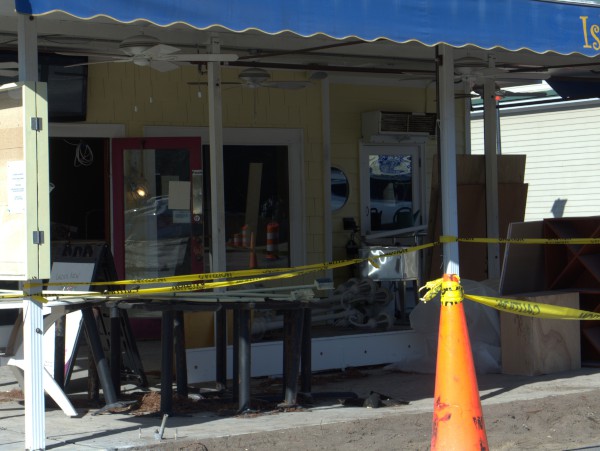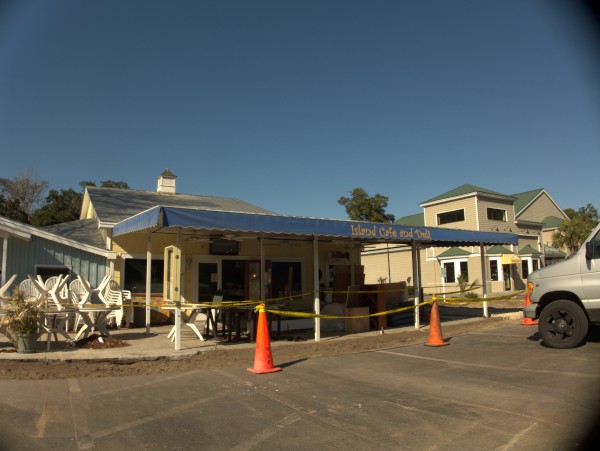 Posted at 11:52 pm in Uncategorized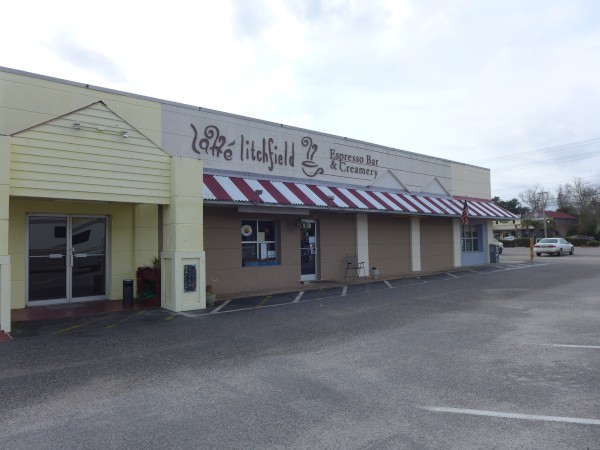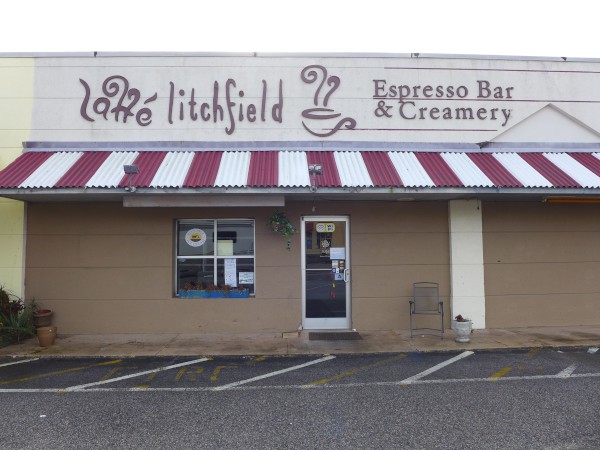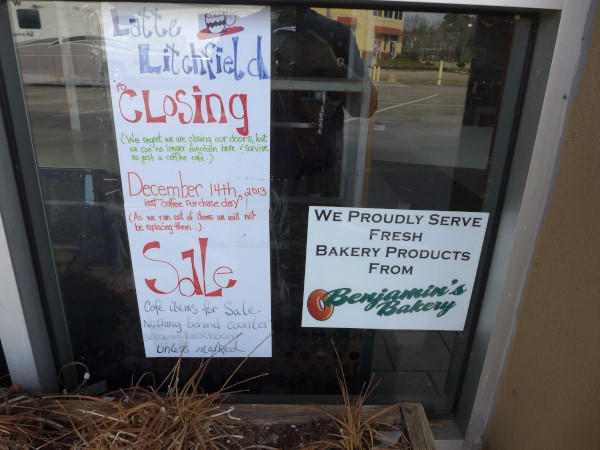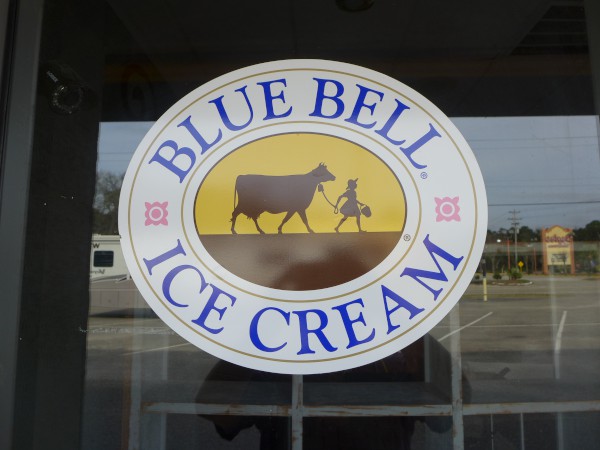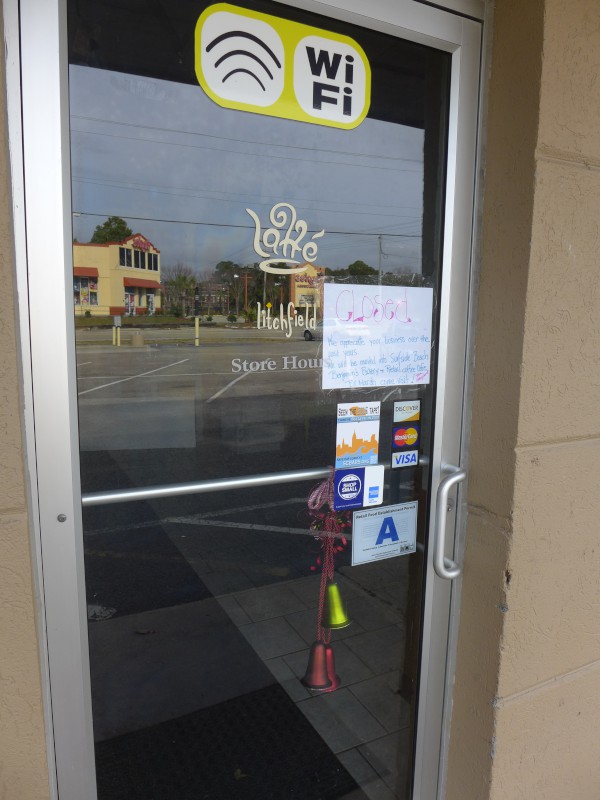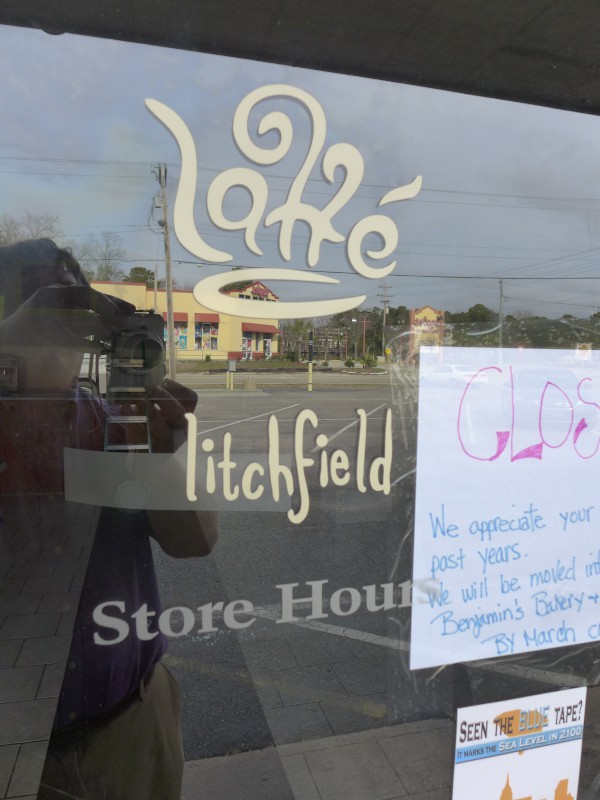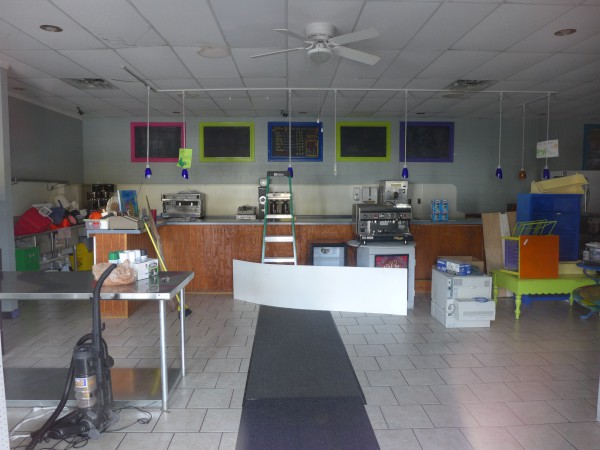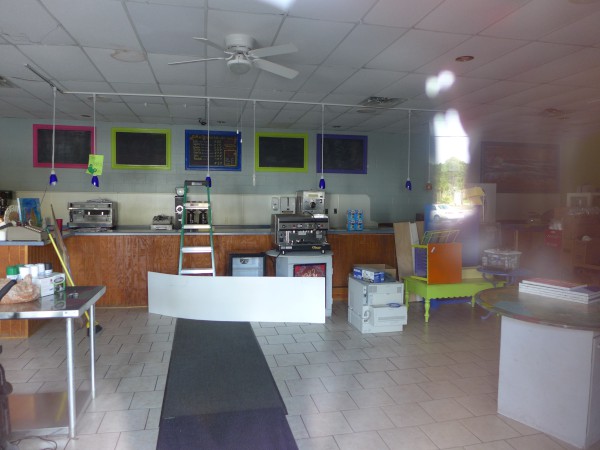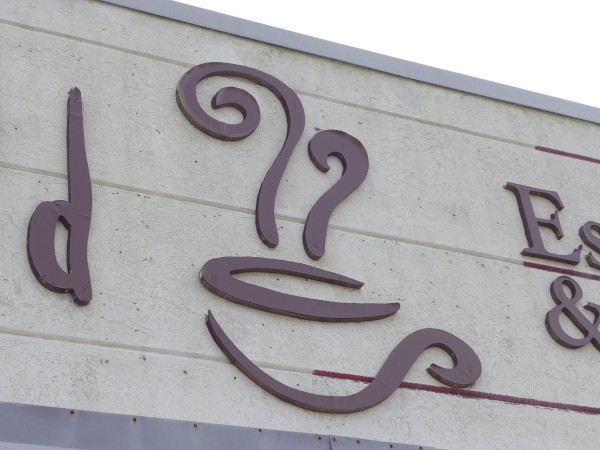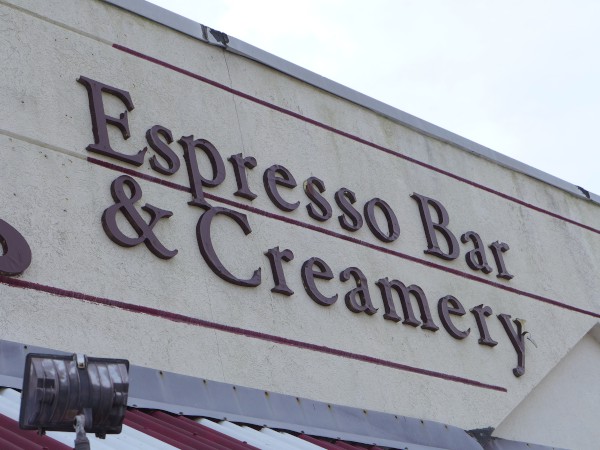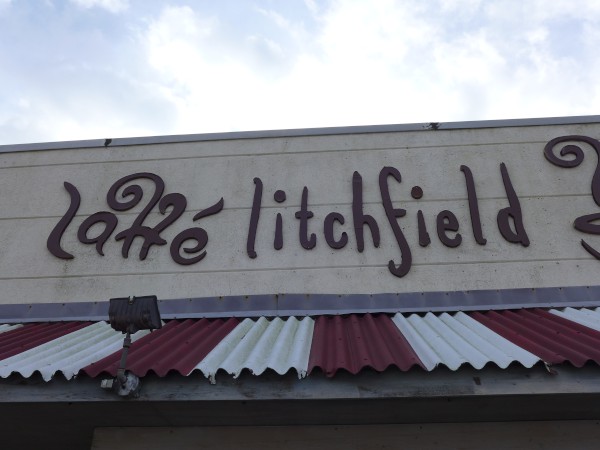 As I headed for my morning coffee fix at the beach last December, I found myself rudely surprised as my go-to location, Latte Litchfield was closed.
The building itself has been there forever, but I cannot recall the last tenant. When I first became aware of the place, it was a Christian coffee shop. As far as I could tell, the only practical effect of this from a customer point of view (unless you opted to attend the gatherings listed on the bulletin board) was really pleasant baristas.
I'm not sure if the place changed hands or what, but gradually that aspect was dropped, and the Internet Cafe aspect came forward. During that period, I would often stop by to get my network fix, or to print work documents I had to deal with. As DSL and cable penetrated the area, I did less of that, and I think the same applied to others and the orientation shifted once again. Though the computers and wireless were still there, the place sort of shifted to being a working art gallery with various pieces on display and an artist occasionaly working on new ones.
For a long time, the cafe was connected through an interior archway to Eggs Up Grill and though they were run as separate businesses, you could drift out of breakfast at the one and into coffee and pastries at the other. When Eggs Up moved to the Litchfield Piggly Wiggly plaza, the archway was drywalled, and access to the new restaurant there was cut off. I suspect the Eggs Up move hurt business a good bit. Likewise (as is, I believe, gently hinted at in the closing notice), the plaza started bringing in other businesses that directly competed with Latte Litchfield. For instance, they served froyo as a sideline at one time, and the plaza brought in a separate froyo business right next door to them. Likewise for lunch items and a new restaurant two doors down.
I guess now I never will get the final punch on my free-cup card.
Well, just to continue our ongoing list of Pig closings, the store in Litchfield Beach is now gone.
This was a fairly new store, and quite nice. It also seemed to always do quite a good business as far as I could tell.
The store is located in a plaza just across US-17 from the main Litchfield resort area (with the old Tara Theater) and has a number of restaurants and a few retail operations. There has been some churn during the financial crisis, and Blockbuster, a computer store and a couple of others have gone, but Massey's Pizza and Eggs Up have moved in, so on the whole it is doing OK. Physically the site is quite nice, with moss draped live-oaks and stop-light access.
The Pig will be re-opening as a Bi-Lo, and I have to think that this will mean moving the Bi-Lo from a few blocks north into this spot. Currently the Bi-Lo (originally built as a Harris Teeter) is in an older, failing plaza, which has recently seen the only other decent store (Litchfield Books) decamp to the new Fresh Market complex.
All of this movement takes place in the total revamping of the local grocery environment. Along with the newly opened and afore-mentioned Fresh Market, the Grand Strand's first Publix will be opening in the currently dowdy Pawleys Island Plaza, and a Lowe's Foods will be opening in a new plaza at the Island's South Causeway. This has to be putting a good deal of pressure on Food Lion which has been running a rather up-scale location also at the South Causeway.
(*) All the online google hits list this location as Pawleys Island. In my mind that is clearly wrong. This is Litchfield Beach, plain and simple. Somehow the area covered by the Pawleys Island moniker has tended to spread as "Arrogantly Shabby" has become "upscale" and gained a bit of cachet.
Posted at 12:56 am in Uncategorized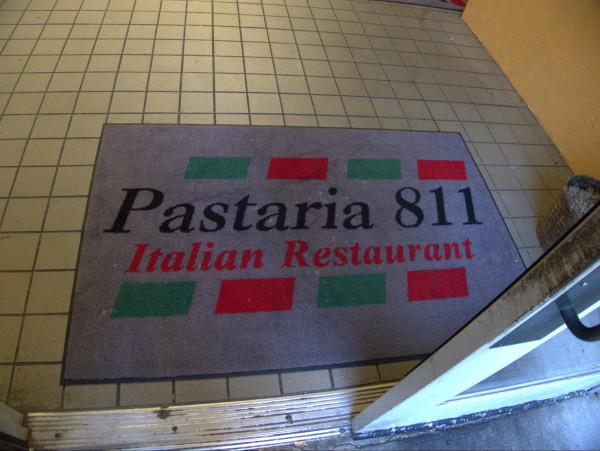 I never went to Bove as my impression of it was always that it was too tony a spot for me to be a regular. It was the type of place that had named chefs and a deep wine selection.
Some time last year, it occurred to me that I never saw any cars there, and I stopped to take a look. There was no indication whatsoever that the place was closed, in fact there was what seemed to be a unique-for-the-day menu posted on the door and all the fixtures were in place. However, that menu never changed, and now that I was paying attention, there were no cars ever.
Bove was on US-17 in Pawleys Island, just north of the Sonic and south of the new Fresh Market. A few miles north on 17 in Litchfield Beach is an office complex and small mall called The Exchange.
My memory is that The Exchange was built in the late 1970s or early 1980s as a very upscale place. I particularly remember that on the north side of the gallery, just above where the tourism office now is (if indeed *that* is still there..) there was a specialty cheese shop, with all sorts of exotic cheeses that you could not (then) find in a typical grocery. There were also jewelers and upscale clothing botiques as well as some art galleries. Well -- it was simply a place that the Grand Strand was not ready for. First, I doubt they truly realized how seasonal the market was -- just because things looked good in June and July didn't mean that you would see customer-one in October, and second, that's not the kind of crowd that came to the beach in those days. Certainly now there are a bunch of well off retirees, but people toting a load of kids to the beach and Pavilion weren't going to have the time or inclination to peruse fancy cheeses -- essentially what happened is that every original tenant went bust over a very short period of time.
The second incarnation of the place was as an art mall. There were several galleries, one of which was very good and stayed many years and others which came and went. There were also spaces for painting classes and exibits and a couple of artist studios.
During this phase one of the long term tenants, The Coffee & Chocolate House opened. I never could understand how they subsisted on the meager foot traffic, but finally decided that mostly the place was a work area for their catering which seemed to carry them (and as far as I know they are still there).
The other long term non-art tenant was Pastaria 811. They were in a back slot which had originally (during the inital incarnation of The Exchange) been some sort of deli, and were a very good Italian restaurant. In fact, I would say they have the best bread on the Grand Strand, and one of the best pizzas in South Carolina (curiously, the other best pizza in SC is now less than a mile removed). In addition, the salads and pasta dishes like "stuffed shells" were quite good as well.
I should probably have tried to cut down the number of pictures of the place that are below after the break, but I'm a little sentimental about it as I ate there with both my mother and father.
As the years passed I ate there less frequently because my hours gradually shifted to the point I would go out to lunch at 3:00, and the Pastaria is one of those places that closes between lunch (ends at 2:30) and dinner (starts at 4:00), but still I would catch pizza there every now and then.
A year or two ago they did a major expansion, opening a new dining room area in what had been part of the Chocolate & Coffee House space (in the meantime, the good art gallery had moved in with the Coffee house), so I was very surprised, after they went to that expense, to hear that they were moving. I can only figure that 1) The Exchange was continuing to implode and they feared for its future stability and 2) The opportunity to get a building directly on US-17 that was already outfitted as a restaurant was too good a deal to pass up.
At any rate, they started moving into the old Bove space in January, and are now up and running. I went by recently, and the bread, stuffed shells and pizza are just as good from the new kitchen as the old.
Posted at 12:09 am in Uncategorized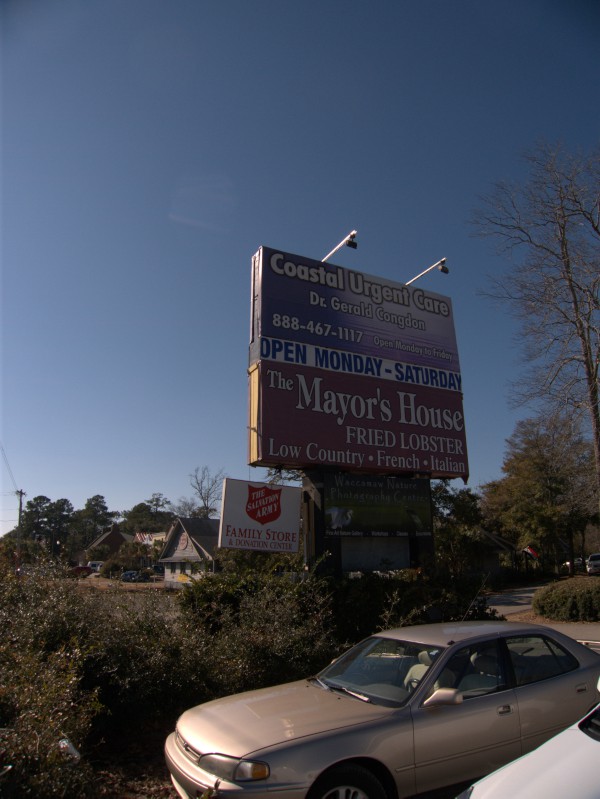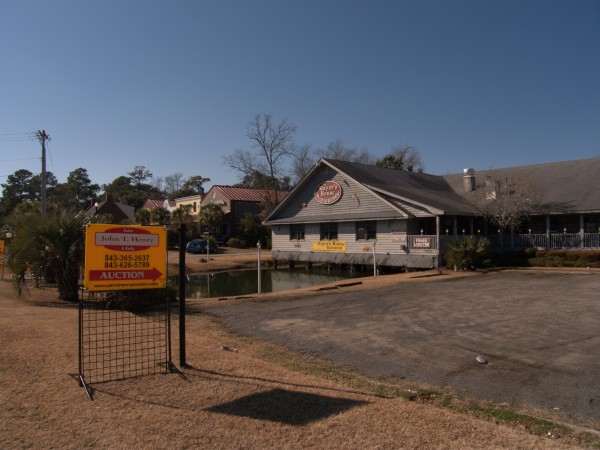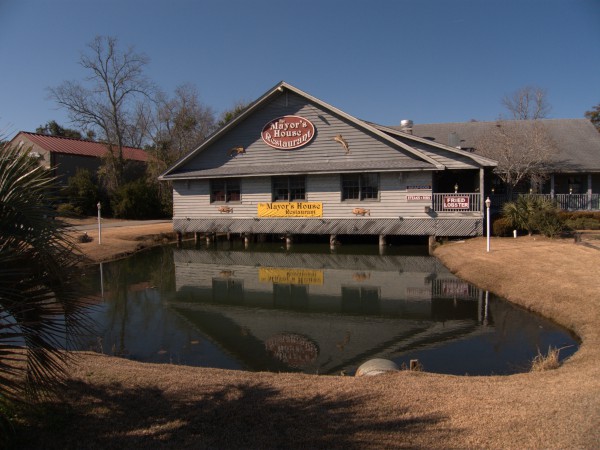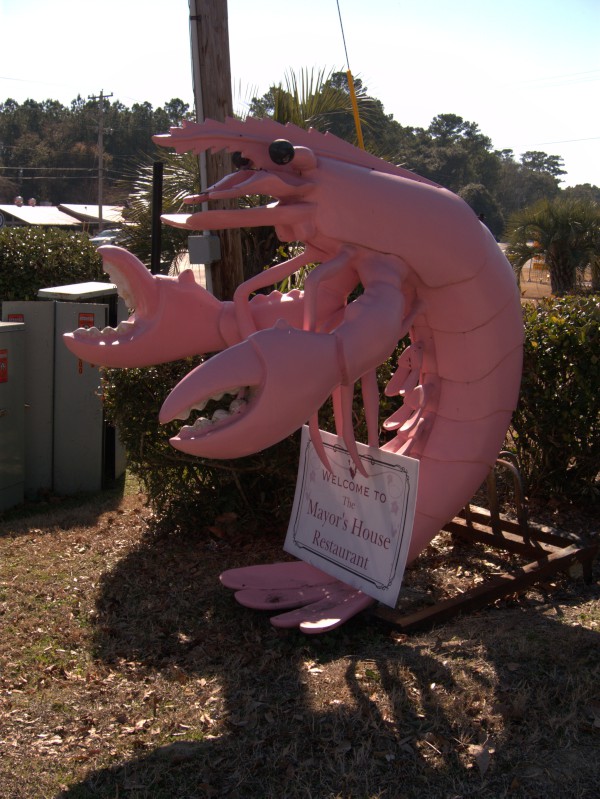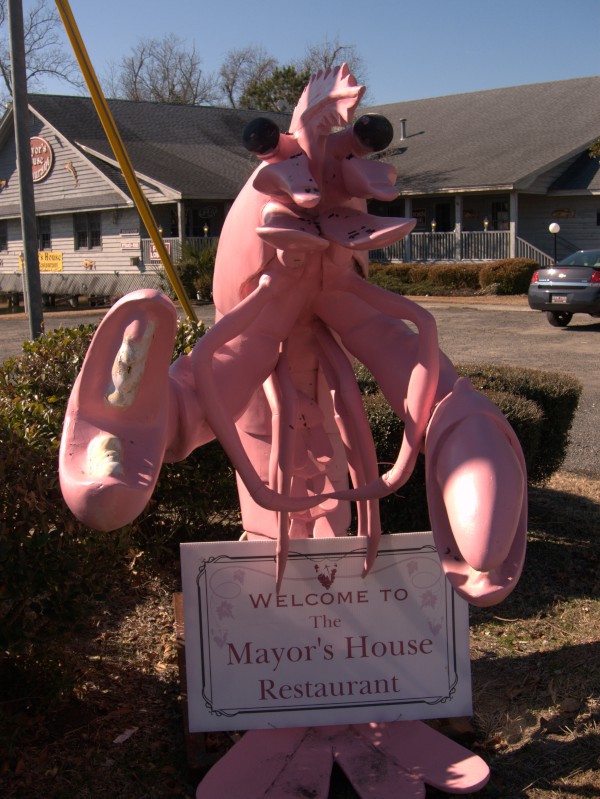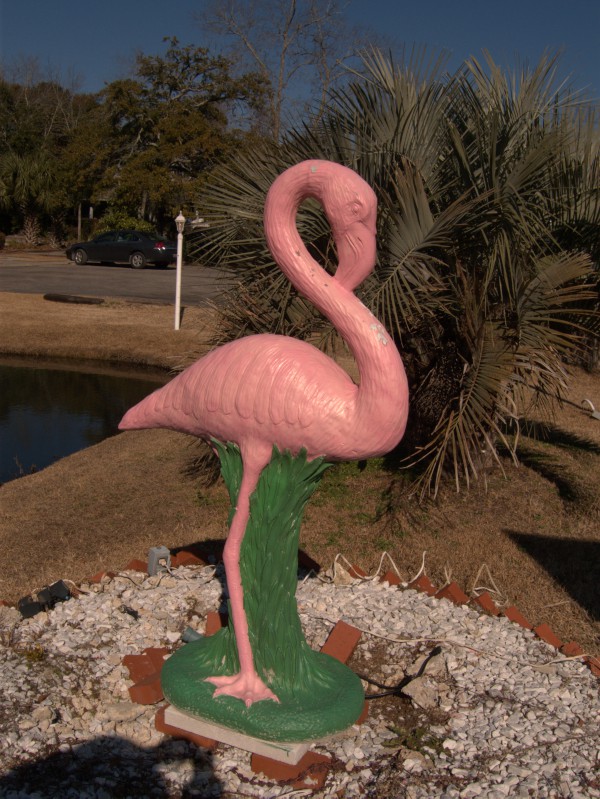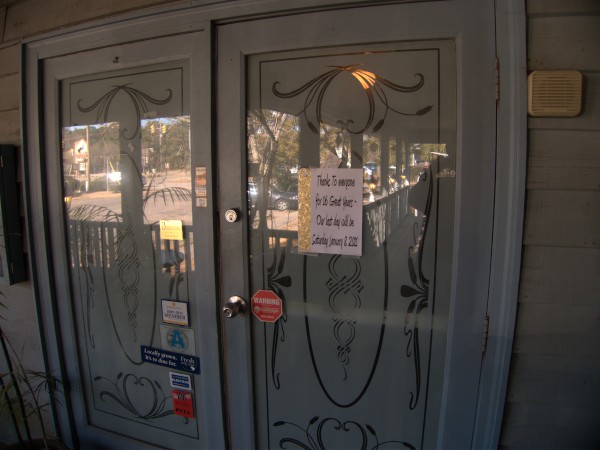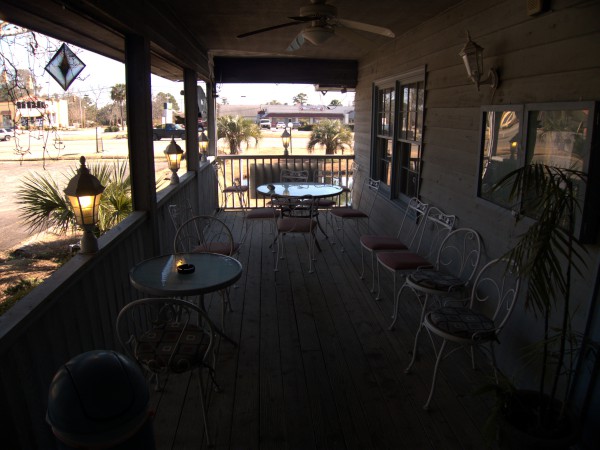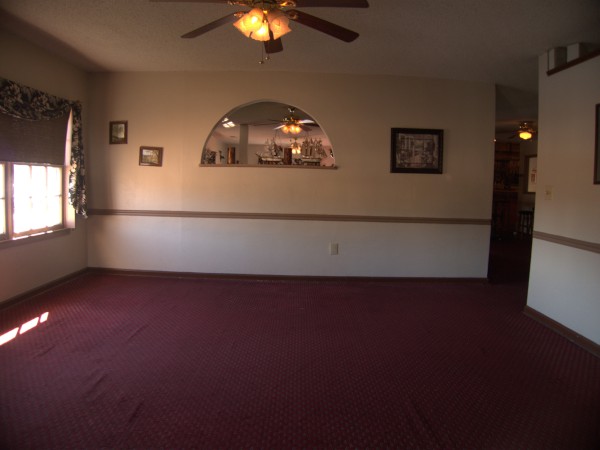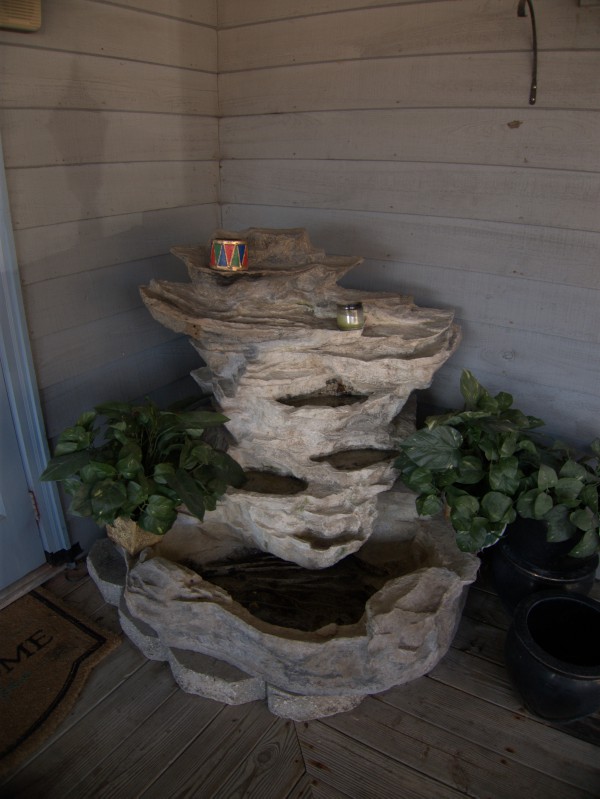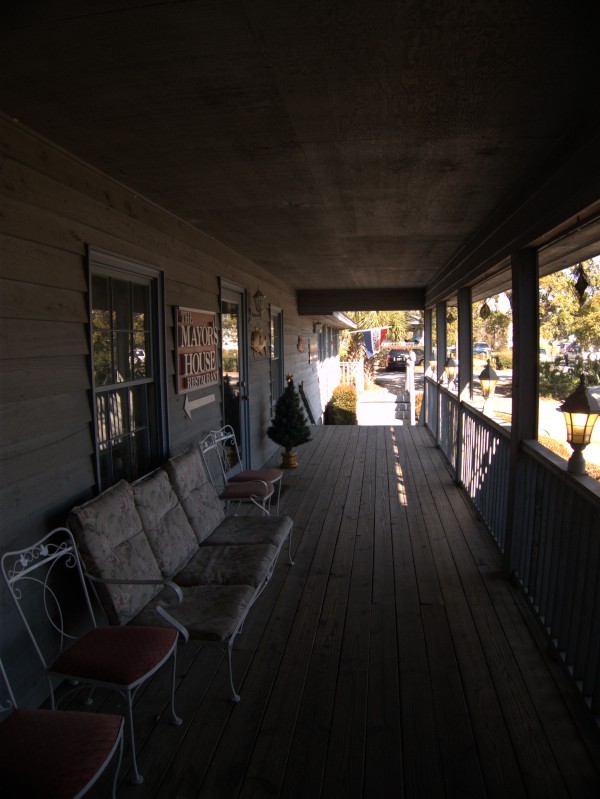 The Mayor's House was for many years at the South Litchfield Beach causeway and stoplight, across from Latte Litchfield and a bit north of The McKenzie Beach Motel. I would, in fact, give the location as "Litchfield" rather than "Pawleys Island", but the later designation is creeping steadily northward.
I always had the impression that The Mayor's House was a) "Too Fancy" and b) "Too Seafood" for me (what with the big pink shrimp and the Fried Lobster come-on), so I never got around to eating there despite liking the pier-like aspect of being built over a pond.
Looking for the address of the place did turn up an online review site which was decidedly... mixed. It did confirm my impression that it was probably too rich for my blood. I do wonder what happened to the shrimp though.
Posted at 11:00 pm in Uncategorized
The Little Red Barn was a touristy gift shop that operated on US-17 just north of the draw-bridge in Georgetown during the late 1960s. At least that's when I'm guessing it closed -- I would have been around 9 or so years old, so the memories are pretty vague at that remove.
The place was (and is) on the route between Columbia and Pawleys Island, and was a stop we kids always wanted our parents to make, though they did so very infrequently.
Inside, the place was kind of Hammock Shop-lite, and skewed a bit more to the tacky side of roadside tourism, or at least those were the items most interesting to me. I remember bein particularly scandalized by a "belly button lint picker" joke device, and I'm sure there were some "Please Don't Pick The Daisies" type postcards.
Outside, though was the reason the place was really special to us kids: peacocks!
There was a little open shed to the left and behind the actual "red barn" building, which had a number of peacocks behind screen wire (I think that sometimes they would walk around "loose" as well). The thing about peacocks is that they don't feel like showing off very often, but when they do, it's spectacular and given that these were the only peacocks we had ever seen besides NBC, we always wanted to stop on the off chance that they felt pretty that day.
After the Red Barn closed as a gift shop, my memory is that it was vacant for a while, and then in the 1970s, it became the office building for a plant nursery which was run on the land surrounding the building. I think that lasted until quite recently, but is now closed, and the building is again unused (and starting to need a few repairs).
As for the peacocks? Well, I suspect they tasted like chicken.
UPDATE 16 June 2011: Added 14 August 2010 Photoset.
UPDATE 23 May 2012: Updated the closing date in the post title from "1960s" to "1970s" based on commenter Ali's information.