Archive for the 'Myrtle Beach' tag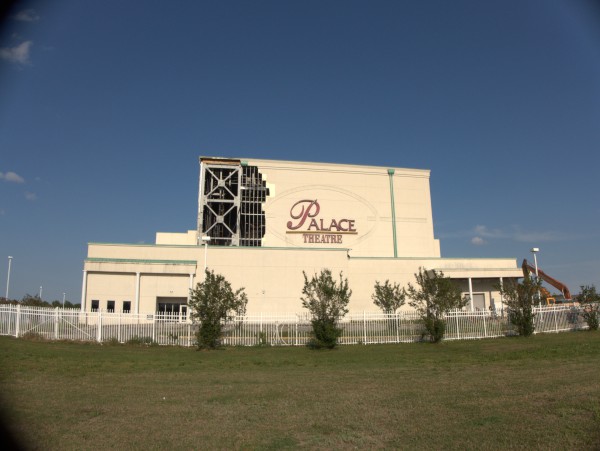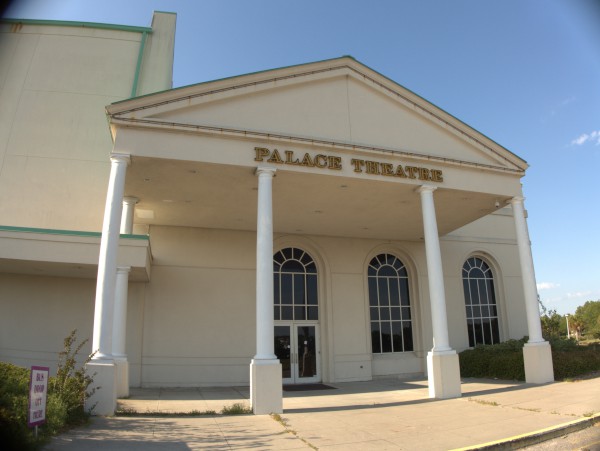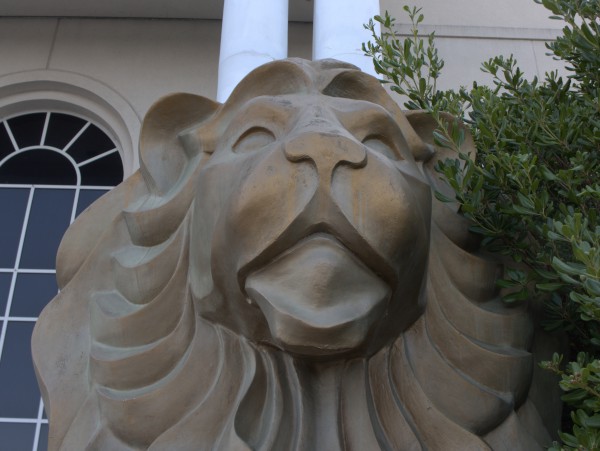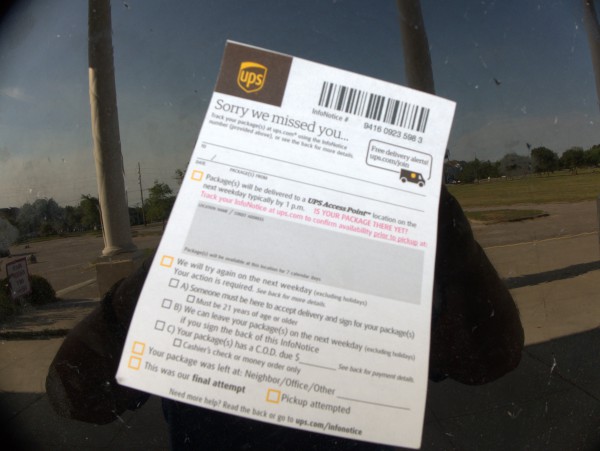 While not one of the coast's great storms, Hurricane Matthew did damage enough. Our yard was under several feet of water apparently, though nothing was damaged aside from a trash caddy floating away. Other places, apparently at random, got it worse. One of the was Myrtle Beach's Palace Theater at Broadway at the Beach.
I never went to the Palace, thought I thought I was one time. Somehow or other, I convinced myself that this big theater must be the House of Blues, and that's where I headed when I had a ticket for the 1996 Beach Boys appearance there (Carl Wilson's last tour). In the event, when I got there I saw the name obviously did not match, and had to drive a further 10 miles or so. Fortunately I was running early.
I also ended up on their email list somehow, possibly from seeing a show at the other big theater in North Myrtle Beach, so I would get all the notices about the Christmas shows with the Rockettes.
I guessing that business must have been off from the peak years, otherwise they would have repaired and gone on (I do wonder about insurance, you would expect them to have it, at least for wind, and flood was not an issue here..), but that was not to be, as The Sun News recently reported.
The previous year or so has not been kind to big structures in Myrtle Beach.
(Hat tip to commenter Bobby)
Read the rest of this entry »
Well now, despite my taste in music, I'm probably the last person in the world to walk into a surf shop. So when I noticed that WallerBears in Myrtle Beach was closed (sometime after 18 June 2016 according to blog), it was not because I regretted missing the chance to freshen up my water wardrobe, but because I missed the sign, which impressed me enough several years ago that I took quite a few pictures of it: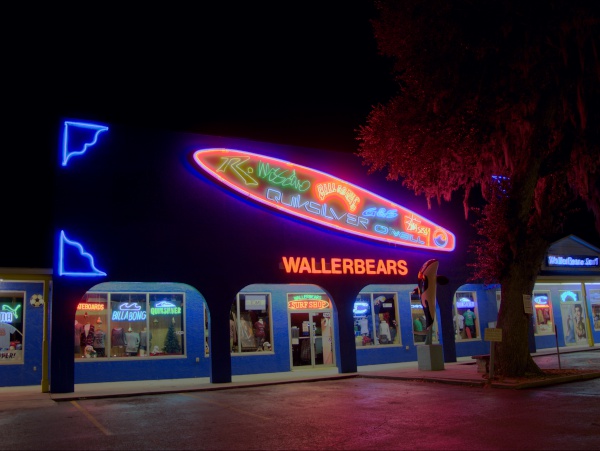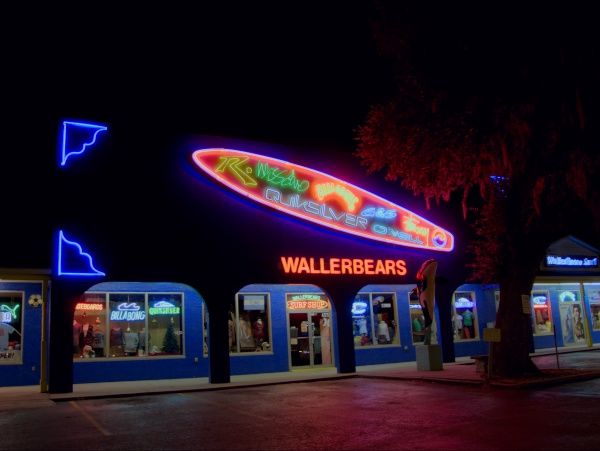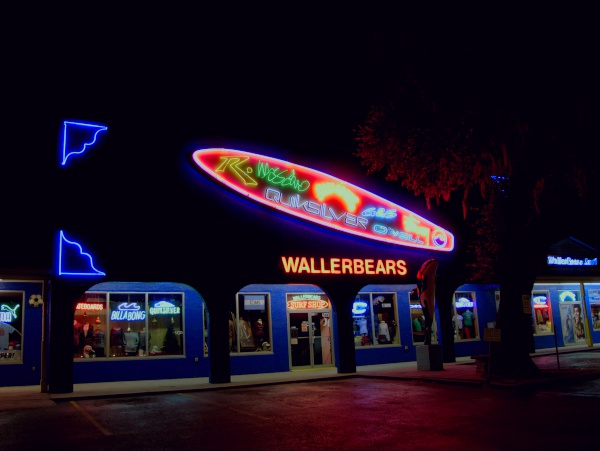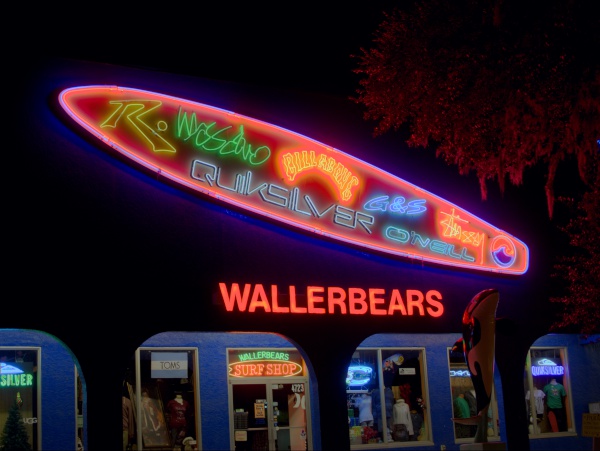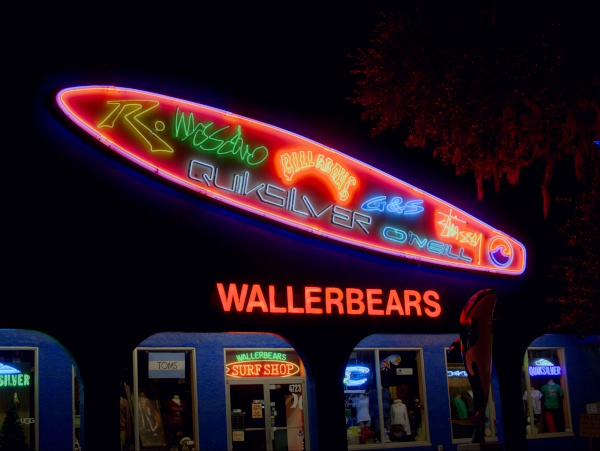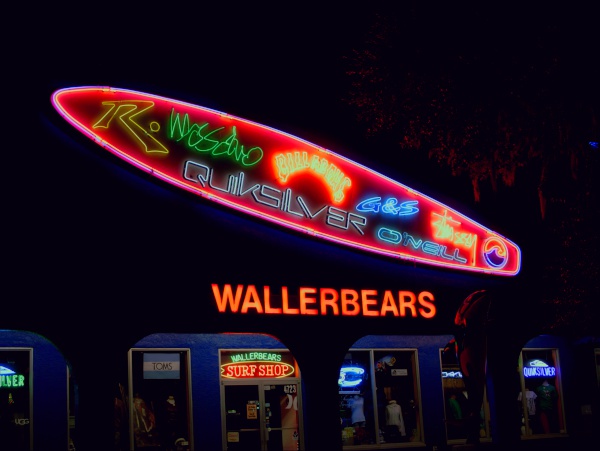 Planet Hollywood in Myrtle Beach was always an interesting building to drive by. I thought it looked a bit like an elephant "hoovering up" (as our Brit friends might say) customers from the parking lot through that trunk-like canopy and into the elephant's head. There also seem to be some scary teeth involved.
In the event, though I drove by many times, I only ate at Planet Hollywood once. I'm guessing it was back in the 90s, and I had an unobjectionable, but completely unexceptional hamburger. I have heard in recent years rumors that the place was in financial trouble, and I can only guess that people wised up to the fact that a burger's proximity to Bruce Willis's tennis shoes or whatever does not make it worth $15 -- the place limped through the 2015 Labor Day weekend and threw in the towel on the following Tuesday.
The night pictures above were taken on 3 May 2012, while the post-closing pictures below are from 3 October 2015, a gray day coming just before the bottom dropped out on 4 October (though it was not anywhere near as bad on the Waccamaw Neck as in Columbia). I find it interesting that while they did not spend a lot of effort destroying the celebrity handprints around the building, they *did* spend considerable time defacing the nameplates that would have told whose hands they were. (Though they did miss a few).
(Hat tip to my sister)
Posted at 12:20 am in Uncategorized
IMAX theaters are kind of an odd duck in the movie world. They have tremendous screens and potentially a lot of advantages over regular theaters, but all seem to be run on kind of an amateur basis. For a time, South Carolina had two IMAX screens, one at the Charleston Aquarium, and this one at Broadway At The Beach in Myrtle Beach.
I used to go down to the Charleston one fairly regularly for spectacles like Harry Potter and The Polar Express. I wasn't too surprised when it went under as the parking situation was rather fraught.
Given the amount of time I spend on the Grand Strand, it always surprised me how seldom I got to the Myrtle Beach IMAX. It just seemed that whenever I would check it out, it was all sharks & dinosaurs. From time to time there would be a a good second run movie there, like Beauty & The Beast, The Phantom Menace or The Dark Knight, but it was always six months or more after the fact, by which time I had usually seen them elsewhere. (Though for the record, the IMAX cut of The Phantom Menace was much better than the regular theatrical release because the hard running-time limit imposed on IMAX at the time, due to the huge weight of the reels, forced Lucasfilms to cut a lot of the dross..).
This pattern continued even when IMAX hit its peak nationally with big hits. Given the lackluster record of the Myrtle Beach site, I wasn't too surprised when it closed in November of 2011. As it turns out though, there was a reason the place was so far below its potential. According to The Sun News the IMAX actually had a non-compete agreement with the Carmike 16 adjoining it at Broadway At The Beach. The fact that they would ever have agreed to such a thing kind of confirms my opinion of the amateur nature of IMAX management, but does explain why they never had the hit first-run movies. The ampitheatre re-opened this summer as a Carmike property, using a different big-screen technology called BIGD. I have not had a chance to check it out, but presumably there is no longer an issue of Carmike competing with itself.
Currently South Carolina has no IMAX locations. I believe that Charlotte is the closest outlet, but I have incorporated an IMAX stop into my Florida vacations for the last few years of big releases. Tampa had two, one at the port Canalside complex in Ybor City, and one at the big science museum. The Canalside location closed a year or so ago, and the last two years, I have hit the World Golf Hall of Fame location in St. Augustine for Dark Knight offerings. I'm pretty sure that this summer they had switched to digital projection, and it was much less impressive. In fact, I'm pretty sure I could see pixels at times. IMAX seems to be floundering at the corporate level as well as at the local. In recent years, they have diluted their brand by revamping mall-type multiplexes and labeling them IMAX. This, of course, leads Internet wags to label these outlets as "Liemax" locations, and there is no easy way to tell from their publicity which locations are true IMAX and which are not. In the meantime, Hollywood seems to be betting that High Frame Rate rather than huge screens is the next big thing. I guess time will tell, but in the meantime, even sharks and dinosaurs are gone from Myrtle Beach.
Posted at 4:45 pm in Uncategorized
Posted at 11:40 pm in Uncategorized
I noticed a new cut-in to Farrow Parkway at the (bankrupt) Market Commons shopping development in Myrtle Beach back in July.
Market Commons is the Myrtle Beach equivalent of Village At Sandhill, and is the most promenient development on the old Myrtle Beach Airforce Base. The base (which shared runways with the Myrtle Beach Jetport) was closed in 1993, and most of the old Airforce Buildings are already gone. The new cut-in to Farrow however leads to one which is still standing, more or less.
I don't know what Building 581 was used for, but the size of some of the doors make me think it may have been a vehicle maintenance facility or storage building. Probably the later, as I saw no evidence of pits or lifts. The place has now been heavily tagged with graffiti, sometimes amusingly, sometimes profanely, so some of the pictures after the jump might be considered NSFW.
Google Maps indicates a phantom road on the north side of the building, which it designates as Old Railbed Road. I suspect that it originally was a rail spur which connected to the rail line crossing the trestle connecting the Waccamaw Neck with the rest of the national rail grid, and would have been used to bring in supplies back in the day.
The House of Blues at (The bankrupt) Barefoot Landing in Myrtle Beach seems to make a policy of booking major "legacy" acts into its rather intimate space. In the past, I've seen Boz Scaggs, Cyndi Lauper, The Beach Boys (Carl Wilson was visibly failing), and Blondie there.
The only problem I have with the place is that while they have a reserved seating area, the tickets don't seem to be available on the standard web site, and standing up for two hours gets old pretty quick for me nowdays.
Steve Miller has, of course, been around forever, but scored his greatest success in the mid 70s with the "Fly Like an Eagle" and "Book of Dreams" albums. Supposedly he has never allowed a recognizable picture of himself on an album cover, and at the peak of his fame, could ride his bike around venue parking lots without being recognized. He has never had what you could call a "great" voice -- it's a very servicable reedy tenor, and the fact that it's never been perfect means that it hasn't dropped off much either: he was in good vocal form for Saturday's show. The Steve Miller Band is now apparently a six-man outfit. Two guitars, a bass, drums, keyboards and a (very flamboyant) second vocalist.
As you'll recall, when I saw The Doobie Brothers in North Charleston, and Al Stewart in Newberry, I was surprised at how lax the venues were about cameras. In the past it almost seemed like places would break your kneecaps before letting you in with a camera, but apprently, as in school, the Battle of the Cell Phone has been lost, and other cameras reap the benefit. Since I regretted not taking the closing-cam to those shows, I checked on the HOB ticketing site, and non-removable-lens cameras are allowed, so in it came.
The curtain opening number was "Jet Airliner" (with the synth prologue [mostly missed here] playing before the curtain dropped), and Miller went on to play pretty much all of his hits and well known songs: "Jet Airliner", "Abracadabera", "Wild Mountain Honey", "Serenade To The Stars", "Swingtown", "Dance Dance Dance", "Take The Money & Run", "Jungle Love", "Space Cowboy" (dedicated to William Shatner), "Livin' In The USA", "The Stake", "The Joker" (acoustic), and "Rockin' Me". He also played a few blues numbers (it was originally "The Steve Miller Blues Band") that really let the second vocalist shine.
In short, it was an excellent show, and if you get the opportunity to catch him, do.
Posted at 10:03 pm in Uncategorized
Posted at 1:31 am in Uncategorized
First let me note that although no description of Myrtle Square Mall would be complete without the famous clock, I did not take that picture. It appears in the Wikipedia entry for the mall, and has been explicitly released into the public domain.
What can I say about Myrtle Square Mall? For many years, it was the mall on the Grand Strand and the "general" shopping destination on any beach trip. To be sure, there were outlet and specialty malls like Waccamaw Pottery, but MSM was the "it" place.
As kids, of course, The Pavilion was first in our hearts and minds, but over the years we took many trips to the mall as well.
It had a different mix of retail than anything in Columbia, with anchor stores I never saw elsewhere like Peebles as well as standard stores like Sears and Eckerds. For me, the main attraction was the book store just off the clock court. I cannot now recall the name, but it was either completely independant, or part of a small chain that never opened in Columbia, and I found that it had an interesting selection of science fiction books that I didn't see elsewhere. Recall that in those days the only books you knew about were the ones you saw on the shelves -- there was no Amazon where you could search for any book in the world, or that would recommend books to you based on your previous purchases. I can particularly recall finding there a a Virgil Finlay collection I had never heard of, and had no clue existed. Finlay was an old-school SF pulp illustrator who had an amazing black & white line and stipple style that was unsurpassed (in my opinion) until Stephen Fabian came on the scene, and in retrospect I think Finlay's work has aged better than Fabian's. Anyway -- I bought the book :-)
The record store (whose name I have also forgotten) seemed to have slightly different selections than the Columbia stores as well.
Apart from the stores, obviously I have to say something about the clock. It sat above the central court, and was a marvel of conceptual design. The version pictured above is in fact one of the later versions -- the first version had 60 colored balls suspended from the ceiling in a circle with suspened numbers (similar to those pictured) at every five minute mark. The bulk of the balls were one color, with the ones at the five second intervals being another. As ever second passed, another ball would illuminate until all 60 were lit at which point they would all go dark and the next numeral would be illuminated for the current minute. Hmm, or maybe the numerals were for the hours and there were seperate balls for the minutes. At any rate, you could sit there and watch the time pass before your eyes so to speak. It was not a particularly easy clock to read -- it always seemed to take a minute to figure out just what was lit, but it was a fun clock to read.
I remember a number of interesting solo trips to the mall. The first was when I had just started to drive. My mother and I had gone to the beach to winterize the beach house, and having done that, she agreed to let me drive while she walked on the beach. Well, that's an always risky permission to give to a teenager, and I headed straight to the mall, despite it being a 25 mile drive one way. I had no particular goal other than I was, by gosh, going to drive, but I did end up getting some Trixie Belden books for my sister's birthday from Sears of all places. Needless to say my mother was not pleased at being ditched for three hours longer than she had planned to be...
Another trip to Sears years later (and near the end of the store's life) for dryer parts also yielded a trove of retro flashlights of the kind I grew up with, and which I thought were no longer being made -- I still have four or five.
I'm unsure why Burroughs & Chapin decided to deep six the mall. Certainly it was somewhat dated, but that could have been fixed by a remodel. I suppose access was an issue, but it's not like there's an Interstate in Myrtle Beach, -- the replacement mall at Coastal Grand may have slightly better traffic at US-17 bypass and US-501, but it's not a slam dunk.
At any rate, by 2005 most of the stores had made the transition, and in 2006 they started knocking Myrtle Square Mall down. The fact that B&C owned the replacement mall meant that Myrtle Square never went through the "death of the old mall as the new mall draws stores and traffic" phase. It was not in B&C's interest to eake rents out of Myrtle Square while firing up Coastal Grand.
On the other hand, they seem not to have had any Plan B for the Myrtle Square Mall site. Currently the huge tract bounded by 23rd & 27th Avenues North on the north and south sides and Kings Highway and Oak Street on the east and west sides stands vacant (as does the other large B&C tract at the old Pavilion site). It's hard to believe that two such prime tracts in the heart of Myrtle Beach have sat vacant for so long. (Well, not completely vacant -- there's still an Office Depot which must have had a long term lease, and I saw signs of homeless presence in the bushes).
Posted at 11:24 pm in Uncategorized
Studebaker's was something of a Myrtle Beach landmark, from the same era as Mother Fletcher's and Xanadu (which both predeceased it). The club started in 1981 and celebrated their 28th anniversary in 2009.
I'm not much of a club person, but I was vaguely aware of Studebaker's as a Shag venue where the National Shag championships were held.
As of now, the web site is still up (they must have paid for a full year..) and has a number of videos taken inside the club. This story from the Sun News gives some details of the closing and blames it (or the owner does) on the anti-bike rules Myrtle Beach instituted a few years ago. I can certainly see the we want peace & quiet residents' point -- the annual rallies certainly are noisy and obnoxious, but on the other hand it's probably a bad idea for a tourist town with no industry to take steps to keep people away..
The storefront is in the process of being converted to a Dollar General.