Archive for the 'gym' tag
I wrote about this place before, or at least it's main building when I did a closing for Piggly Wiggly Store 62. After The Pig closed, the building became a Gold's Gym which with this demolition moves to the old Sofa Express slot at Sandhill (apparently with plans for the old Ashley Furniture Homestore storefront as well).
As of Sunday 20 June 2010, the site is in sort of an odd state. From the front it almost appears untouched, but most of the back side has already been completely gutted or torn down, leaving the facade as sort of a potemkin shopping center.
According to commenter "mg", Dick Smith Nissan will be locating here eventually.
Posted at 10:46 pm in Uncategorized
Fernandina Road seems to have been pretty volatile lately with a number of closings and moves. This particular storefront is between the Piney Grove and Harbison exits, and is pretty visible from I-26 though I had never driven down that stretch of Fernandina before. It appears that The Sportsgym has moved to 5000 Fernandina Road, behind Home Depot. This building still houses a thrift store for a very worthy sounding charity.
UPDATE 29 September 2011: Finally add Ebert Sportswear Manufacturing to the post title. (Although my Feb 1997 phonebook gives that as 5000 Fernandina Road).
This building, across the street from Richland Mall and just south of Moe's has been a number of things over the years, with none of them seeming to last long. Right now, I can only find two other names (and a Doctor's practice) before H2, but I'm sure there were many others as loopnet says the building dates back to 1969. Part of my difficulty may be that the address is sometimes given as "2100 Beltline Boulevard" and sometimes as "2100 N Beltline Boulevard". One operation I sort of recall had an odd name as though it was a Christian Youth Fraternity or something like that.
I'm not sure what "joining" means in the case of H2 and Tonic. I suspect it just means "we transferred your membership". The H2 facebook page seems unchanged since last year, so it's possible the place was closed for a while before I noticed it.
UPDATE 21 May 2010 -- Here's an ad for European Health Spas (as mentioned in the comments) from the 19 Feb 1979 edition of The State. I can explain why the street address doesn't match. The ad lists 2204, which apparently doesn't exist today (at least as google-able retail), but clearly the ad namechecks "Richland Mall". Perhaps there was a street renumbering in the 1980s? Anyway I've added it to the post title and here's the ad:
UPDATE 29 July 2010 -- Apparently it's going to be Austral Salon next:
Well, it must be past midnight because Gold's Gym has turned into a pumpkin. (Hey, that's the best I could come up with..)
This is the plaza on Harbison which is just across from the Barnes & Noble / Olive Garden one, and which is anchored by Books-A-Million. I've always wondered a bit about that -- if Books-A-Million and Barnes & Noble were exactly equidistant from you, who would choose BAM?
In recent years, it seems these Halloween stores have started to spring up in empty storefronts all over each fall. I believe that last year, there was one on US-1 near I-26, one on Two Notch near the old Circuit City and one at Sandhill next to H Gregg. More power to them if they can make a business of it, and create some jobs -- it still just seems kind of weird to me to make that big a deal of Halloween. (Though as I mentioned last year, being on an escalator under a bevy of 'Naughty Nurses' is certainly inspiring).
UPDATE 14 December 2016: As mentioned in Have Your Say, a new gym, Crunch Fitness is opening (or may be open by this time) in this former Gold's Gym space in Harbison Center next to 2nd & Charles, the old Books-A-Million location.
The CBRE listing for the shopping center gives a detailed occupancy plan. I would not have guessed that many storefronts were vacant.
Posted at 4:32 pm in Uncategorized
I had heard that Gold's Gym was coming to Forest Drive, and wondered what effect it would have on Columbia Athletic Club.
It appears from this story that the owner decided, having been handed a pig, that he'd better put some lipstick on it and do a Kent Brockman "And I, for one, welcome our new Gold's overlords". Actually, I agree. Realistically there's no way they could compete in the long-term with Gold's and this is a win-win by giving Gold's an early entry into the neighboorhood and giving a leg-up to current members and employees. Of course, since I've never set foot in a gym, it's all pretty academic as far as I'm concerned...
Presumably, this means that Woodfield's Barber & Beauty will have to relocate even after dodging the bullet of having the plaza featuring their sign demolished.
UPDATE 30 January 2010: Well, Gold's Gym moved in and out, now open in their new digs at the old Forest Drive Church. The building is vacant and for sale now. I took the opportunity of the empty parking lot to get a good number of additional pictures, including some over the back wall -- this is the first time I have ever seen the pool there. It appears that one of the second story picture windows is out for some reason.
UPDATE 5 April 2012 -- I thought I would get some more pictures before work on the conversion for Trader Joe's commences:
UPDATE 1 June 2012: Trader Joe's is coming, see the comments for details. Meanwhile, asbestos removal and interior demolition have started:
6 June 2012: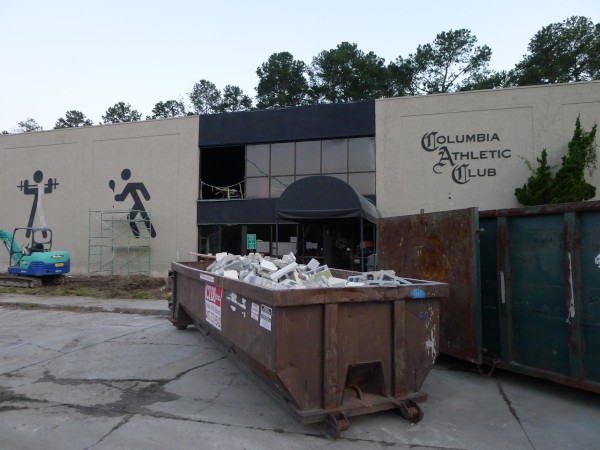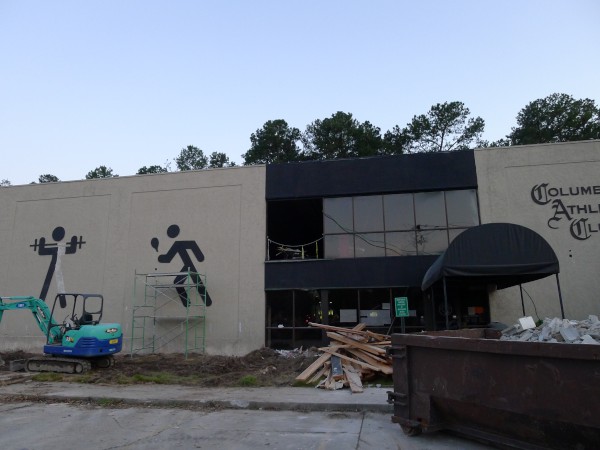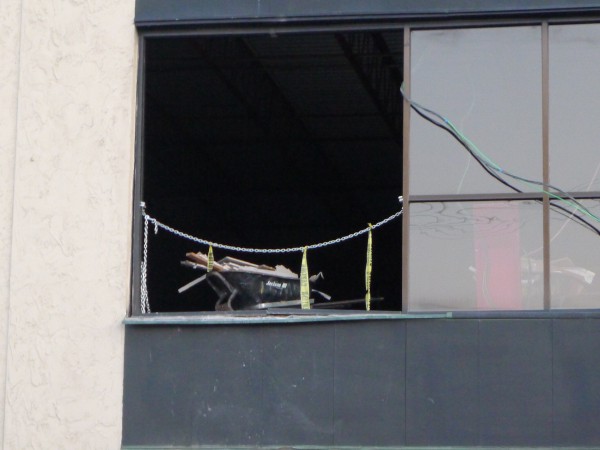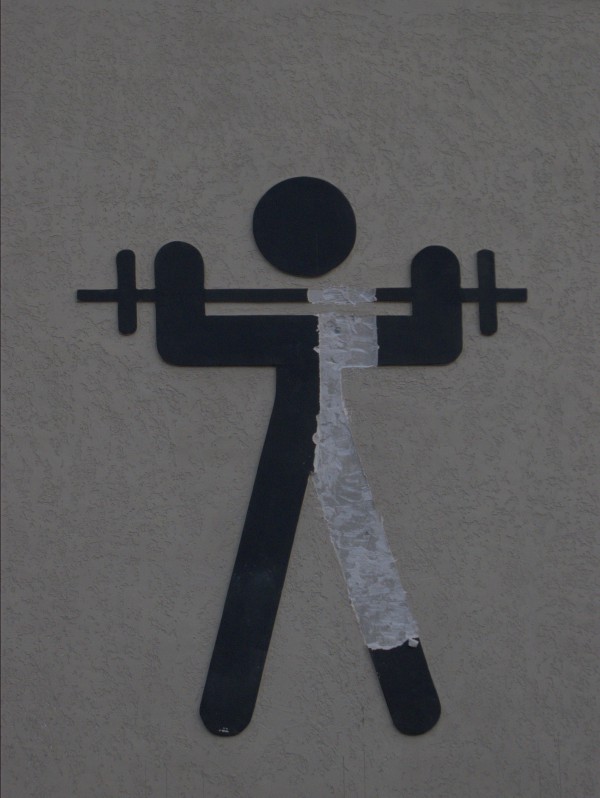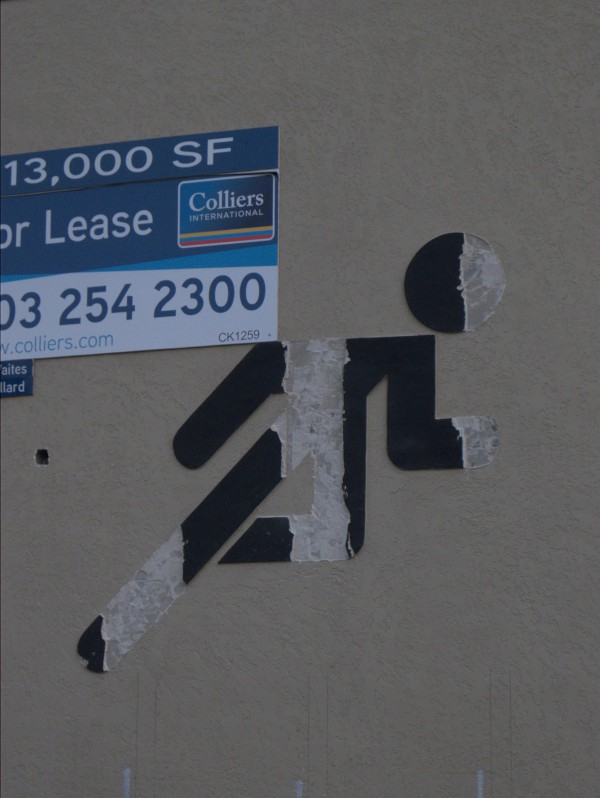 17 June 2012: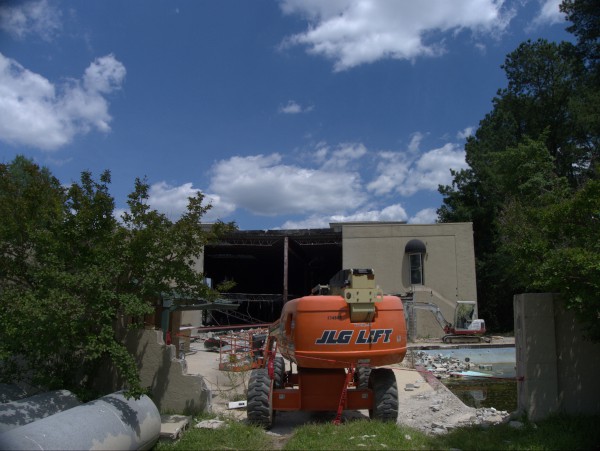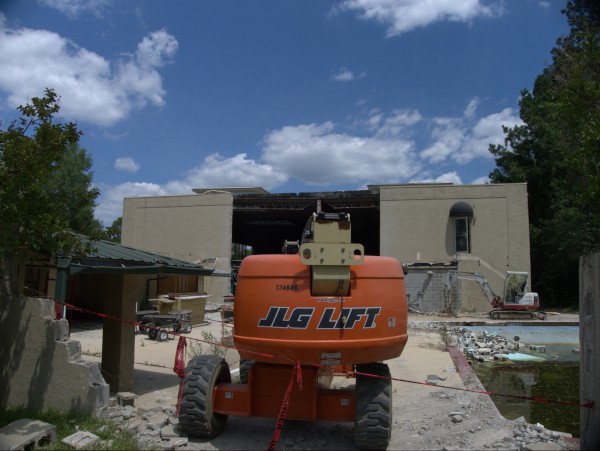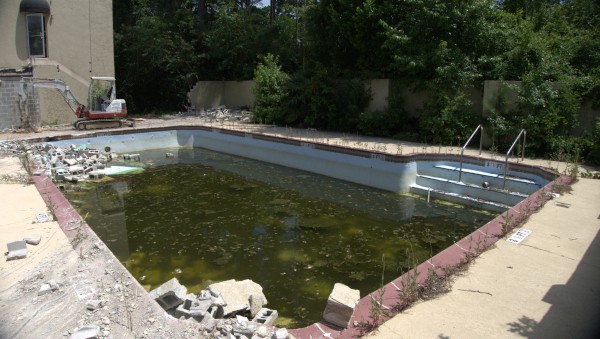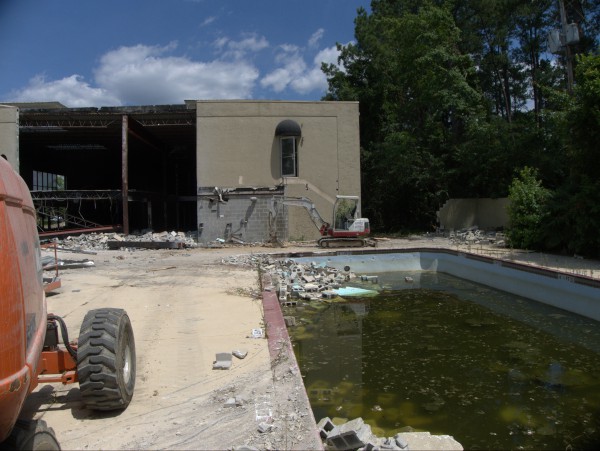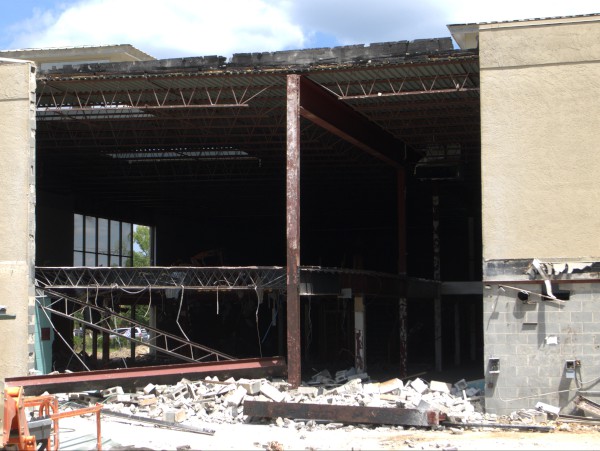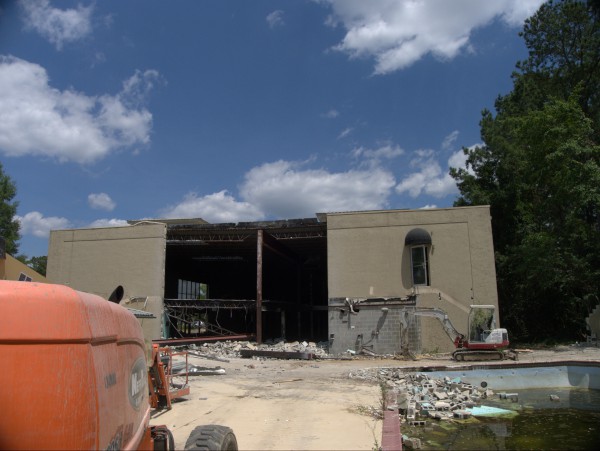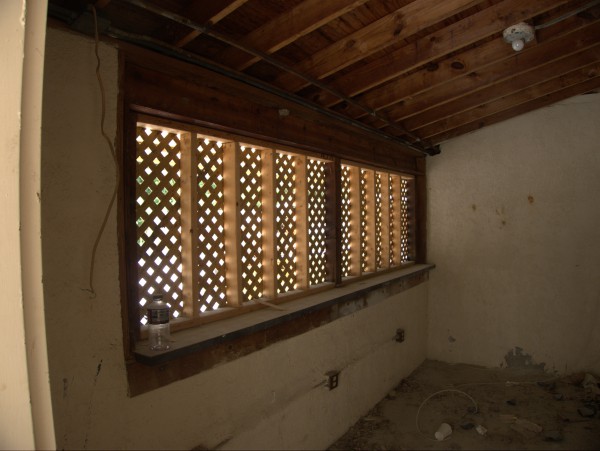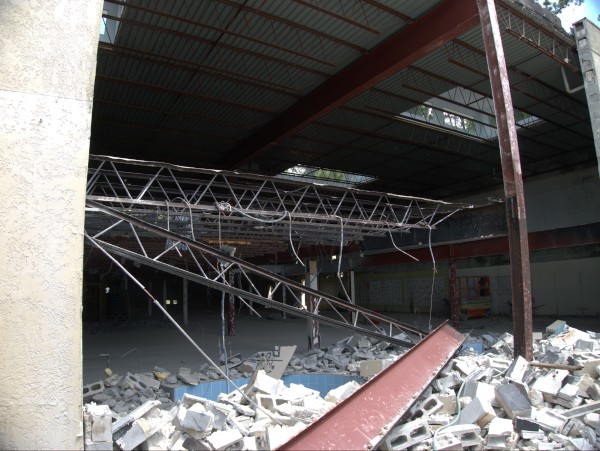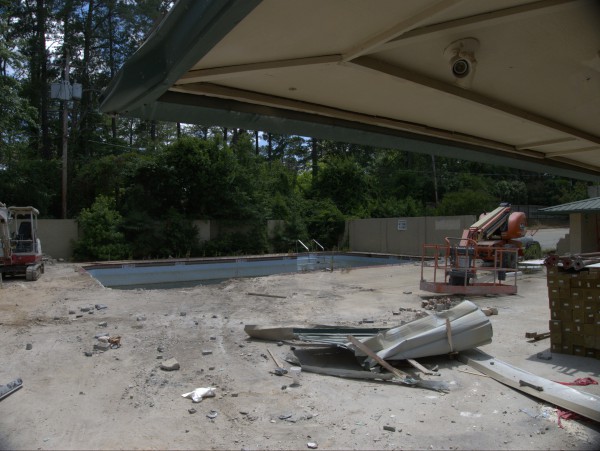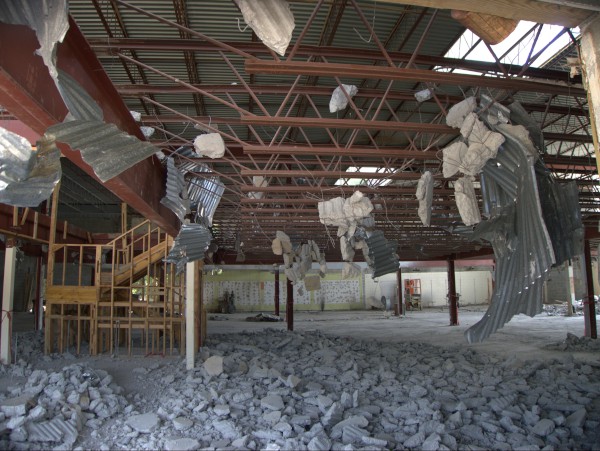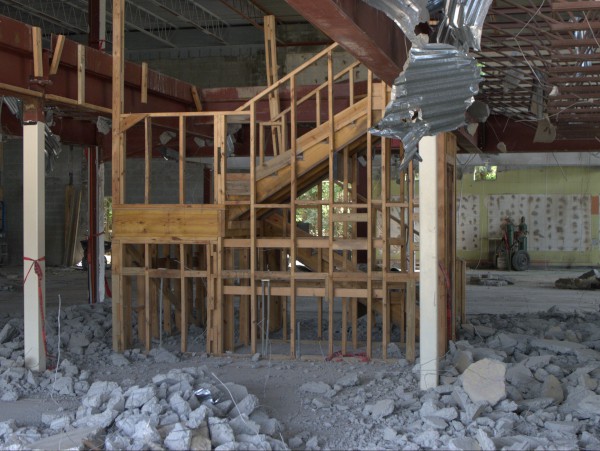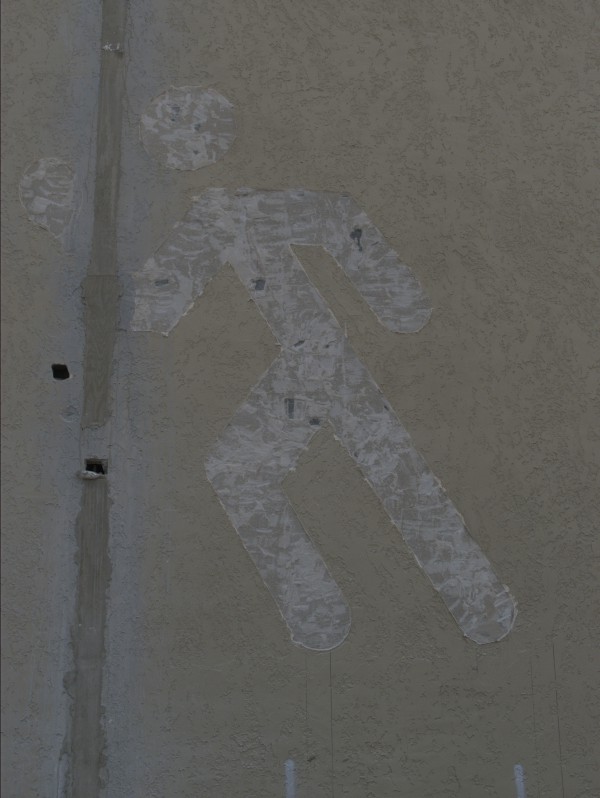 UPDATE 26 June 2012 -- Work progresses in these 24 June pix. Half of the silhouettes look like reverse atomic shadows now:
UPDATE 18 July 2012 -- Really, I don't see why they didn't knock the whole building down. Apparently they are using absolutely none of it other than the walls themselves. Given that none of the rest matched what they want, it's hard to believe the walls just happened to be 100% perfect! The pool persists as a water filled hole in the ground for now (pix 15 July 2012):
26 August 2012: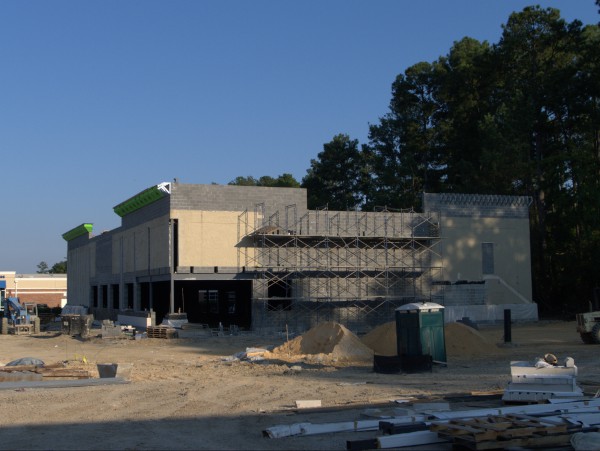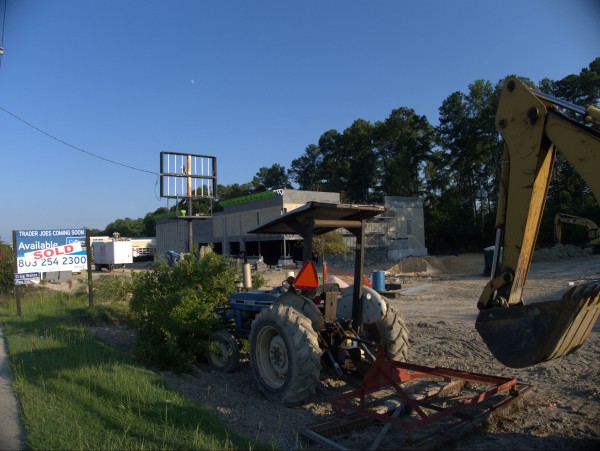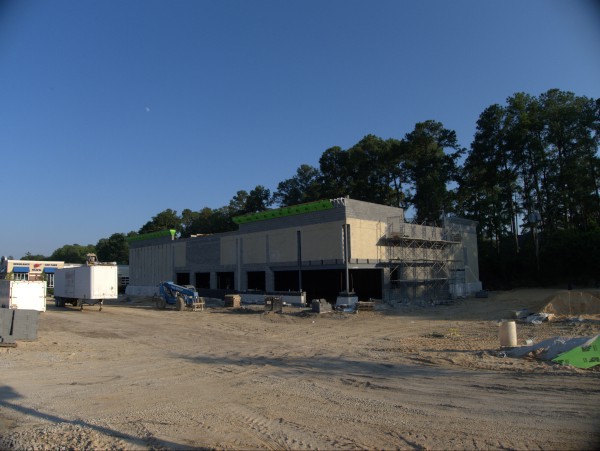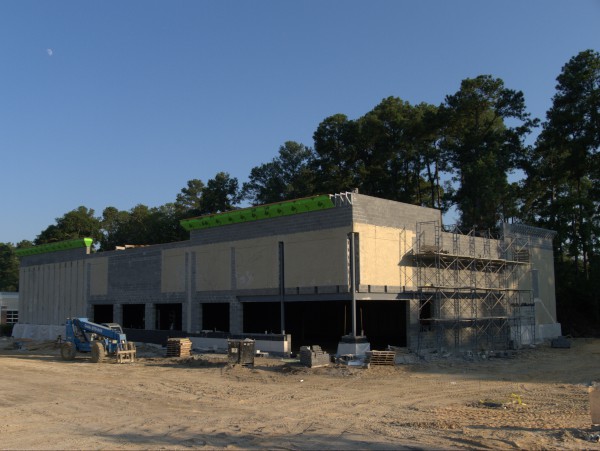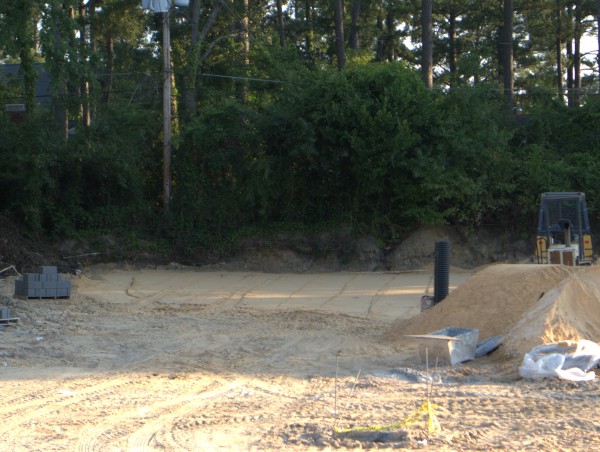 23 September 2012: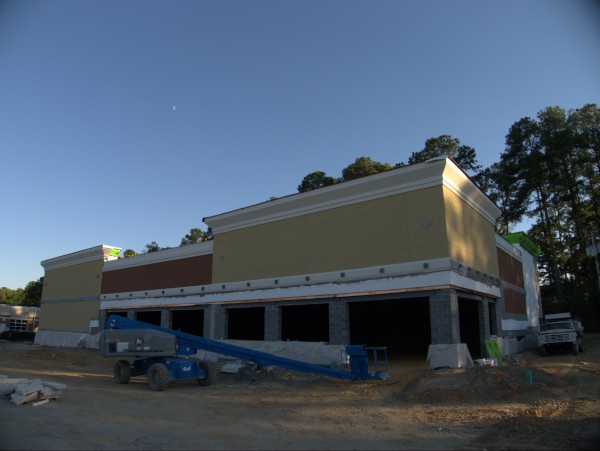 21 October 2012: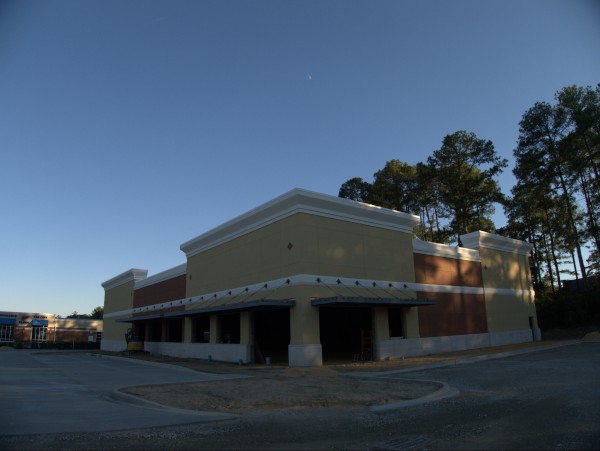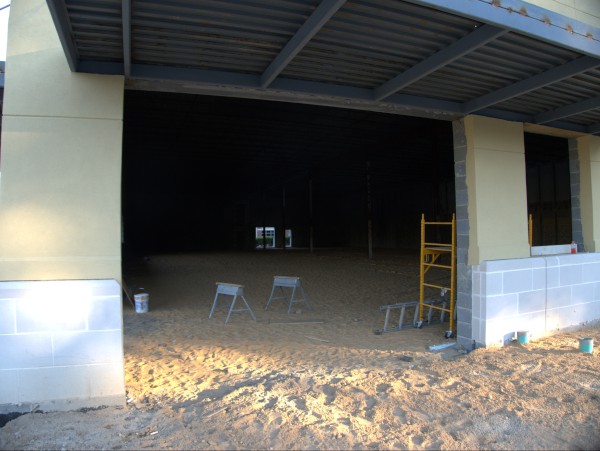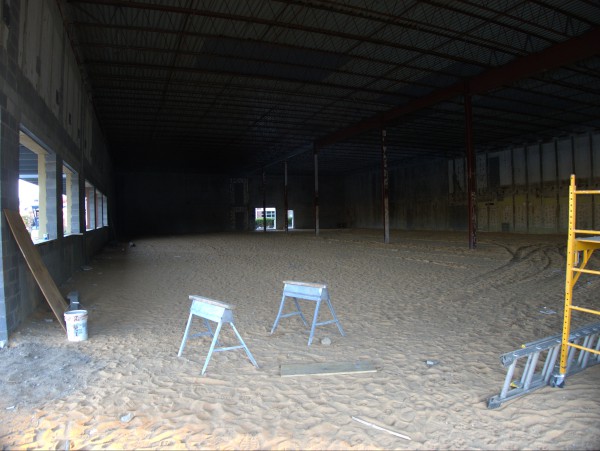 The pool: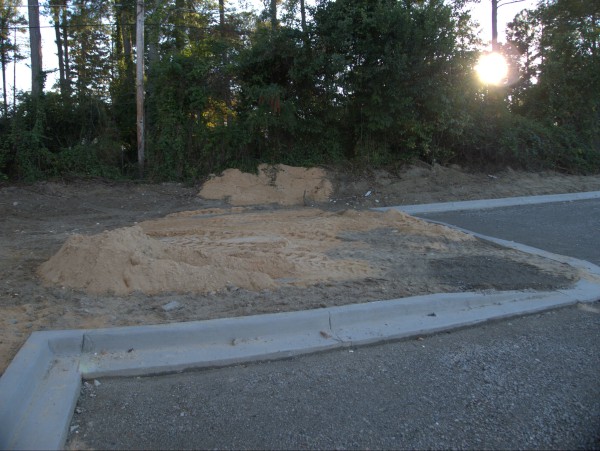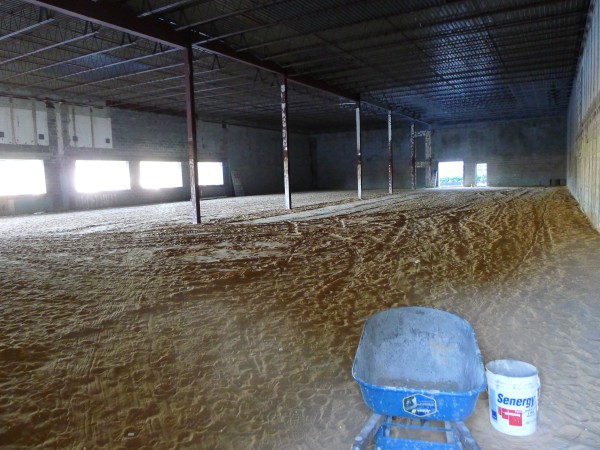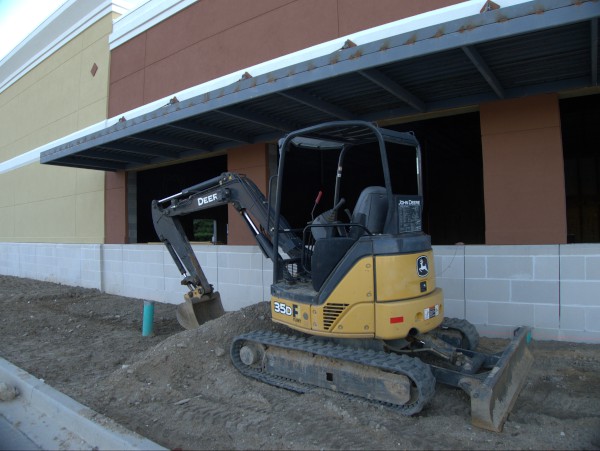 UPDATE 30 October 2012 -- The Trader Joe's sign went up today:
1 December 2012: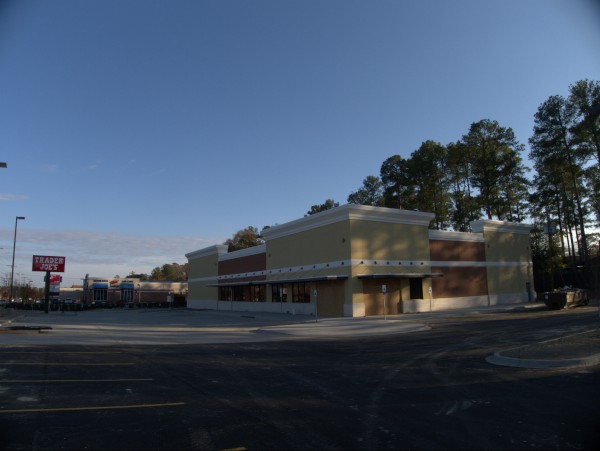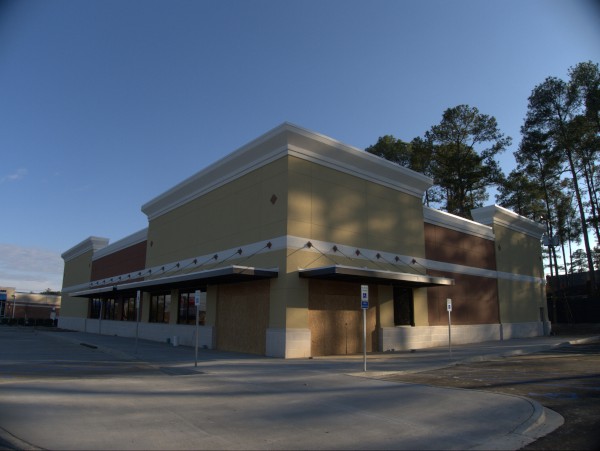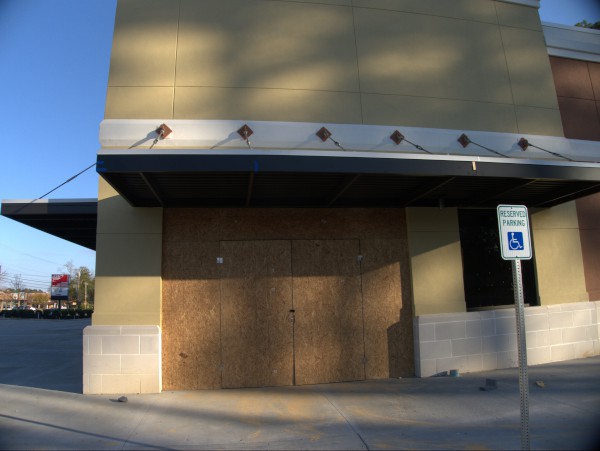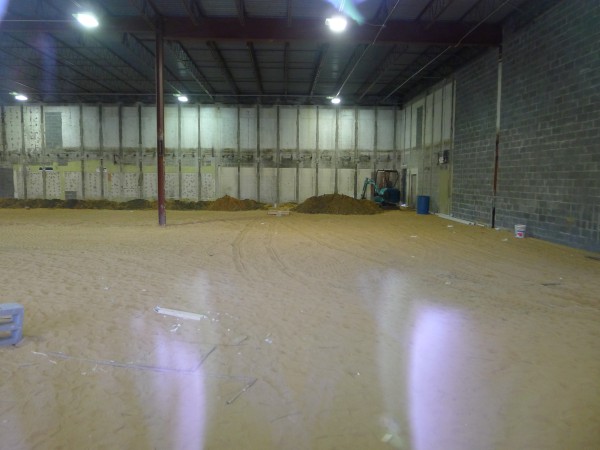 5 January 2013: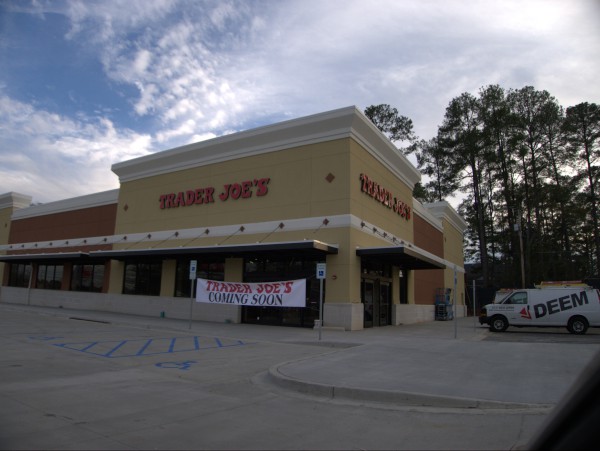 20 January 2013: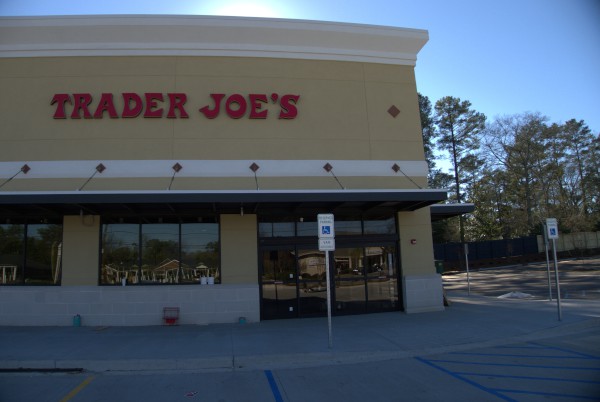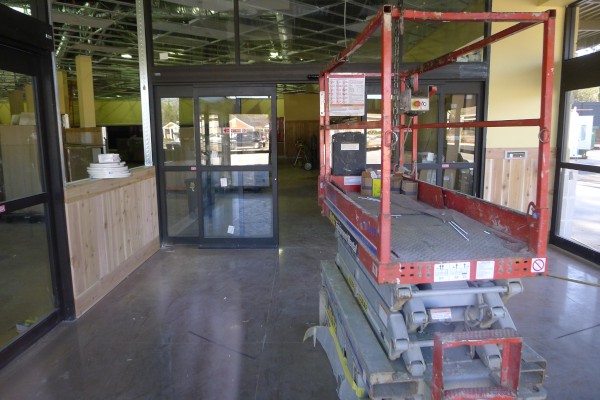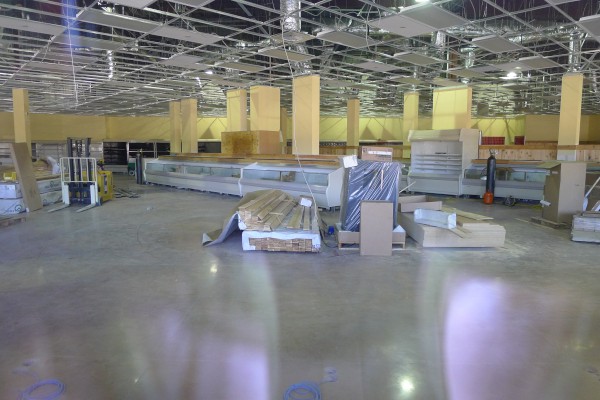 29 January 2013: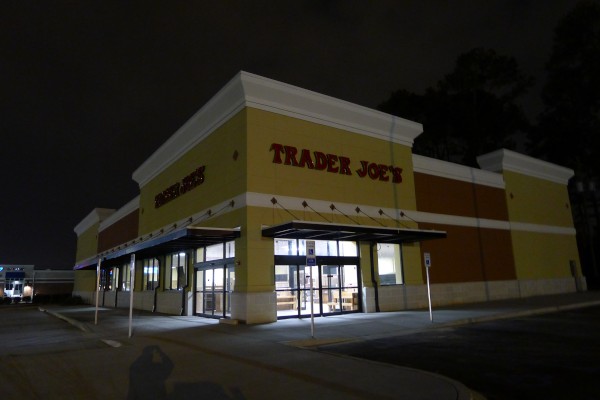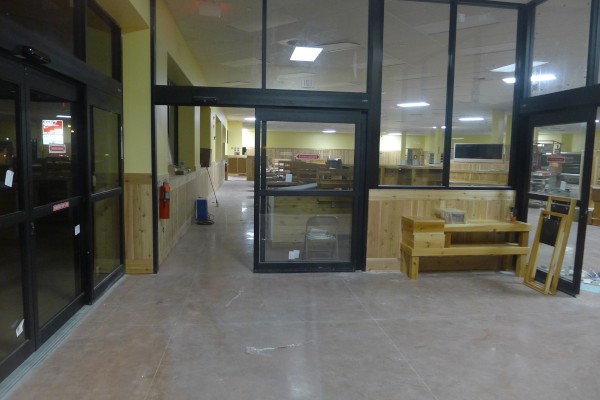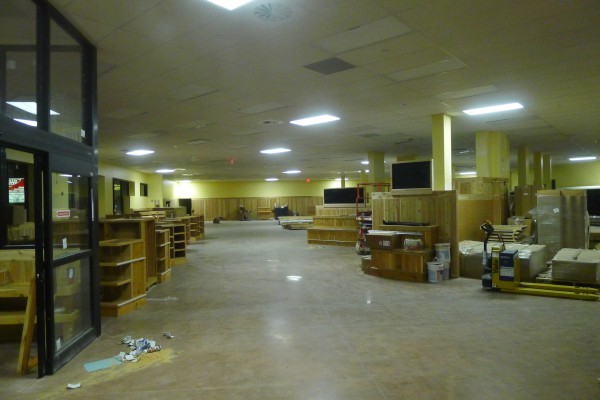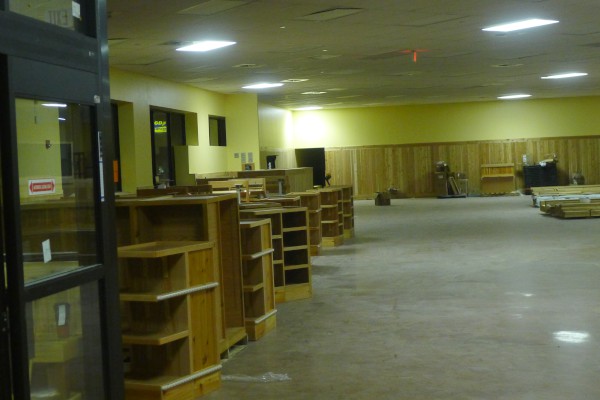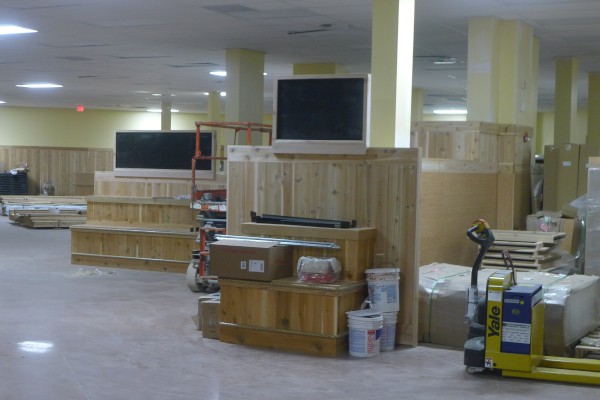 17 February 2013: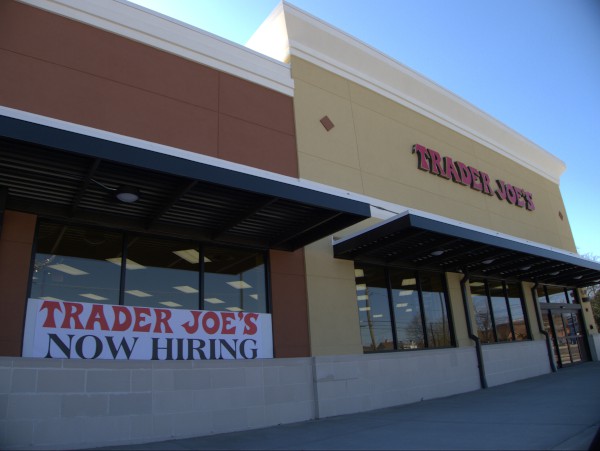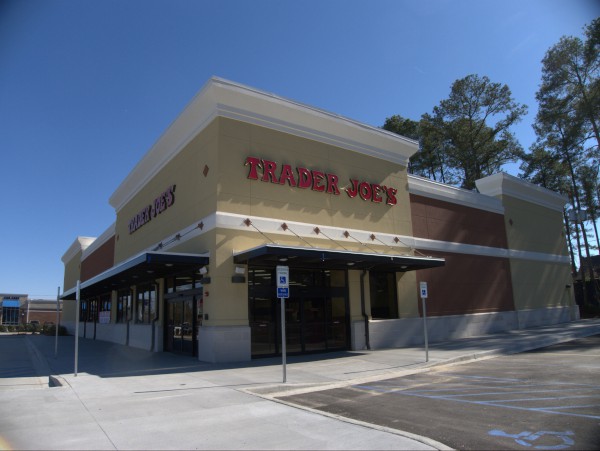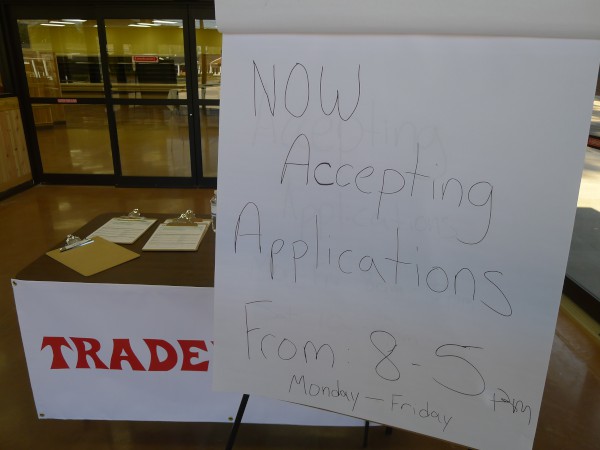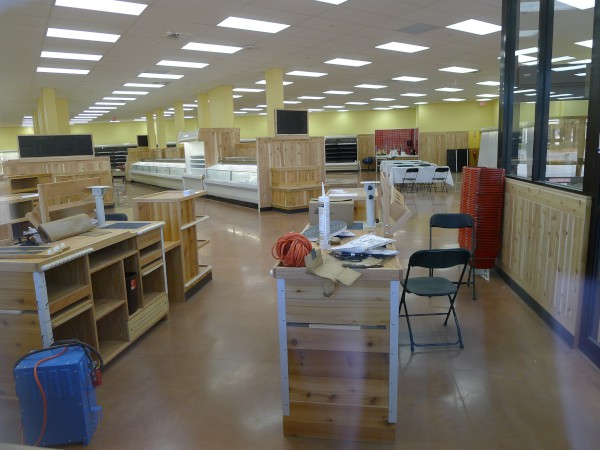 17 March 2013:
UPDATE 6 January 2013: Added 6 June 2012 photoset.
UPDATE 6 March 2013: Added a bunch of photosets.
UPDATE 23 March 2013 -- And Trader Joe's is open:
Photosets: